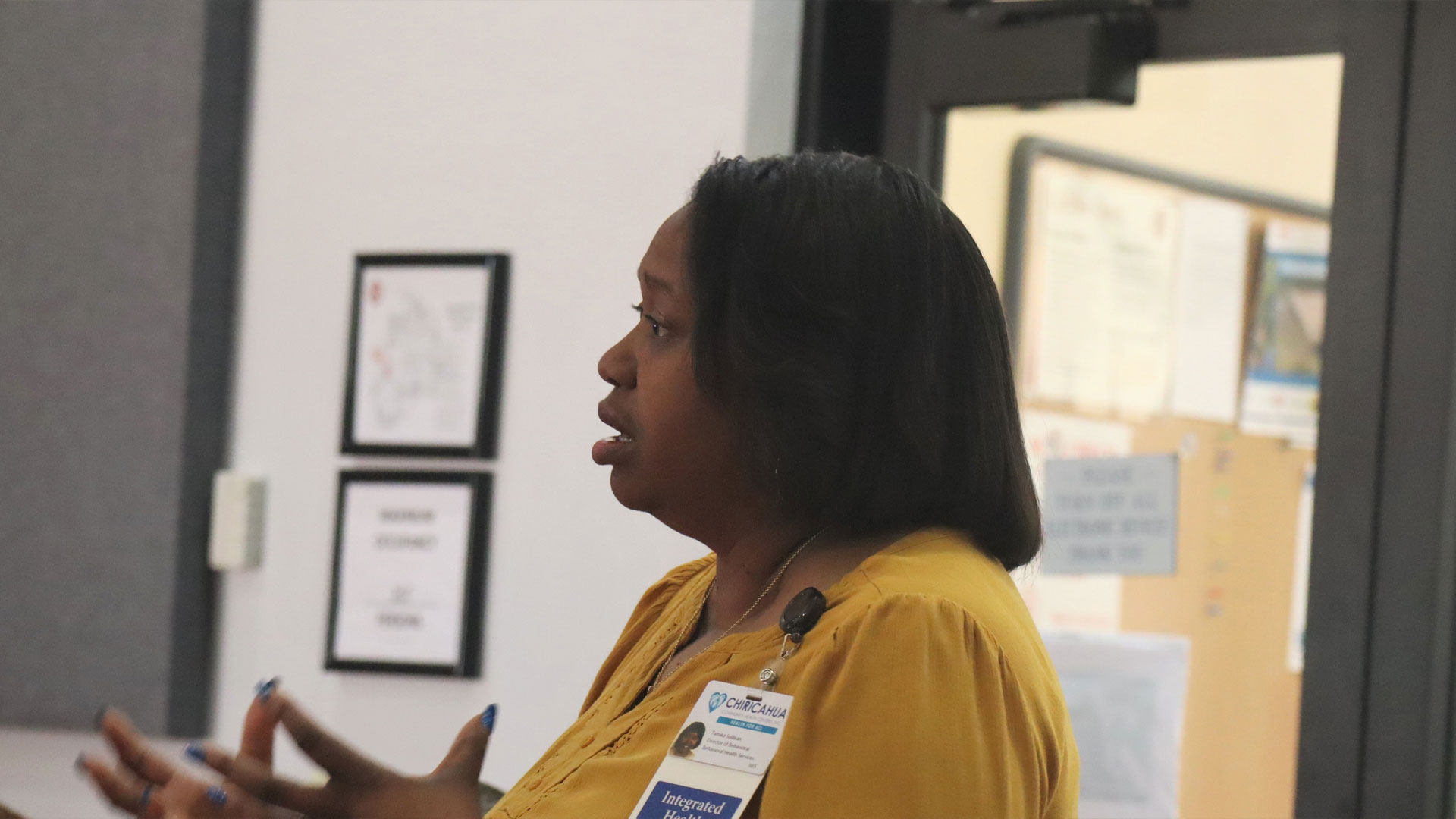 Tamika Sullivan, Director of Behavioral Health at Chiricahua Community Health Centers, Inc., speaks with Arizona Attorney General Kris Mayes during a round table discussion with local healthcare providers about how to use the county's share of the opioid settlement funds. July 26, 2023. Photo by Summer Hom, AZPM News.
Chiricahua Community Health Centers, Inc. — the only Federally Qualified Health Center in Cochise County — was recognized for the expansion of its Medically Assisted Treatment (MAT) therapies in Cochise County by the Clinton Foundation during its annual Global Initiative this week.
Chiricahua's Director of Behavioral Health Tamika Sullivan​ said the County does not have a lot of resources for treatment.

"Cochise County in of itself, is typically very sparse in behavioral health services … And especially in substance abuse services," said Sullivan.
Franciscka Lucien, Director of Health Equity at the Clinton Global Initiative, said they chose to honor Chiricahua Community Health Centers for the impact it has on the community.
"The overdose crisis in America needs our urgent attention," wrote Lucien in an email. "For over a decade CGI has worked to support people with substance-use disorders, and the work of Chiricahua Community Health Centers is going to make a difference in the lives of people across the community and the state."
Sullivan​ said Chiricahua expanded their MAT program through a grant from the Health Resources and Services Administration. She adds that the funds will enable Chiricahua to employ more staff and to drive its mobile clinic to all corners of Cochise County.
"We anticipate reaching at least 70 people by the end of next year, and then … gaining on that 20% every year thereafter," said Sullivan. "This will allow for our mobile unit to go to the community where the patient is and actually meet them where they are ... It also provides for assistance for coverage of medication, because not everybody has an insurance or an income."
The HRSA grant allocates $1 million per year for the next three years to Chiricahua for the expansion of its MAT program.
The Cochise County 2021 Overdose Fatality Review Annual Report, lists 41 deaths related to drug overdose, of which more than 70% were men and 95% were accidental overdoses. Most of thoise deaths were caused by a single substance — methamphetamine causing 64.29% of drug overdose deaths followed by fentanyl and cocaine each causing 14.29% of deaths.
Sullivan said the MAT program at Chiricahua started about three years-ago.
"We initially just started with two providers who were willing to provide: the prescription for Suboxone — or also known as Buprenorphine," Sullivan​ said. "And so, this is the medication that we use to help treat Opioid Use Disorder. And then, finally, Chiricahua made the commitment to have every adult medical provider to be registered with the DEA (Drug Enforcement Administration), take the training, and then, be able to prescribe that as well throughout all of our clinics in Cochise County."
At the end of the day, for Sullivan, it's about helping out one more person each day.
"If we can reach one more person today, one more than we reached yesterday, then we have the ability to change futures tomorrow," Sullivan said.