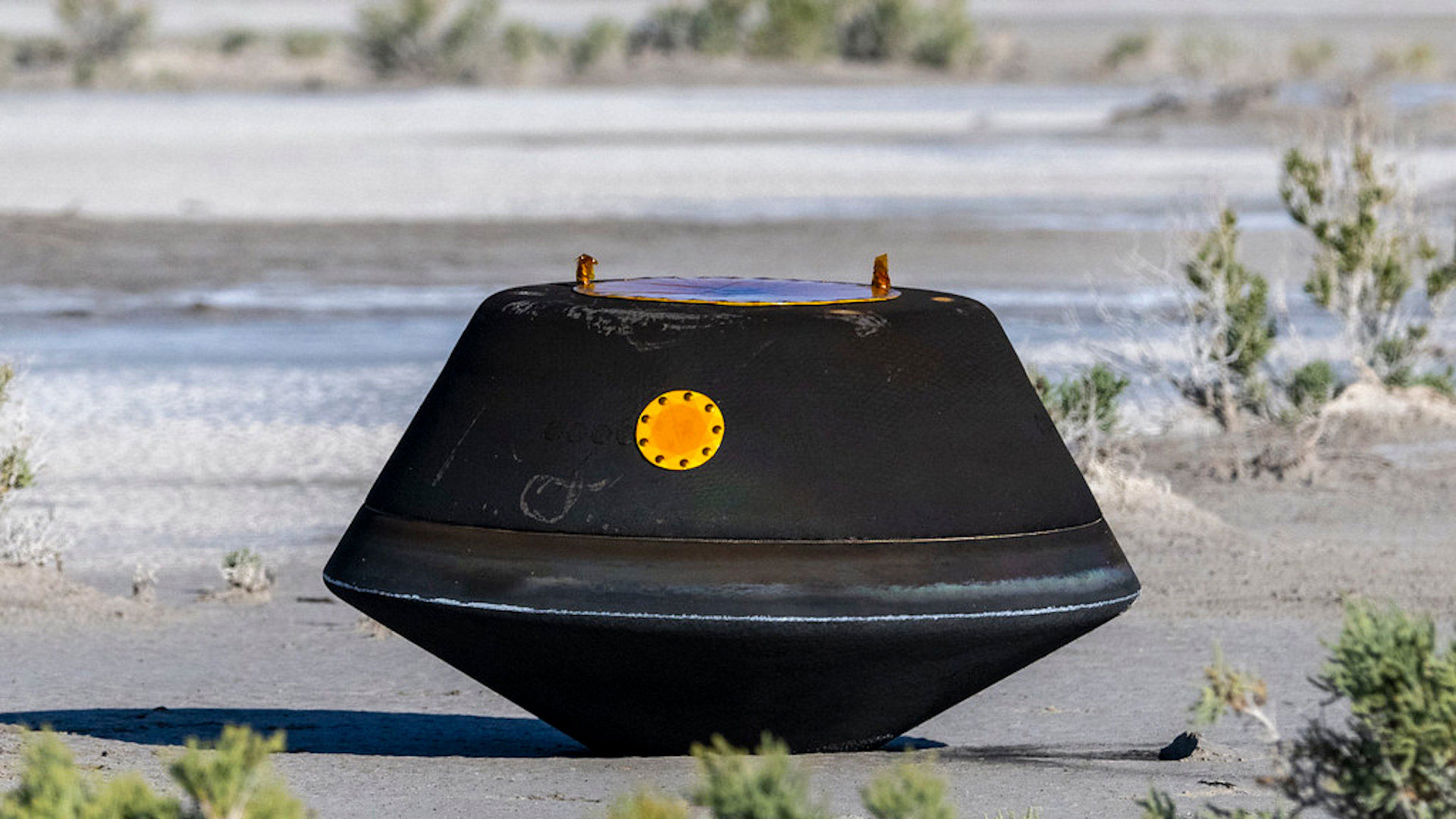 The sample return capsule from Osiris REx after parachuting into the Utah desert.
NASA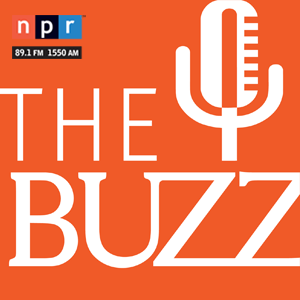 The Buzz
The Buzz for September 29, 2023

Early Sunday morning the OSIRIS-REx spacecraft jettisoned a capsule containing the sample from the asteroid Bennu. About four hours later, it parachuted into the Utah desert where a team from the University of Arizona and NASA was waiting.
Dr. Dante Lauretta is the principal investigator for the project. He was on the recovery team and met with the media a few hours later.
"Today capped the end of an almost 20 year adventure for me. I got involved in this program in February of 2004. When we first were talking to our friends at Lockheed [Martin], it seemed like magic, like they said, 'Pick an asteroid, Dante, and we'll bring samples back to the Earth for you to study in your laboratory.' We waited with bated breath, making sure that it came down for a nice soft landing in the Utah desert."
To the untrained eye, the landing looked perfect, with the capsule floating peacefully down to Earth under its red and white striped parachute.
"I was fortunate enough to be one of the first people to lay eyes on the capsule," said Lauretta. "And boy, did we stick that landing it was just sitting right there. You know, a few tens of feet right off a nice road, perfect place for the helicopters to land. It just made a tiny little divot in the Utah soil."
He added that this moment was preceded by years of rehearsal and drills to ensure the team did its job properly.
"I couldn't be more proud. And just to remind you, not only did we bring this mission in on schedule, under budget, and delivered more science than we had even thought was possible with the encounter with Bennu. But we think we've got a lot of sample in that in that science canister and we can't wait to crack into it."
And Lauretta said this is the part he has been waiting for.
"For me, the real science is just beginning. I grew up as a laboratory chemist studying meteorites and particles from the Stardust mission which NASA brought back in 2006. So I really am looking forward to the next stages of this journey. "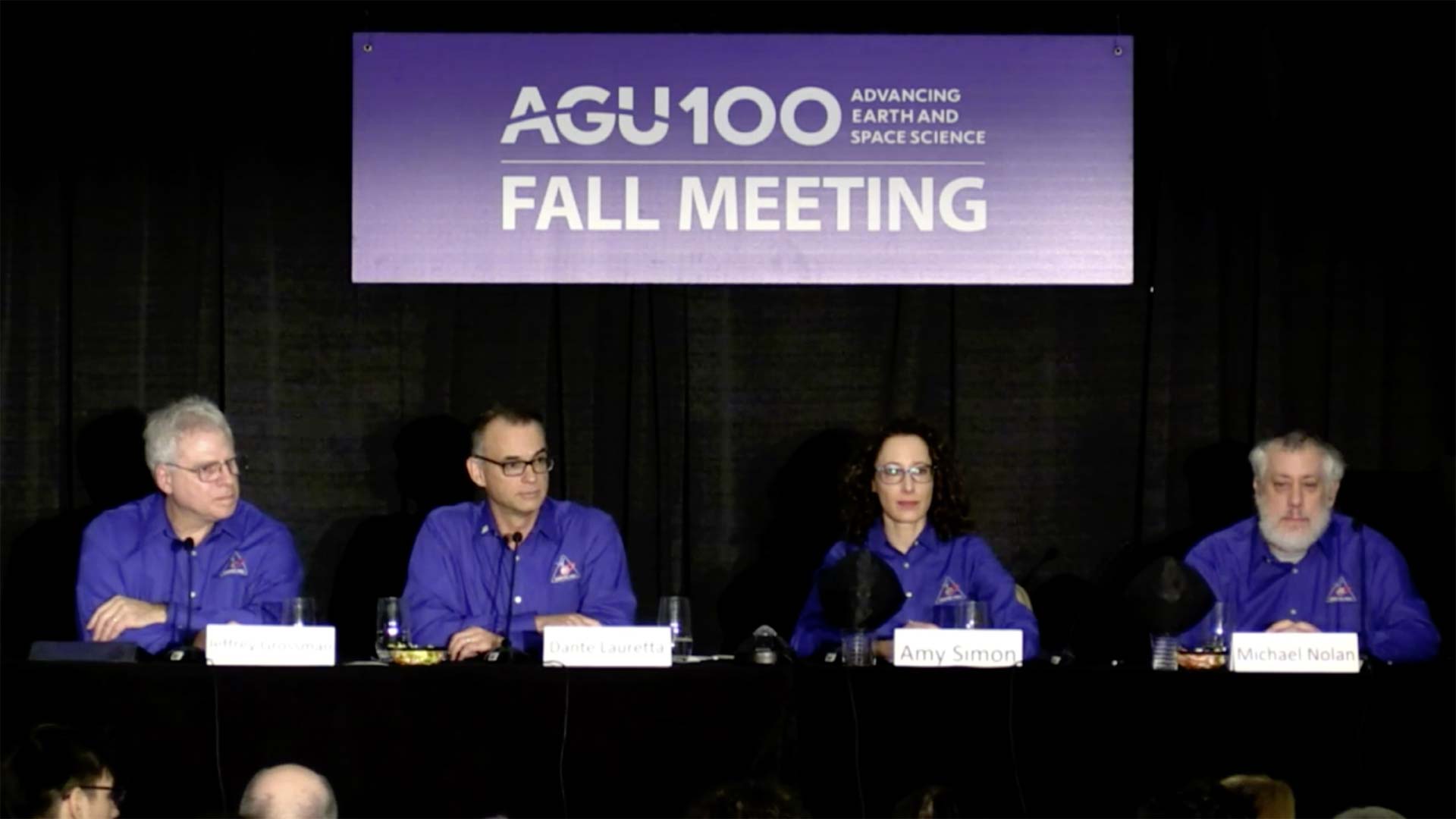 Scientists announce water findings in the clay of the asteroid Bennu in this still image from a livestream of the American Geophysical Union's 2018 Fall meeting. From left, Jeffrey Grossman, OSIRIS-REx program scientist at NASA Headquarters; Dante Lauretta, OSIRIS-REx principal investigator at the University of Arizona; Amy Simon, OVIRS Deputy Instrument Scientist at NASA Goddard Space Flight Center; and Michael Nolan, OSIRIS-REx science team chief at the University of Arizona.
But Deputy Project Manager for the mission Mike Murrow said there were some tense moments because the first parachute–the drogue chute–which was supposed to slow the initial descent, may not have worked quite as planned
"What we do know is that the main parachute came out, it came out a little bit earlier than we expected. But that time difference was within the variation that we expect from the atmosphere. So that is not really a surprise to us. One of the great things about landing here is we have all this photo documentation from four different camera systems that were around."
"But what we're going to do is what we always do is go back and look at this in great detail. And that's one of the advantages of landing here, we got a ton of data. But the bottom line is we landed when the main parachutes came out. That was the moment that I was waiting for. And, and that for me, was success. We knew that we had done it. We were successful, and we were gonna get that sample today.
The sample is now back in Houston at the Johnson Space Center. The University of Arizona will get 25% of the sample, which will be brought back to the Tucson campus. Just hours after the landing Lauretta said he cannot wait to see what is inside
"They wouldn't let me shake it like a kid at Christmas trying to see what I can hear inside there yet. They Probably won't let me do that, right? So I have to be patient and I'm really exercising patience. I understand we need to go methodically, systematically, through the hardware. We have a very well defined procedure.
OSIRIS-REx is about the science, but it's also about the legacy and the legacy is that long term collection and we work hand in hand together as science and curation to make sure both of those are achieved in a timely manner in terms of when I get to relax. That's a good question. We got a busy week ahead of us. We're flying to Houston tomorrow morning at the crack of dawn, so not tomorrow. And then Tuesday morning, we hope we get that canister open. And I expect we'll see some dust and we have a plan to sample that dust and get into the science instruments at JSC right away."
And, Lauretta said, if you ask members of the OSIRIS-REx team about the future, they say the sample will be the gift that keeps on giving.
"So I think OSIRIS-REx is an excellent example of the inspirational value of these kinds of activities. The reason why we should be investing our taxpayer dollars in these missions of exploration, of course, the science is fantastic. The engineering is beyond amazing. But the inspirational value is really where the long term payoff comes from these."
He thinks that inspiration will continue for decades to come.
"I go out into the community quite a lot, Boys and Girls Clubs of Tucson, local Tucson schools. We're hosting a great event at the Tucson Children's Museum right now, to have the city celebrate this activity. And I also teach undergraduate and graduate students, and so many of them said, 'We are here because of OSIRIS-REx, we came to Tucson because the OSIRIS-REx mission was based here,' and it was just an amazing example of what people can do. When we put aside our differences. We focus on a common goal. We can achieve great things, this country can achieve great things, but we have to work together to make that happen."