(VIDEO: AZPM)
This time of year, the "dry heat" designation we are known for no longer applies.

Now, it's hot and humid.
According to the local forecast office of the National Weather Service, Tucson has experienced nearly 50 days of 100 plus degree temperatures this year, 28 in June alone.
Add to that 168 days of 90-plus-degree temperatures and that's the typically hot weather Southern Arizona is famous for.
Now that the monsoon season is upon us, those high temperatures are combined with high humidity. The monsoon officially started on June 15 and the rains have come with it. For the homeless in Tucson, that makes finding a comfortable respite from the elements doubly difficult.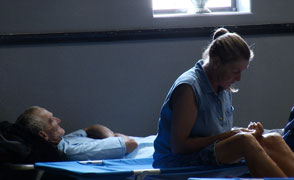 If not for this Cooling Center and similar shelters, many of Tucson's homeless would have nowhere to turn for relief from the heat.
One place where some relief and comfort can be found is the St. Francis Cooling Center, which is housed at the Central City Assembly of God near 19th Street and 10th Avenue.

Carl Zawatski, co-coordinator of St. Francis, says the center is open to men and women.
"Anybody is welcome to come in, treated with hospitality, dignity," he says. "They get some cold water, lunch, a cot to lay down, get refreshed, get off the street … and just relax in a safe environment, because it's not easy on the street."
This is the seventh summer that the St. Francis Cooling Center has operated and the second year it's been housed exclusively at this location. The center is open six days a week, from noon to 4:30 pm. Approximately 40 people volunteer at the Center.

Seventy-five lunches a day are provided by Caridad Community Kitchen, which is a program of the Community Food Bank of Southern Arizona.
Life on the street, without a home, means maintaining a constant awareness of one's surroundings. For many who visit the center, it's a chance to let their guard down, rest their bodies and their minds and even get some uninterrupted sleep in a safe and comfortable environment.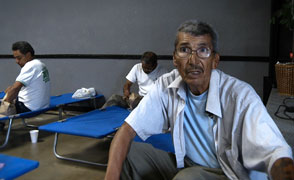 Johnny is one of dozens of men and women who rely on this site during the hot days of summer.
Johnny is 62 years old and has been living without a home for the past three years. He says the time he is able to spend in the cooling center rejuvenates him.
"We look forward to 12 o'clock everyday when we can come in here and relax for four hours," Johnny says. "We're safe, we're cool and we can sleep knowing that nothing is going to hurt us here. Our mind just relaxes."
Along with the need for food, water and shelter, Johnny says the heat and other weather-related factors are a daily challenge.
"The heat really is something that wears you down, because it is there constantly, there beating down on you, beating on your back, your head, your body."
Dehydration, heat exhaustion, heat stroke and sunburn are among the risks that Tucson's homeless face each day. Now that the monsoon is here, staying dry and safe from flash floods and lightning is also part of their routine.

The St. Francis Cooling Center was founded by Brother David Buer, a Franciscan Friar of the Saint Barbara Province. Buer says the number of homeless visiting this cooling center are up from last year when there were 50 to 60 people coming to the center each day. Now the numbers are in the 70s and 80s.
Buer or "Brother Dave" as he is known in the homeless community, sits on the executive committee of the Tucson Pima Collaboration to End Homelessness, or TPCH.
He says the annual overhead for the St. Francis Cooling Center is $4,500, and for the past six years, those funds were raised through private donations. This year, the TPCH agreed to fund the center through expense reimbursements. The money pays for utilities and supplies.
Zawatski says that Buer is well-known and appreciated in the homeless community of Tucson.
"He wants five-star treatment given to these guys with what we have, but the main thing is dignity, giving these people some dignity and respect for the day," he says.
Zawatski himself was homeless at one time, so he can relate directly to the indignities and difficulties that are inherent in life without a home. Zawatski also happens to be a recovering alcoholic and sees the time he spends here as part of his recovery .
"A big part of recovery, to live well within your skin, is restitution in whatever form that covers, restitution for harms done. Whether you're recovering or your not recovering, I just think that the world would be a better place if we were just keeping an eye out for the guy the next door just a little bit."
As the time to leave the cooling center nears, the men and women begin to gather their things and prepare to head back out to the streets. Some have books, some have backpacks; others have only the clothes on their back and the shoes on their feet.

Their time at the center has allowed them to rest, rehydrate and maybe gather the strength to get through another day.
Johnny says he is grateful for the chance to cool off and rejuvenate.
"So we've got a little bit more strength, but come 4 o'clock we've got to go set our minds to go back where we were at 12 o'clock. We put on our backpacks, the doors open and we just go, but our minds our just a little more refreshed."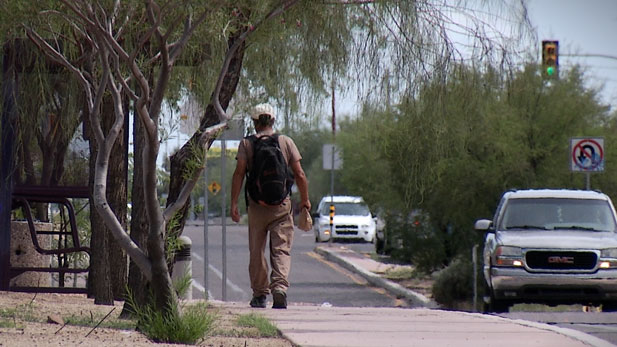 After spending some time at the Cooling Center, this homeless man is back on the streets.
Listen to a longer version of this story as it appeared on Arizona Spotlight: