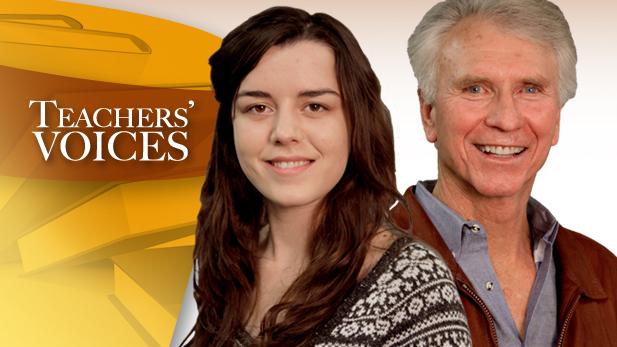 University High School student Amanda McCarley and her AP history teacher Dr. John Hosmer (PHOTO: Steve Riggs)
In cooperation with Tucson Values Teachers, Arizona Spotlight presents a special series called Teachers' Voices. These conversations between educators, administrators, and students gives them a chance to share personal stories about the struggles and triumphs of their daily school experience.
University High School in Tucson has been rated among the top ten best public schools in the nation, according to a 2012 survey conducted by U.S. News and World Report. The new rating places UHS at #4 in the country, and #1 in Arizona, which is a big jump from being rated 21st in 2011.
UHS is a school that has around 800 students, and a student / teacher ratio of 18 to 1. To qualify for admission, students must have had a 3.0 GPA in middle school, and pass an admissions test.
A part of the reason for UHS's academic success is educators like Dr. John Hosmer, who teaches Advanced Placement History, known as one of the school's most demanding classes. Next, Dr. Hosmer discusses the different approach at University High School with one of his students, Amanda McCarley...
Listen:
Teachers' Voices will air bi-weekly throughout 2012 on Arizona Spotlight, funded in part by the College of Education at the University of Arizona and Cox Communications.