By Fernanda Echavarri and Andrea Kelly
Arizona Public Media
Arizona Gov. Jan Brewer Wednesday barred state officials from issuing identification cards and driver's licenses, and granting state benefits, to people who receive deferred deportation status.
Her move is a reaction to President Obama's recently announced policy allowing young immigrants who came to the country illegally to avoid deportation for a time if they meet certain requirements. The program is called Deferred Action.
Eligibility requirements include coming to the country illegally or living in the country with expired permits before June 15. Applicants must also have entered the country before they were 16, be between 15 and 31 years old, have lived in the U.S. for the past five years, be currently enrolled or have graduated from high school, served in the armed forces and have no criminal record.
Brewer announced the action in an executive order Wednesday, the same day Obama's executive order allowing the deferred deportations took effect.
In her order, Brewer said giving legal status to an estimated 80,000 eligible youth would have "significant and lasting impacts on the Arizona budget."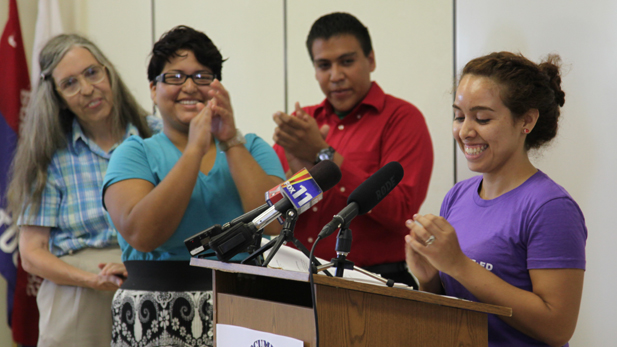 From left: Tucson immigration attorney Erika Kreider, Ana Rodriguez and Josue Saldivar listen to Alexandra Samarron explain the impact of President Barack Obama's new immigration policy, called Deferred Action, which allows people who came to the country as children, but who are not here legally to apply for deferred immigration enforcement and work permits. (PHOTO: Andrea Kelly)
Local immigration attorney Erika Kreider says Brewer's decision won't stop people from having some government documents.
"Obviously that has no impact as far as the state ID goes because people who have Deferred Action will have work permits, not all of them, but many," Kreider says.
A work permit could be used as a form of photo identification, she says.
It remains unclear how other parts of Brewer's order will impact deferred action recipients and how the federal government' will react.
One of the people eligible for the deferred action, Tucsonan Josue Saldivar, says Brewer's message is nothing new to him. He spoke at a news conference featuring potential applicants.
"I hear the same thing I've been hearing from our government," Saldivar says. "We're not welcome in our community, they don't want us part of the Arizona economy, even though we have been contributing greatly to the state."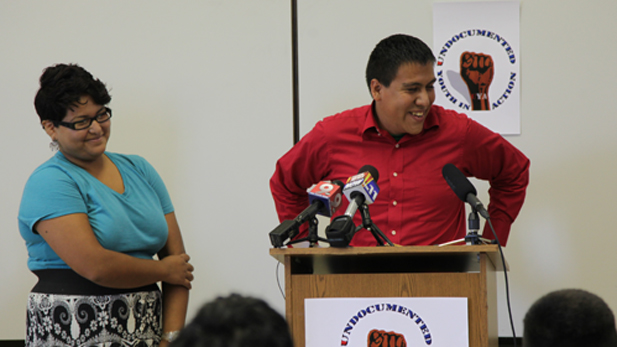 Ana Rodriguez and Josue Saldivar, share their personal stories and explain that they are eligible for President Barack Obama's executive order granting deferred immigration enforcement for people who came to the country as children, but who are not here legally. (PHOTO: Andrea Kelly)
Saldivar says Tucson is his home. He was brought to the U.S. when he was 8 years old, when his parents came to the county after losing their jobs in Mexico. He recently graduated high school and is studying business at a local community college.
Saldivar says he qualifies for the Deferred Action Program but providing so much information about his family worries him, particularly his parents who do not qualify.
"As soon as I heard that it might be a question that arises that did cross my mind and definitely thinking twice before applying because of it but if it comes to it that won't stop me from applying," he says.
Kredier, the local immigration attorney, says applying for this program should not be taken lightly. Already there are fraudulent websites targeting applicants who don't know that Deferred Action forms cannot be submitted online.
"Talk to an immigration lawyer or go to a legal clinic, and discuss your situation. Do not simply file an application, it's a one shot deal," she says.
As many as 1.7 million young people nationwide are estimated to be eligible for what is, in effect, a version of the proposed DREAM Act, which Congress has rejected.
Read Brewer's Immigration Executive Order
View at Google Docs | Download File