This travel diary was written in the field by Lisa Schnebly-Heidinger, documenting a road trip that she took in early 2019 with her father, Larry Schnebly. Her most recent book celebrates her family's deep Arizona roots, The Journal of Sedona Schnebly.
---
To borrow from "Spinal Tap," yesterday was an ELEVEN.
The best things aren't always the biggest; while everything we've done has been fascinating, the only place I am determined to try to return to is Duck Lake Lodge.
On my double bunk bed (which there are three of in the room, so if I could have figured out the travel arrangements, six of you could have stayed with us last night) with coffee from the lobby which meant a long chat with Terri, who is sweet and fiercely ambitious for local workers. Blackfeet, Duck Lake itself is out the sliding door to my left. I can't believe I won't be here next Friday to hear live music again.
But we will go back…go back and remember (Merlin said that). Yesterday morning we wanted to put off breakfast until Gardiner, which is all of six miles beyond the park.
Ten hours of sleep. Ten delicious, warm hours. Five times two. Infused with actual joy in the ability to appreciate each moment, I showered and packed and we went out to load.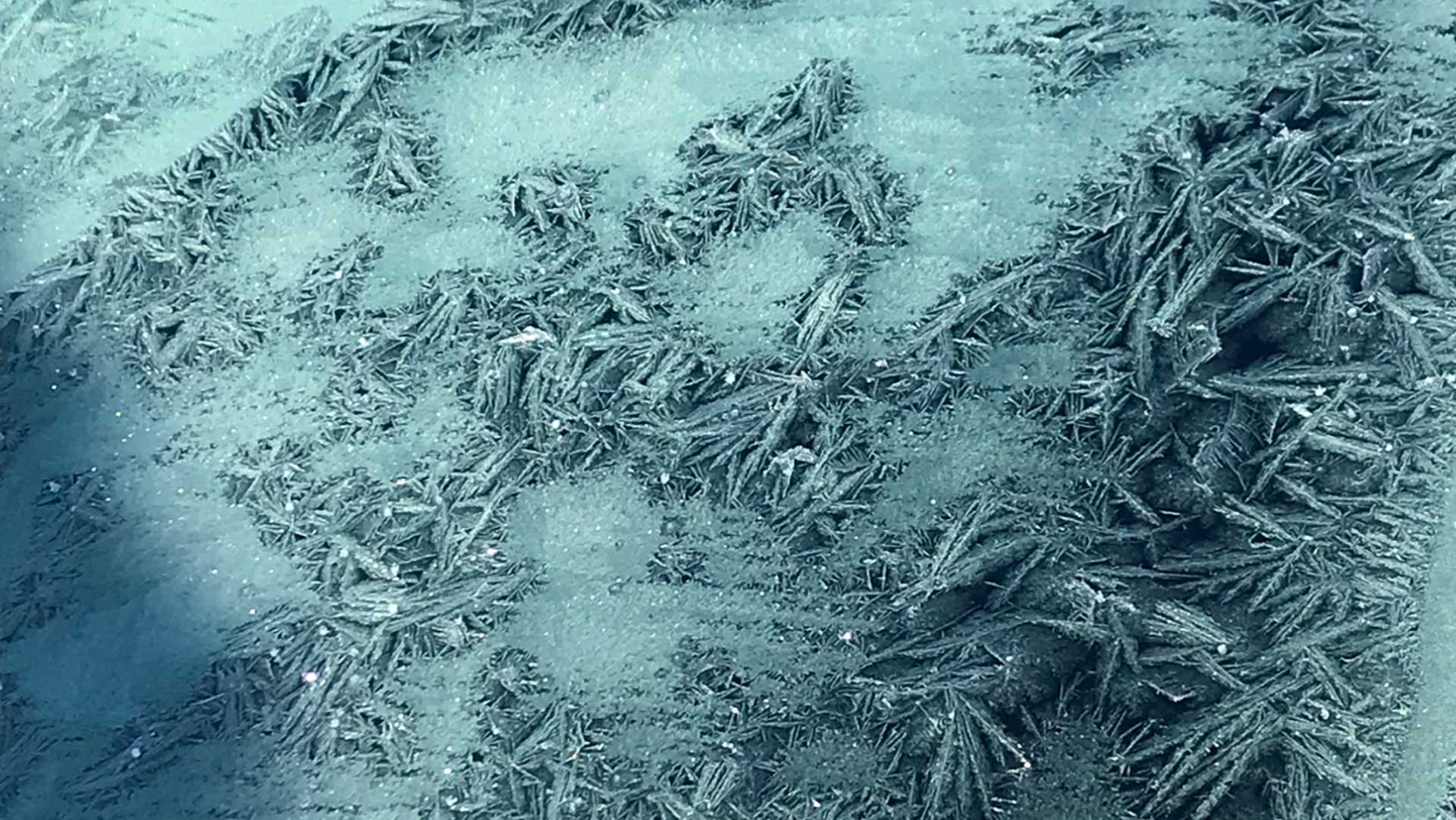 Frost on the windshield at the Duck Lake Lodge in Babb, Montana.

Courtesy Lisa Schnebly Heidinger
I've not seen frost patterns in so long! Not able to find my trusty tape box ice scraper, we used credit cards to remove all the lovely starry ice, choosing safety over beauty. (Which reminds me of once when Uncle Linds said "Safety first," to Rye, he asked, "What comes after safety?")
Larry dropped the keys and I realized I haven't taken the Forester's photo once. Cars are our horses; we go through things together over miles and we see them as partners on our travels. The Navajo plate has never been this far north.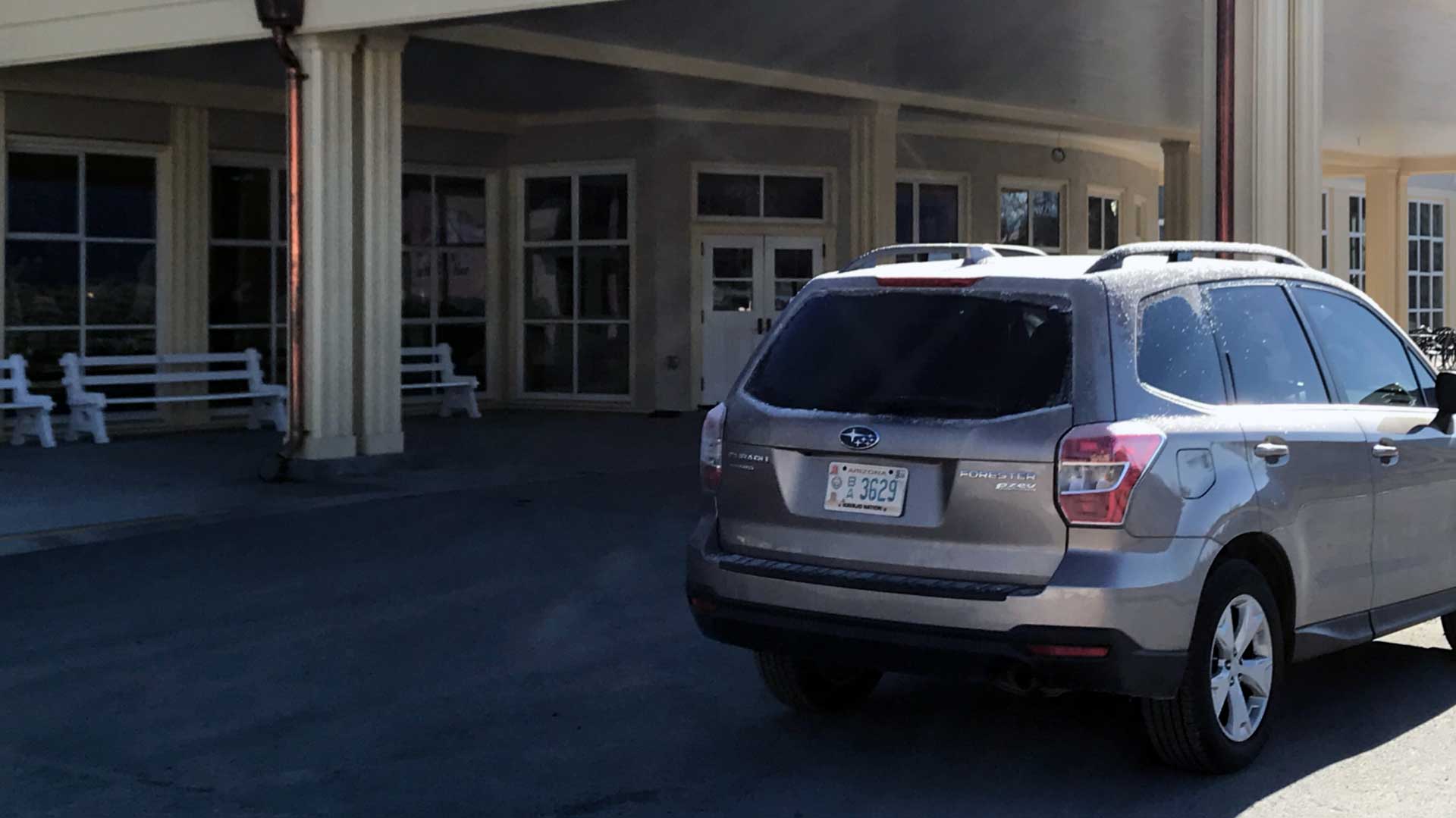 "Cars are our horses; we go through things together over miles and we see them as partners on our travels."

Courtesy Lisa Schnebly Heidinger
Like you can't step in the same river twice, we haven't wanted to eat in the same place twice, so determined are we to drive the six miles into Gardiner.
Parking by Two Bit Saloon with "breakfast, lunch, dinner," we found out at the door that saloon breakfast starts at 10:30. But Larry saw the Wonderland Lodge and Cafe across the street, which was equally beguiling, if not more so.
What a grand place! Local photography of wistful cougar faces, cubs peering out from behind mama's flank, and the Montana equivalent of Arizona Highways work. Everything locally sourced and organic, the oatmeal was wonderfully chewy, and the toast crunchy and dense.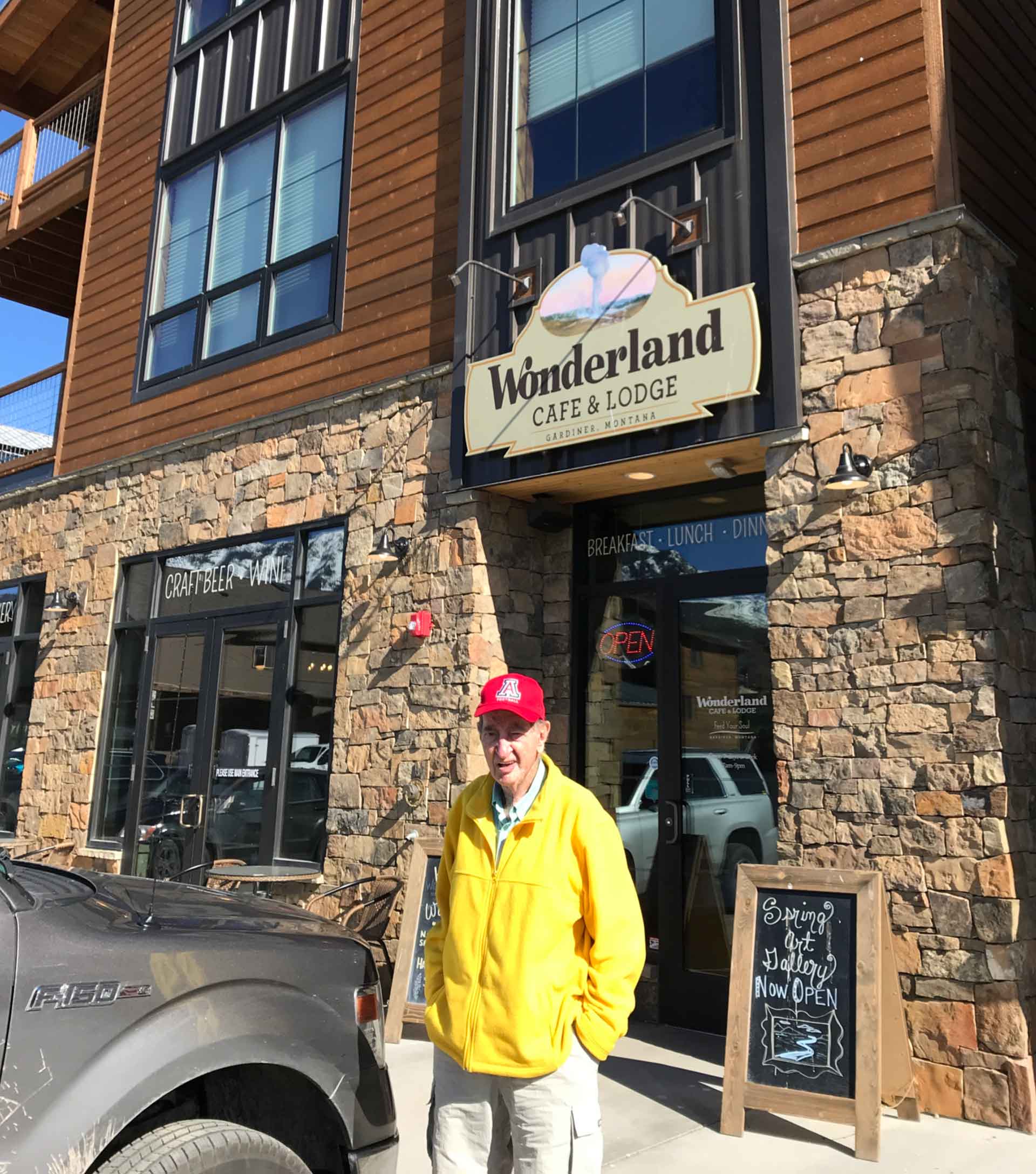 Larry Schnebly outside the Wonderland Cafe and Lodge in Gardiner, Montana.

Courtesy Lisa Schnebly Heidinger
It was all drive, all day, but a polar opposite from the grim forced march of the unexpected long day. This time we knew what we had ahead, and we knew we would see so much. I had as much energy at the end as the beginning.
One of the benefits is now being able to unequivocally state that while Montana is welcome to call itself "Big Sky Country", its skies are not one bit bigger than ours. There are lots of places in Arizona where you can see both horizons like this.
Montana's like our sister state in that we both have lots of mountains, basin, and range, flat wide country. Here, however, you are in the company of the Canadian Rockies instead of more familiar ranges. Lar remembered Kipling maintaining that God practiced with the Alps, moved on to the American Rockies and finally perfected his art on the Canadian Rockies (and also that his dad used to like, "Do you like Kipling? I don't know; I've never kippled").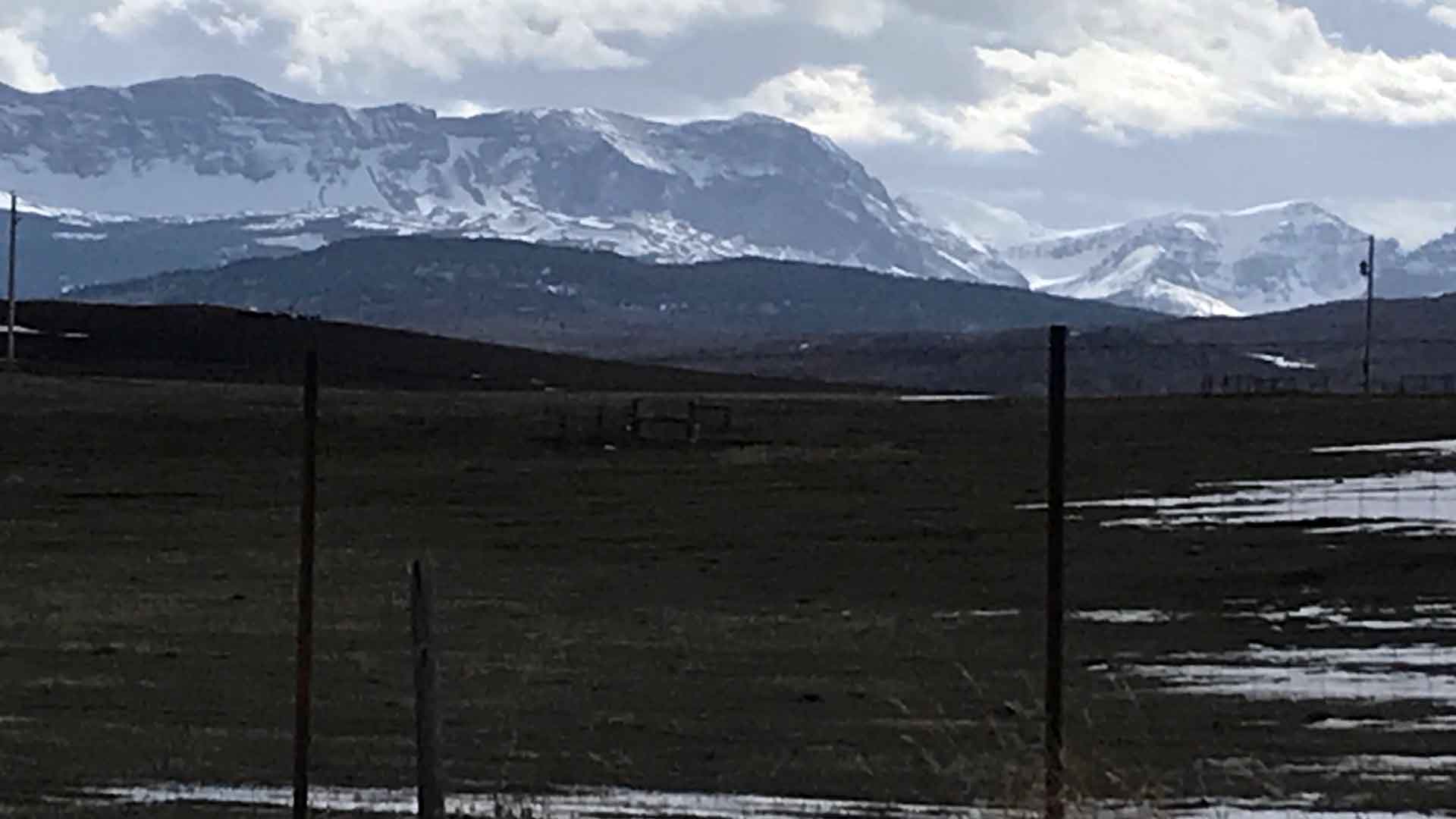 Big Sky Country

Courtesy Lisa Schnebly Heidinger
Anyway, we look a bit alike. The only puzzle to me is that they have constant rivers everywhere, with creeks feeding into them. Why isn't it crowded? If we had this much water in our wide spaces…the mind reels.
One of the sites worth stopping for was this guy.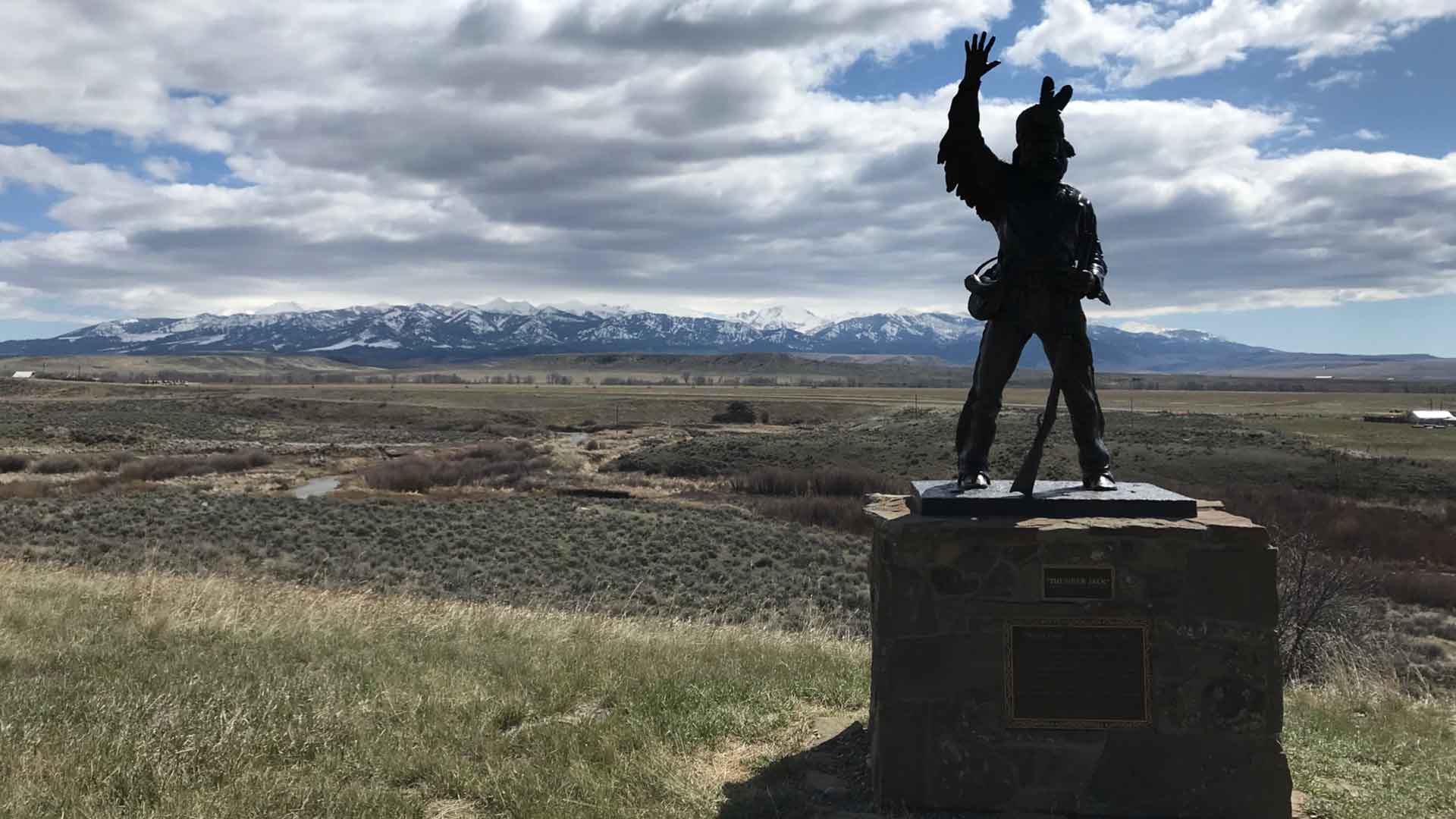 Near Wilsall, Montana, in the Shields River Valley along US Route 89 stands Thunder Jack, a statue to commemorate the mountain men of the Rocky Mountains.

Courtesy Lisa Schnebly Heidinger
While Jim Bridger was the first white man known to have crossed this valley, it and the river that made it are named Shields, for John Shields of the Lewis and Clark expedition. (It's been fun seeing Lewis and Clark place names, especially having found out recently that Sacajawea's baby went on to become an expedition guide in Arizona).
The plaque here says the statue (which was dedicated 200 years after the L&C expedition came through) honors "The mountain men, weathered and wind-bitten, adventurous explorers, who led America deep into new regions of the Rockies and beyond." I liked the writing as much as the art.
I've not mentioned that Pete had carefully compiled a marked list of XM-Sirius stations he thought Lar would like, and we've dipped in and out of it as we've traveled. Yesterday we did a deep dive into the 40s and big bands, and over the hours I don't think one song came on that Larry couldn't name.
But naming was the beginning: who the sideman was, which singer went on into film acting, who was on drums, who got out of his contract to start his own band right before Tommy Dorsey announced he'd signed Frank Sinatra (that would be Harry James).
This is my favorite new fact and the kind of thing that makes me worry in the night what I haven't thought to ask Larry. (Years ago he said when Zorro played for the kids, "I had a drink with him on a yacht once." This is a Zorro question you'd never know how to reach organically.)
Because he was so conversant, I asked if there was like a fantasy football of big bands: which singer, which sideman, which clarinetist (and I learned there's a soprano sax) he would want in the ultimate band.

Why, yes, yes there is.
It turns out that in the 50s, Playboy had a contest for the ultimate big band, and out of some 18 members, Larry picked the most popular of 17 and won second place! His prize was an album recorded by that choice group.
So, on we went. Lunch was planned for the Sip 'n' Dip in Great Falls. This was a Trevor Swanson recommendation; he does wildlife art shows all over and is very conversant with every mile we've driven. Back in the 60s, a motor hotel added a tiki bar upstairs, complete with a huge tank for mermaids, or women dressed like them until the real thing might come along. I'd called to make sure it was open for lunch and it was.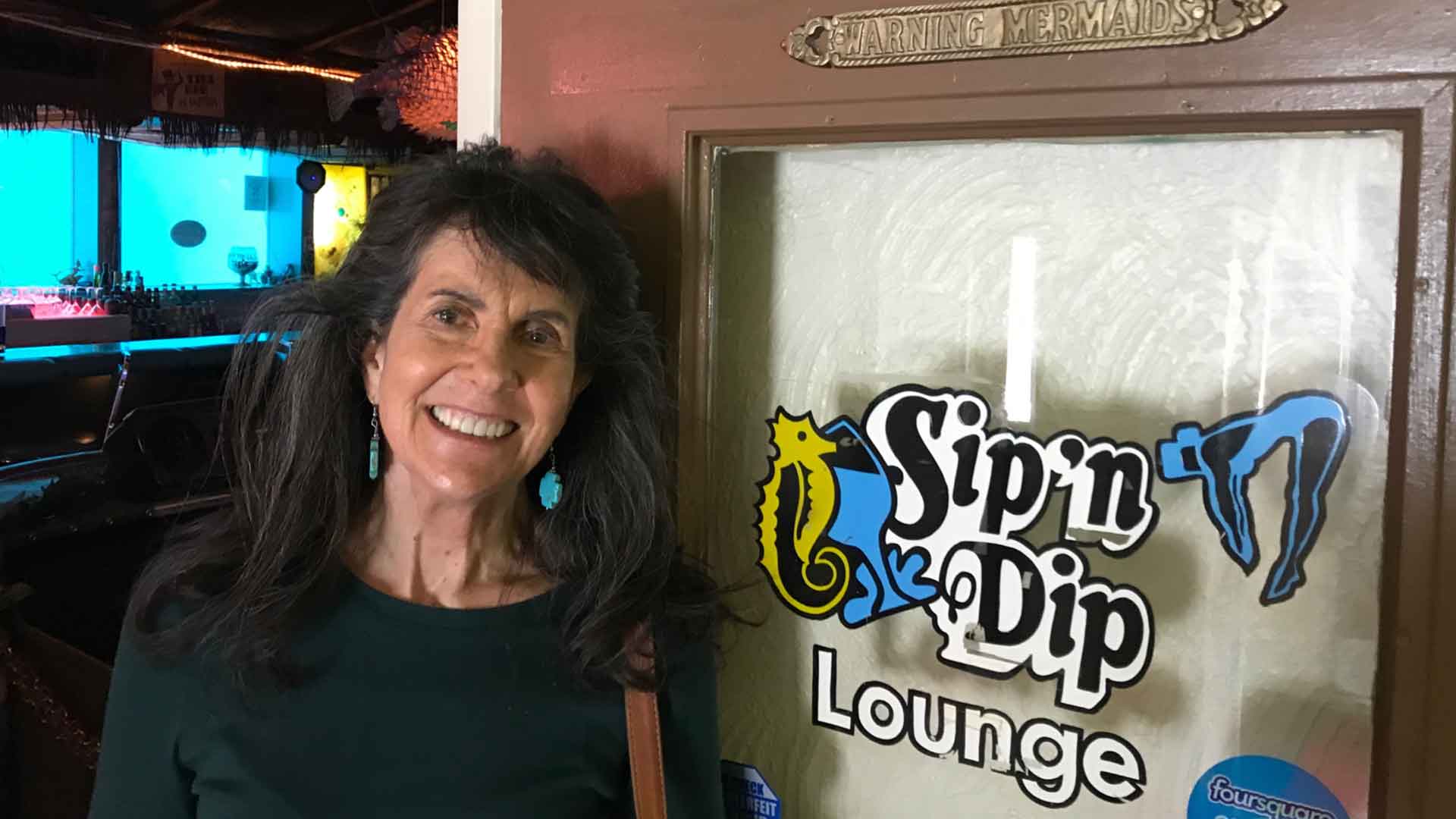 Lisa Schnebly Heidinger at the Sip 'n Dip Lounge in Great Falls, Montana.

Courtesy Lisa Schnebly Heidinger
You can see the tank behind me. However, the mermaids don't come until 6 p.m.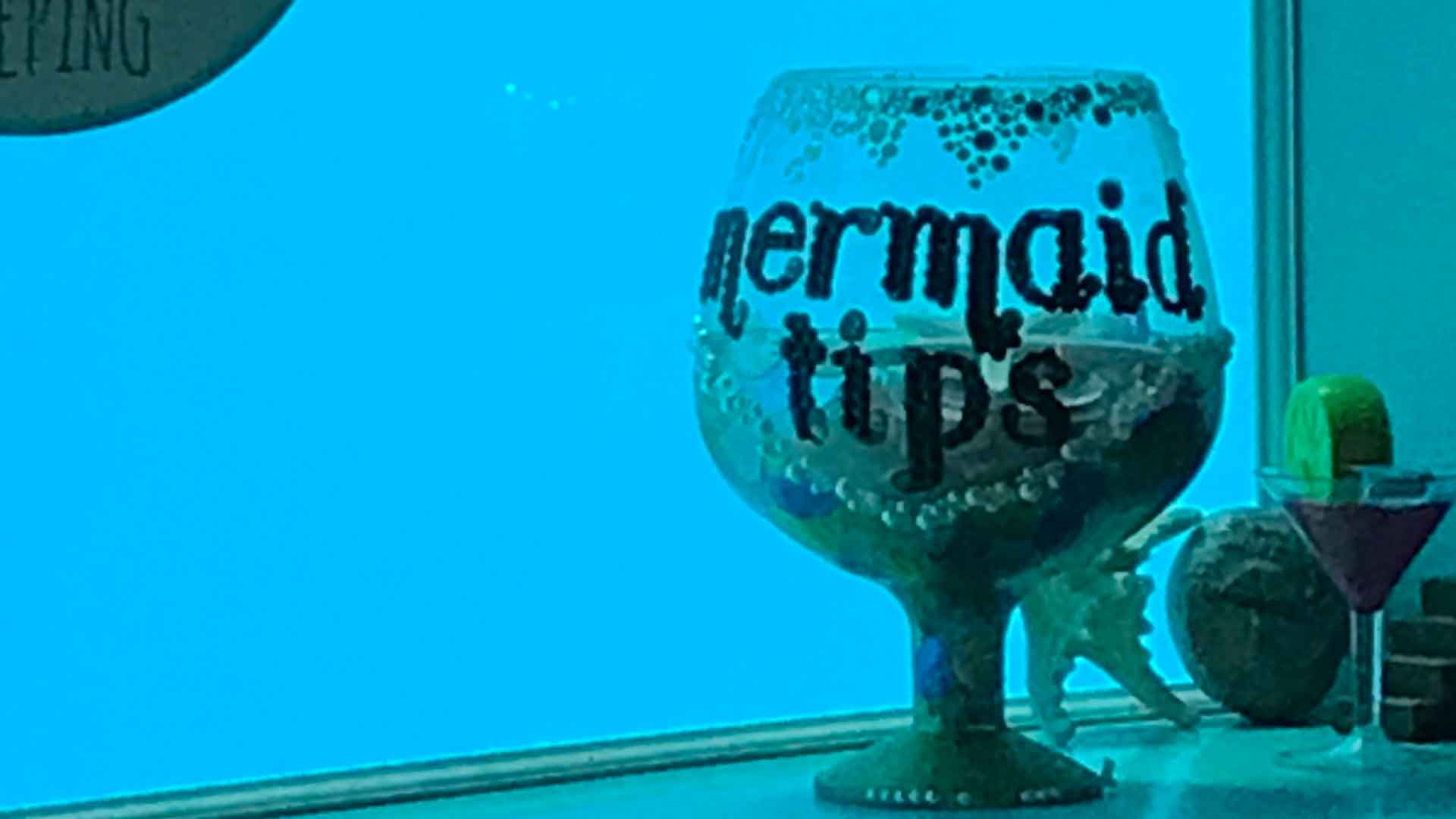 The Sip 'n Dip is a funky, old-school cocktail lounge with a tiki theme showcasing swimming mermaids behind the bar.

Courtesy Lisa Schnebly Heidinger
But we had a great lunch; I got the best salmon salad I've ever had and Larry a veggie burger. It reminded me of Tucson's tiki places with the woven straw matting and paintings of wahines.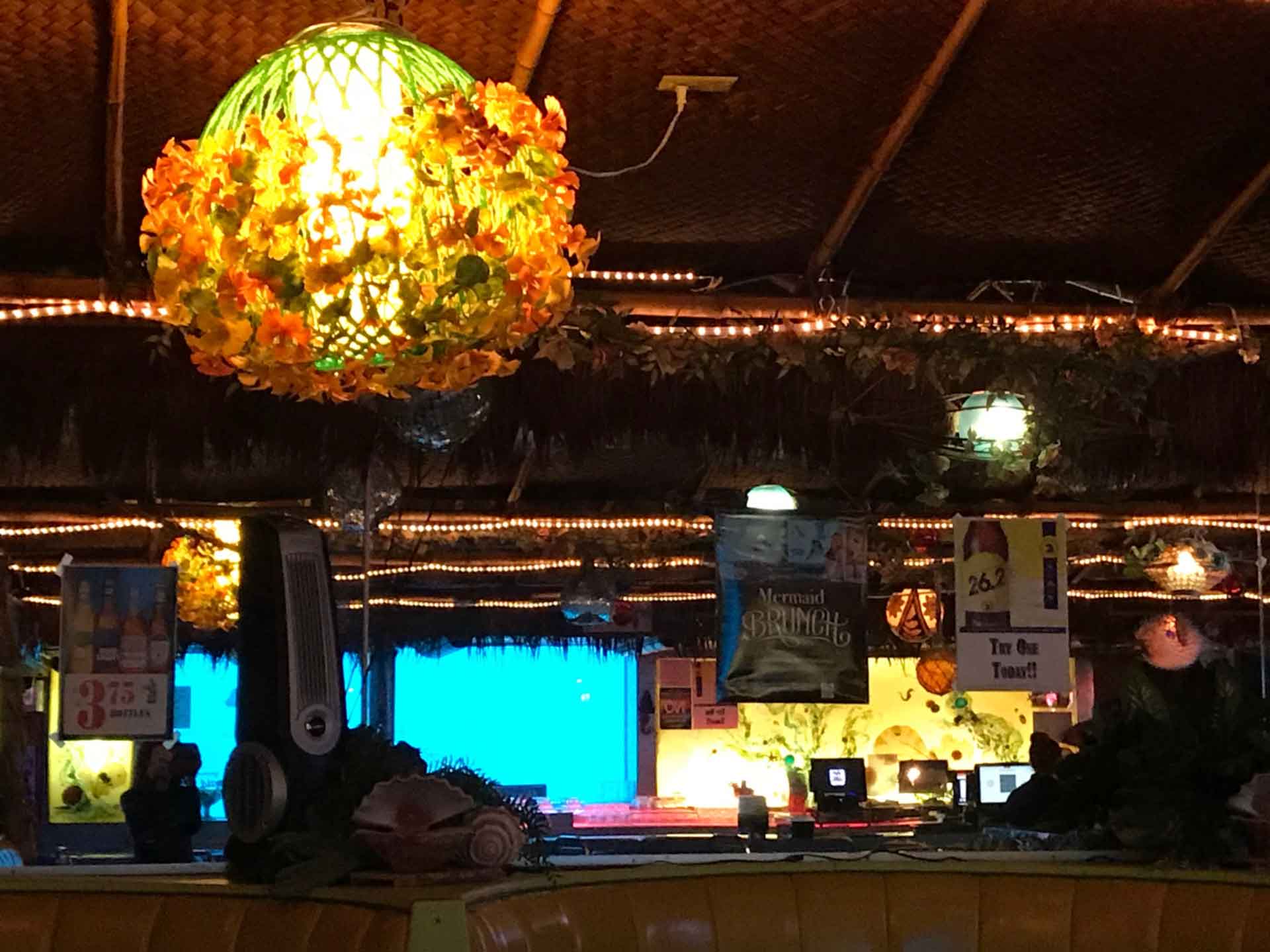 Tiki decorations at the Sip 'n Dip

Courtesy Lisa Schnebly Heidinger
We determined to get coffee later.
Back on the road, I missed where I belonged the second time on this trip, and we were on 15, which is the most direct route to wherever 89 goes. Blast. But…we got to go through Cut Bank. When Larry saw the sign, he recognized it as often the coldest place in the country. And what do you know? There's a Cut Bank Brewery and Coffee place.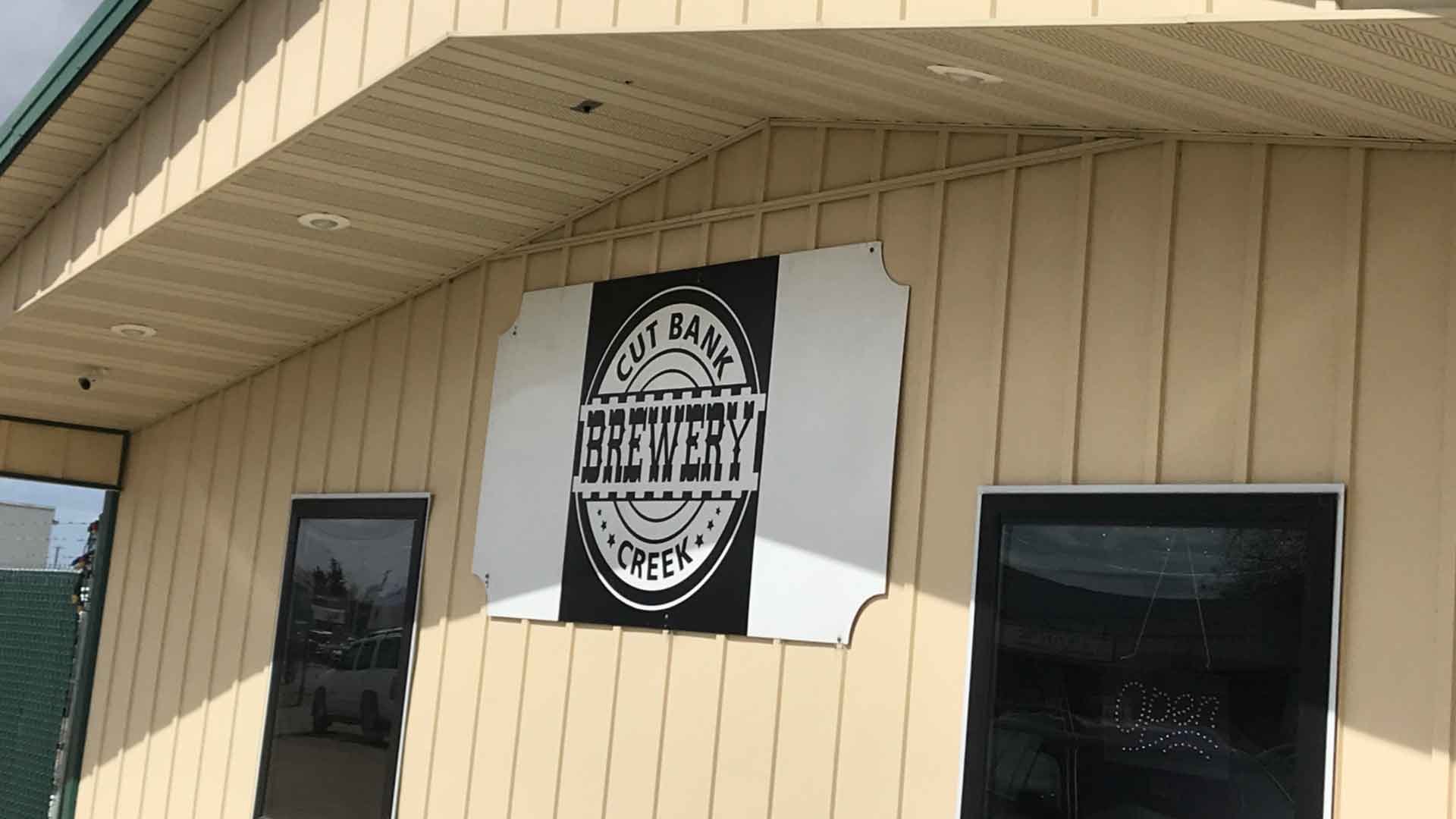 Cut Bank Creek Brewery in Cut Bank, Montana.

Courtesy Lisa Schnebly Heidinger
Maybe not much to look at, but such a great place inside, with a barista/server who explained all about the bloom in a hand-dripped cup of freshly-ground coffee, and how it's coldest here a lot because of the wind sweepin' down the plain (not her words) and that we should see the patio out back where they have live music during the two months of good weather. We ate popcorn you scoop into coffee filters by the machine that made the whole place smell wonderful while we waited.
During a big band break, we listened to a CD I had with a picture of northern Arizona on it from 2013, which included "Back in the Saddle Again." That was apparently the theme song for Gene Autry's radio show and reminded Lar that back at Wasatch he and his friends had been in the common room on a Sunday afternoon waiting for that show to start when they heard a news bulletin that Pearl Harbor had been bombed. They were all sobered, knowing life would change but not knowing how.
We were feeling so good that when we went through Browning and into Babb and knew the Canadian border wasn't far, we decided to push on. I realized I'd never gotten the emblematic shot.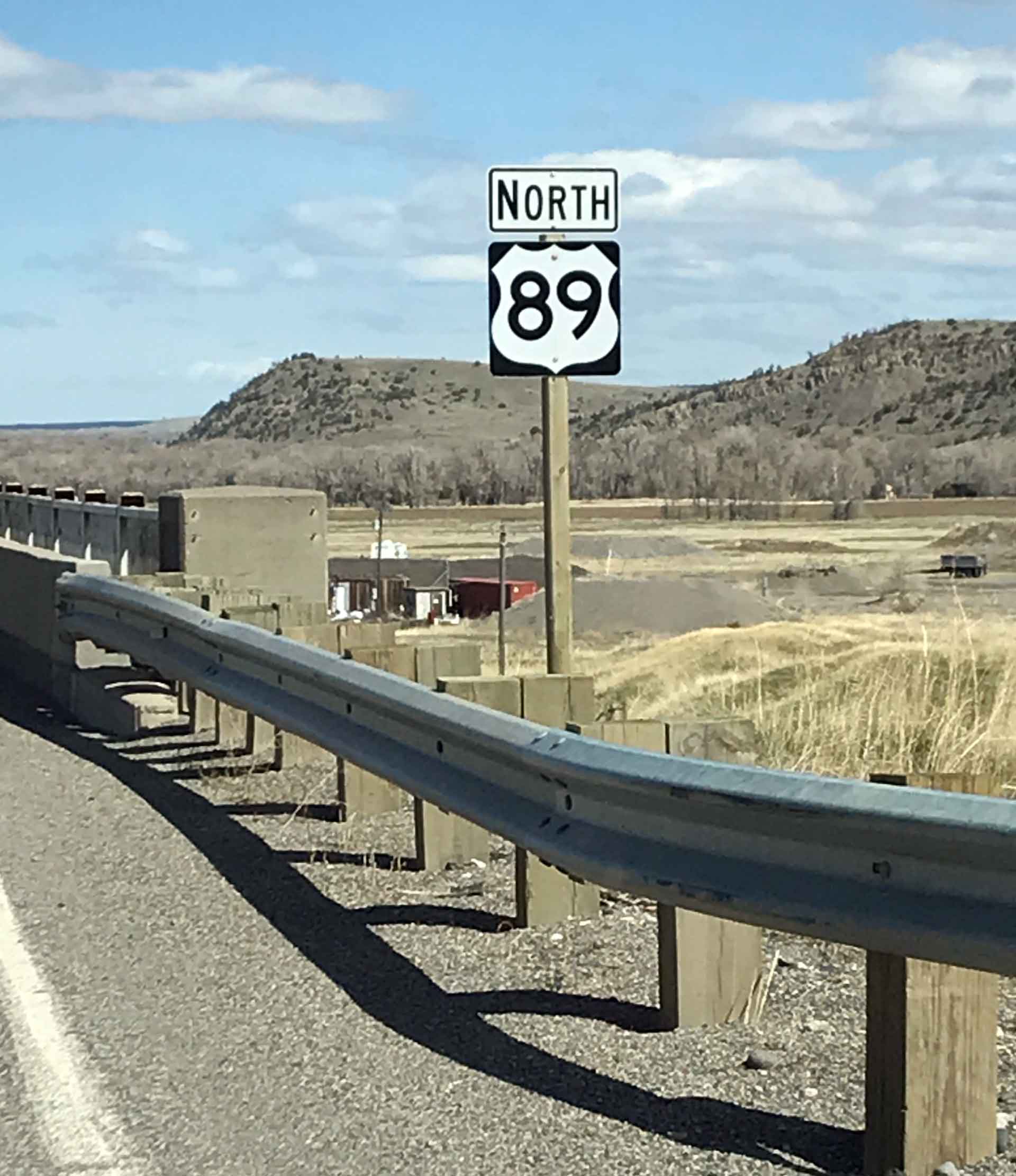 US 89 sign.

Courtesy Lisa Schnebly Heidinger
Yon, it comes. Sure enough. It was like turning 16. On the one hand, it feels so momentous and on the other hand, nothing discernible changes. We were able to roll right across the border to the parking lot before the port of entry and get a picture with the flag of the land on which we stood.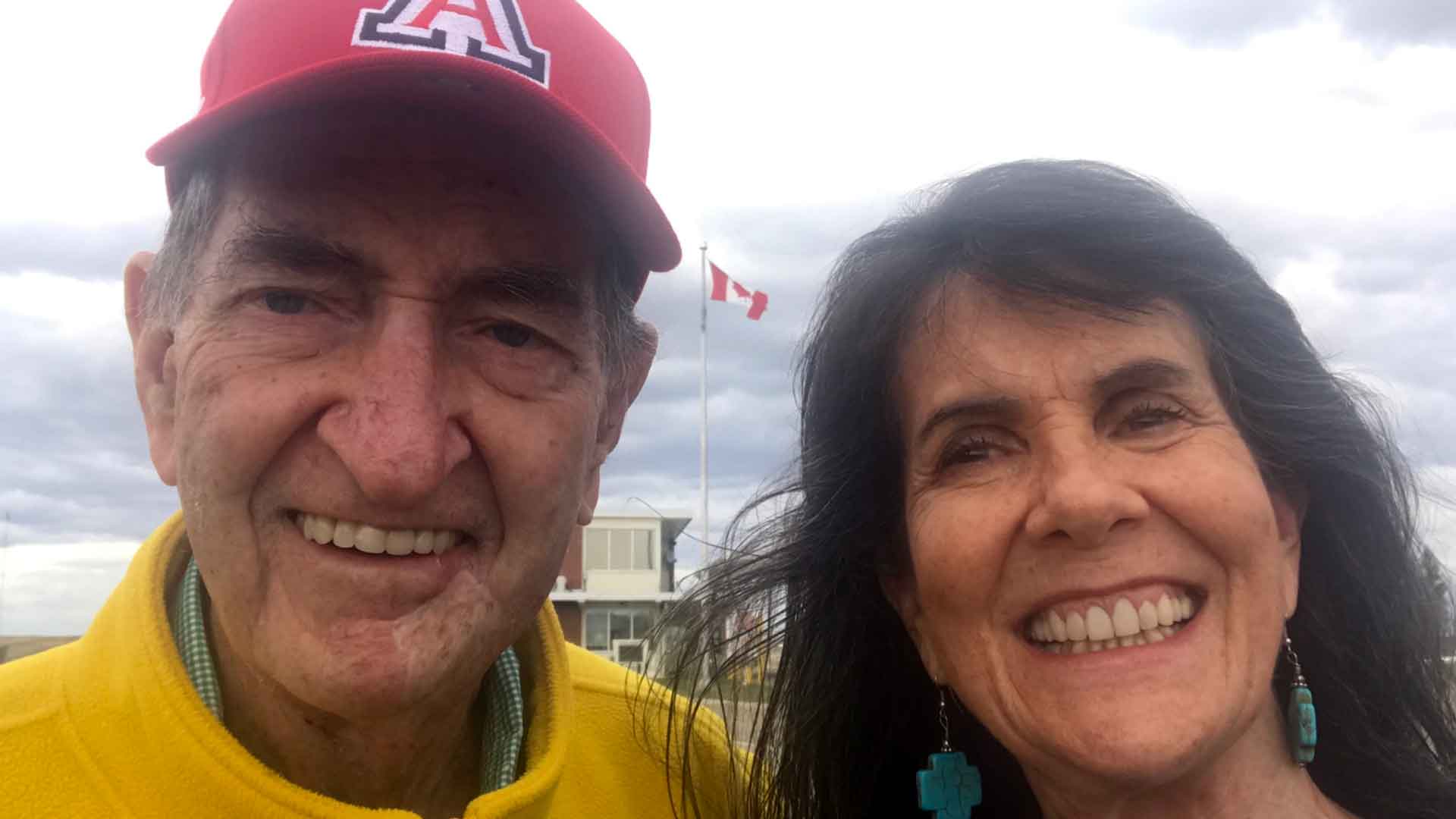 Larry Schnebly and daughter Lisa Schnebly Heidinger at the Canadian Port of Entry.

Courtesy Lisa Schnebly Heidinger
Apparently, Canadians like to do everything carefully and deliberately and didn't have that flag nailed down for about 100 years after their constitution was ratified, which I know because the "This American Life" I listened to last night happened to be "Who's Canadian?"
We returned to home soil with little fanfare except the feeling of a mission accomplished.

This story is part of
The 89-90 Trip
, a travel-series written in the field by Lisa Schnebly-Heidinger as she takes her father north on U.S. Highway 89, celebrating his 90th birthday by revisiting the memories of a lifetime.