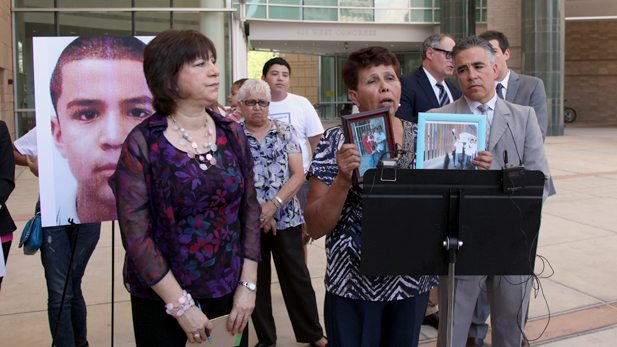 Taide Elena, Jose Antonio's grandmother, shows a photo of the teen next to an image of his coffin at the border.

Fernanda Echavarri, AZPM
Listen:
The family of a 16-year-old Mexican teen shot and killed by the Border Patrol in Nogales, Sonora filed a civil lawsuit in Tucson's federal court Tuesday.
The American Civil Liberties Union filed the suit on behalf of Araceli Rodriguez, mother of Jose Antonio Elena Rodriguez. The complaint demands Border Patrol release the names of the agent or agent who shot the teen across the international border fence.
"I want to see the faces of the agents who killed my grandson, he was a child not an animal and he was doing nothing wrong," said Taide Elena, the teenager's grandmother.
On Oct. 10, 2012, Elena Rodriguez was in Nogales, Sonora walking on a sidewalk parallel to the border fence when one or more Border Patrol agents shot from the U.S. multiple times, killing the teen, according to the family's attorney.
The killing sparked protests on both sides of the border.
Border Patrol initially said there were rocks thrown from the Mexican side of the fence before agents fired. U.S. Customs and Border Protection declined to comment Tuesday on pending litigation.
"We have alleged very specifically in the complaint that neither Jose nor anyone near him was throwing rocks, threatening Border Patrol agents or doing anything else that would justify his killing, so we have brought this civil lawsuit on behalf of the family under the United States constitution for the excessive unjustified wrongful dead of Jose Antonio," said Lee Gelernt, deputy director of ACLU's Immigrants'' Right Project.
The lawsuit was filed about a month after federal courts allowed the family of a Mexican teen in Juarez, Mexico, to sue the Border Patrol agent who shot at the boy across the border.
The agency has been criticized for lack of transparency and for not releasing information regarding deadly use of force, including the name of agents involved in a deadly shooting.
Other law enforcement agencies, including the Tucson Police Department and Pima County Sheriff's Office, release the names and details of officer-involved shootings.
"U.S. Border Patrol agents, with force, exercise control over areas on the Mexican side adjacent to the international border fence," the complain said.
The complaint seeks a trial and punitive damages.