Youth Crossing Gender Borders explores the landscape of young people and gender identity. Laura Markowitz talks to teens, parents, and experts on the forefront of understanding the spectrum of human identity.
---
"Is it a boy or a girl?" That's the first question people ask when a baby is born. Based on its physical characteristics, a baby is identified as either male or female, but during the first two or three years of life children develop their own internal gender identity. When inner identity is a mismatch with biology, the experience is confusing and challenging not only for the child, but for the whole family.
On a hot Saturday morning, Tucson prepares for its annual Pride festival. From under the shade of a few scrawny mesquite trees, a couple—"Suzy" and "Gary"—watch their three young children dash around excitedly. One of those children is 5-year-old "Zoey," their transgender daughter. These are not their real names. They live in a small town in rural Arizona and they don't feel safe coming out about having a transgender child.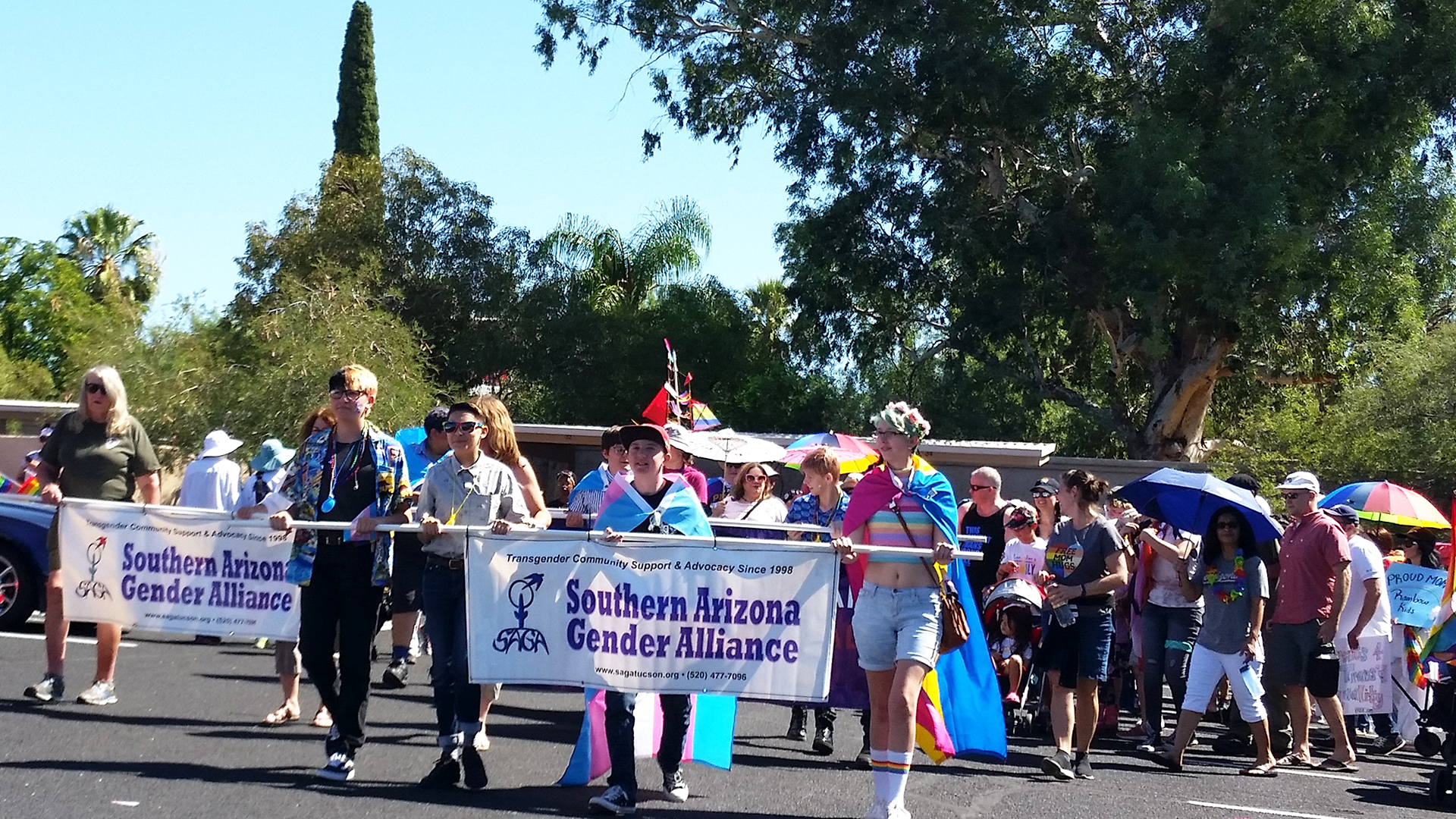 Tucson's Pride celebration includes transgender youth from preschool through high school as well as their families and friends.
Laura Markowitz
Zoey is their youngest. "Really, this is all kind of new to us," says Gary. "Zoey was born a boy but always exhibited really feminine behavior." He says Zoey was constantly wanting the "girl version of things."
"She didn't want to wear all the boy clothes that I had," remembers Suzy, "and sometimes refused to get dressed. It was a battle in the morning. Her Christmas list last year was ten dresses, high heels, purses—and roller skates."
"We thought maybe we had a gay son," says Gary.
"Because we just didn't know," says Suzy.
"I think our daughter is really the first trans person that we've ever really known. So she's teaching us a lot."
Zoey runs over to say hello. She's wearing a red-and-white striped dress. She says she's in kindergarten and likes doing worksheets. Then she skips away to play with her sister and brother.
When it became clear that Zoey didn't identify as a boy, her parents had to shift their expectations. "The transition wasn't necessarily so much of a stretch for me in terms of, 'Well, I'm not going to have that pro football player anymore,' " says Gary. "It was just so foreign, and so unfamiliar, and so new."

For Suzy, there was a feeling of loss. "We have all these pictures of her when we would dress her as a boy, because that's what we thought she was. And sometimes it's sad to look at that, and be like 'Oh, where did my little boy go?' But really, she's just always been a girl and she just couldn't tell us."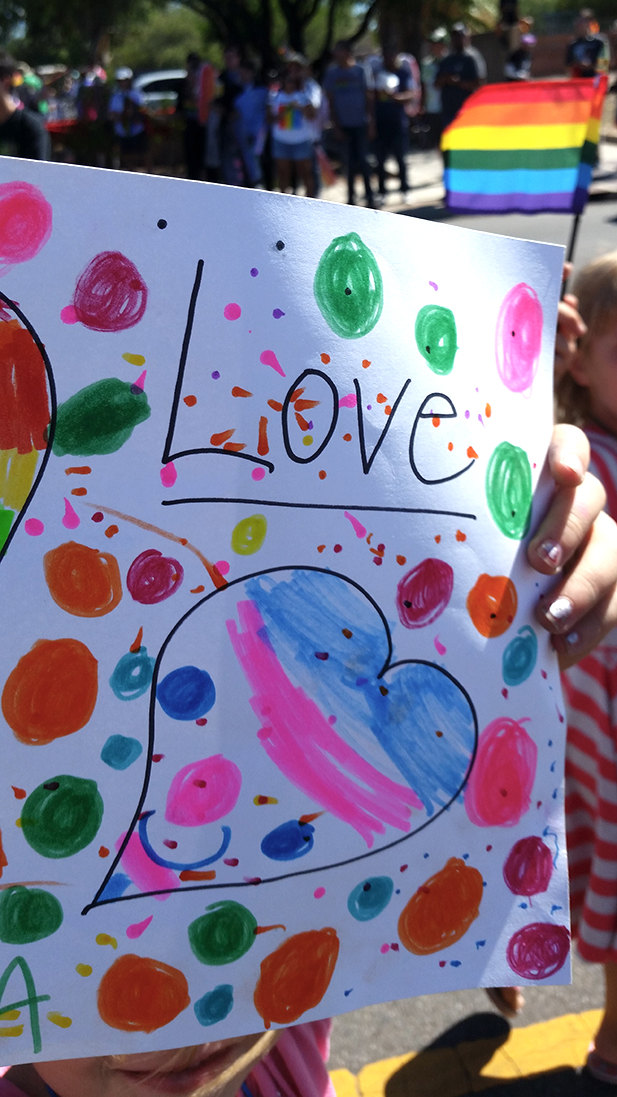 A participant in the 2019 Pride festival in Tucson holds a hand-made poster.

Laura Markowitz
Listeners might think, "This child is five. How would a five-year-old know?"
"Our other kids—they always knew," says Suzy. "Our oldest, he's a boy and he feels like a boy and knows he's a boy. And our middle child is a girl. And she feels like a girl—I mean, she's not super girly, but she feels like a girl and she knows she's a girl. So if they can know, then why can't Zoey?"
Once Suzy and Gary accepted that they had a transgender child, they explained it to their older children, who are in elementary school. Zoey's sister was confused at first that her little brother was actually her little sister.
"Yeah, I didn't know what was going on, but Mom checked a book out from the library and I understood then." The book was I am Jazz, the story of a transgender girl.
Zoey's brother says he wasn't all that surprised. "It was definitely okay, and it felt like she was my sister all along." He says some kids can be mean about it, and "I should protect her. I really should."
Suzy believes more education would help kids to be more accepting. "If the schools in the community would teach about gender and sexuality so that the kids didn't think it was something odd, more people would be supportive because they would know to be supportive."
Parents of transgender children have more than the usual trepidations about how the world is going to treat their kids.
Suzy and Gary let Zoey take the lead. When Zoey started preschool, she decided not to be out as a girl. "So she would be a boy at school and everywhere else be a girl," remembers Suzy.

Zoey was afraid of being teased. "There were a couple of girls she went to preschool with in particular who she said would tell her she wasn't a real girl," says Suzy.
Before kindergarten, Zoey's mom told her that none of the kids from preschool would be in her new class. Did she want to be a girl for kindergarten? Zoey did. "So we met with the principal," Suzy remembers. "We explained the situation and they were on board. 'She can be a girl. She can have a girl name. She can use the girl's bathroom. She can be a girl at school. No issues.' And it's been good, so far."
Do they worry that they're making a mistake by supporting Zoey to live as a girl? What if later in life she decides no, she's really a boy?
Gary says one of the doctors gave them a helpful way to think about it. He told the couple that if Zoey later comes to feel that it was just a phase and she's really a boy ("which I don't think will happen," says Gary) then the worst they would have done is to show their child that they are willing to be supportive no matter what.
That doctor was pediatrician Drew Cronyn. He is co-founder of El Rio Community Health Center's transgender and gender non-conforming youth program.
"Honestly, the thing a lot of people don't understand is there is nothing we do that's irreversible until late puberty," says Cronyn.
No one does surgery on a child who isn't at least 18 years old, he says. When he works with young children like Zoey, "all I'm doing is calling them by the name they want to be called by, and [using] the pronouns they want to have used."
"It's a common misconception that a six-year-old comes in and yesterday they told their parents, 'I think I'd like to be a boy,' and we do surgery and give them hormones at six. We don't."
Cronyn has been a pediatrician for 20 years. He says it's only in the last five years that he's started to understand how to help transgender youth and their families.
"I came into this thinking that this was parents coddling their children and children choosing a gender," he says. But then he started meeting the kids. "I started looking at the way I looked at things compared to what I know medically and scientifically and realizing that I was completely wrong."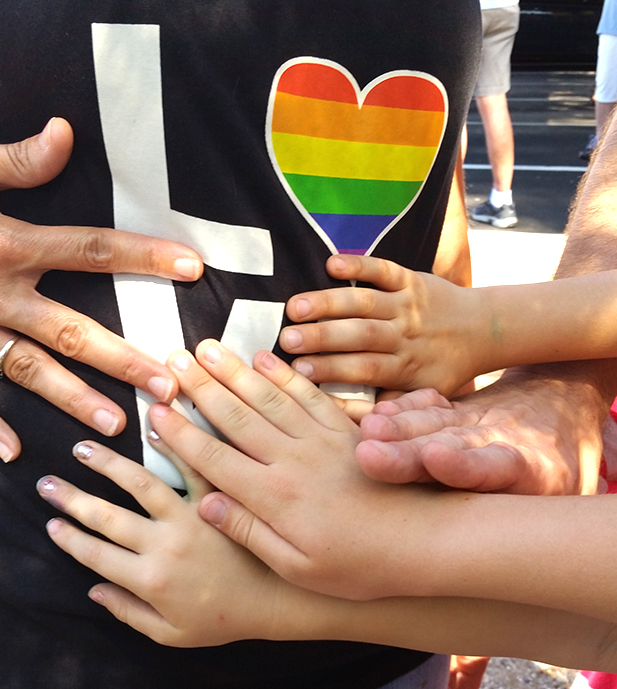 Research shows that when families affirm and support their transgender children, those youth have better health and mental health outcomes.

Laura Markowitz
Research shows that a respectful and affirming approach to treating transgender children is beneficial to their mental health.
In the US, more than a million adults identify as transgender. A 2017 report estimates that there are 150,000 teenagers who identify as trans. But there are no statistics on the number of transgender preschoolers or elementary school children.
Cronyn believes that increasing visibility and support in society means parents recognize the signs in their children at younger ages.
"No parent ever comes in saying, 'I expected my child to be transgender. I wanted a child with gender dysphoria.' All that parents want is their kids to be loved and to be safe and to be accepted."
Zoey's parents agree. At the same time, they're also grateful their family is on this journey with Zoey.

"Even if our daughter decided to go back to a boy, I think we would stay ingrained in this culture," says Gary, "because these are people, right? And it's so sad that they're marginalized right now. And we're now a member of that marginalized group through our child. I was telling my wife it's so unfortunate that it took our child being trans for us to be aware of this."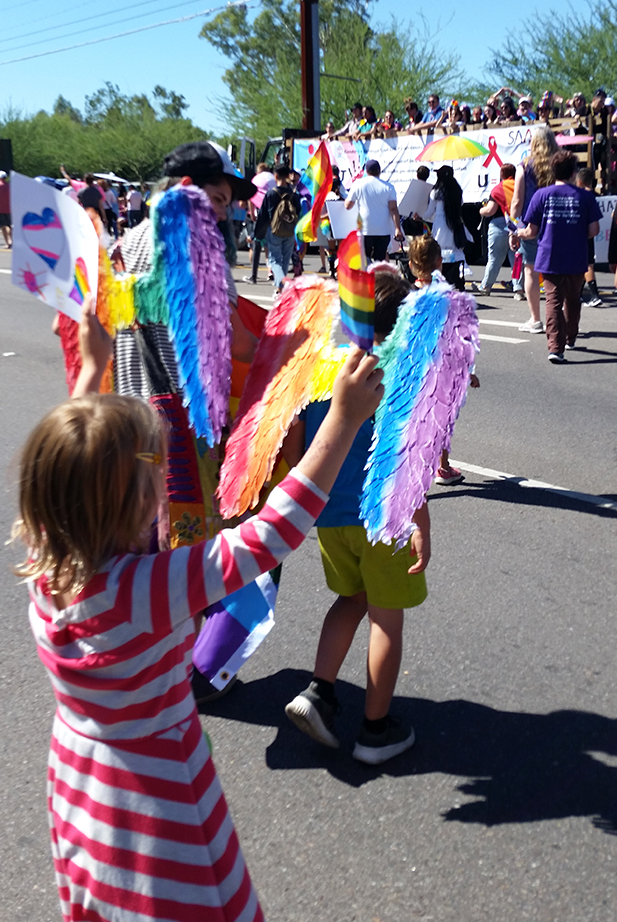 5-year-old "Zoey" holds up a sign she drew herself in the colors of the transgender flag: pink, blue, and white.

Laura Markowitz
Suzy says their eyes have been opened. "We are totally on board to support not only our kid but everybody else in the community."
The floats are assembled and the march is about to begin. Zoey skips into line behind a group of kids wearing rainbow angel wings. She's clutching a picture she drew of a heart with pink, blue and white—the colors of the transgender flag. She waves it in the air and joins the parade. Her family is right behind her.
This story is part of Youth Crossing Gender Borders, a series produced by AZPM Contributing Producer Laura Markowitz for Arizona Spotlight. For information on support groups for transgender and gender non-binary youth and their families, visit the Southern Arizona Gender Alliance.
Listen to Episode 1: "Parents Taking Pride"