Youth Crossing Gender Borders explores the landscape of young people and gender identity. Laura Markowitz talks to teens, parents, and experts on the forefront of understanding the spectrum of human identity.
---
Against a backdrop of Supreme Court battles over bathrooms and school board fights about including gender identity as part of the curriculum, the parents of transgender children struggle to understand what their children are going through and figure out how to help their kids navigate the world safely.
Parents may feel alone, but Tucson has a robust parent support community. It's a group called Families Transformed of Southern Arizona, which is part of the Southern Arizona Gender Alliance, or SAGA.
A contingent of parents and other family members of transgender and gender non-binary children march in Tucson's Pride parade. Lizette Trujillo, mother of a transgender son, is the group's facilitator.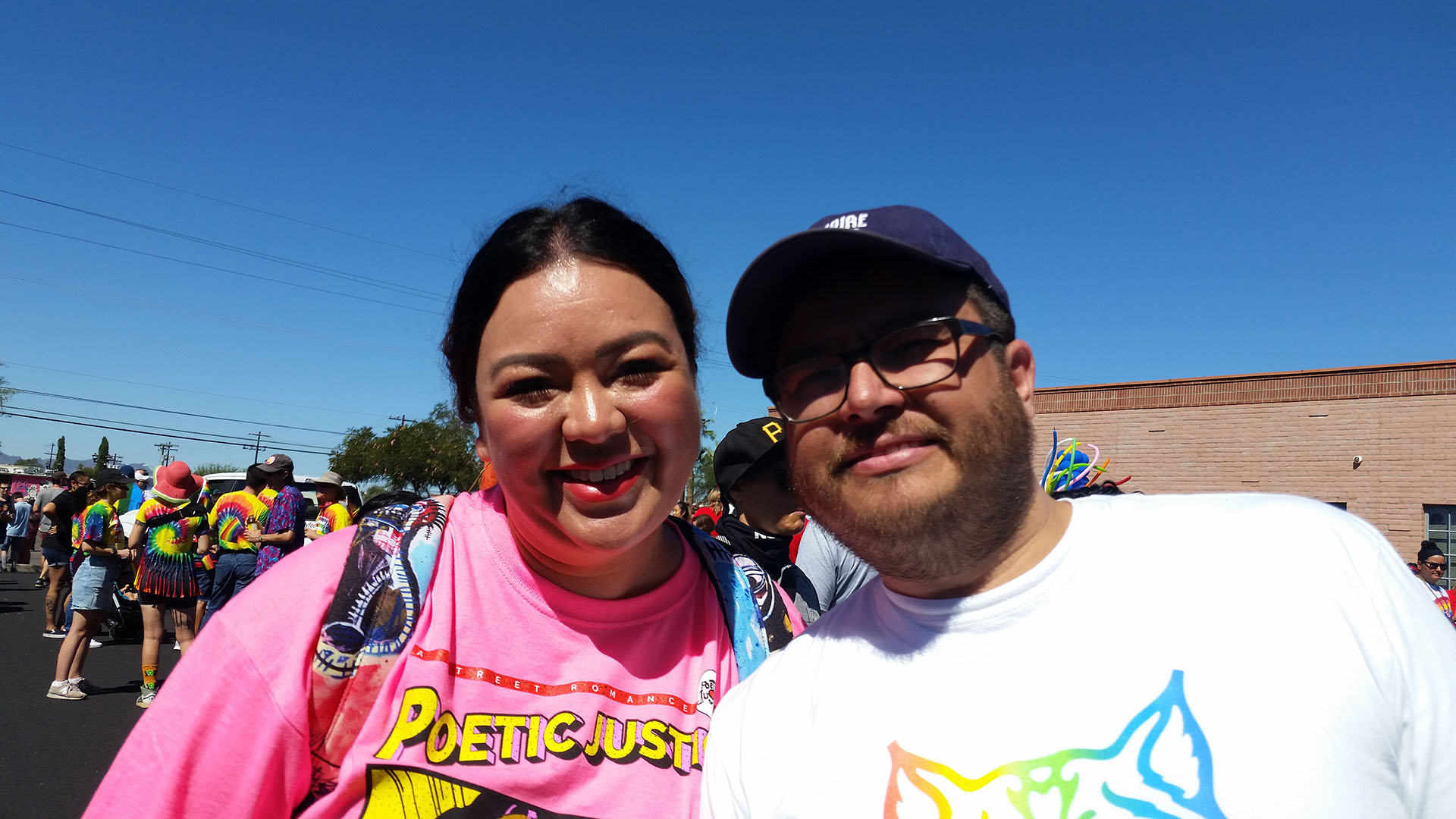 Lizette and Jose Trujillo are the parents of a transgender son. Lizette is the facilitator of a support group for parents that is part of the Southern Arizona Gender Alliance (SAGA).

Laura Markowitz
"I call it my plot twist," says Trujillo. "I was pregnant and I was told that I was going to have a girl."
But she and husband Jose Trujillo noticed that from an early age their child identified as a boy.
"I remember him putting on my clothes, wearing my ties, and then deepening his voice," says Jose.
"And if you look at the pictures there's a disconnect," says Lizette, "what we now know as gender dysphoria."
Transgender people across the board experience gender dysphoria.
It's defined as a persistent feeling of distress and discomfort because the bodies they were born into don't match their inner gender identities.
It wasn't until their son was eight that his parents realized he was transgender. Lizette Trujillo remembers: "His little friend called him 'him' and the mother corrected my son's friend and said, 'No, sweetie, she's a girl.' And his friend looked at us like we were crazy and said, 'No. He is a him.'
"So I walked my child back to the car and I told him, 'I heard your friend referred to you as 'him.' Is that how you see yourself?' And he told me, 'I know that my body is wrong. But in my insides and in my heart, I'm a boy'."
"I was so afraid of what that meant."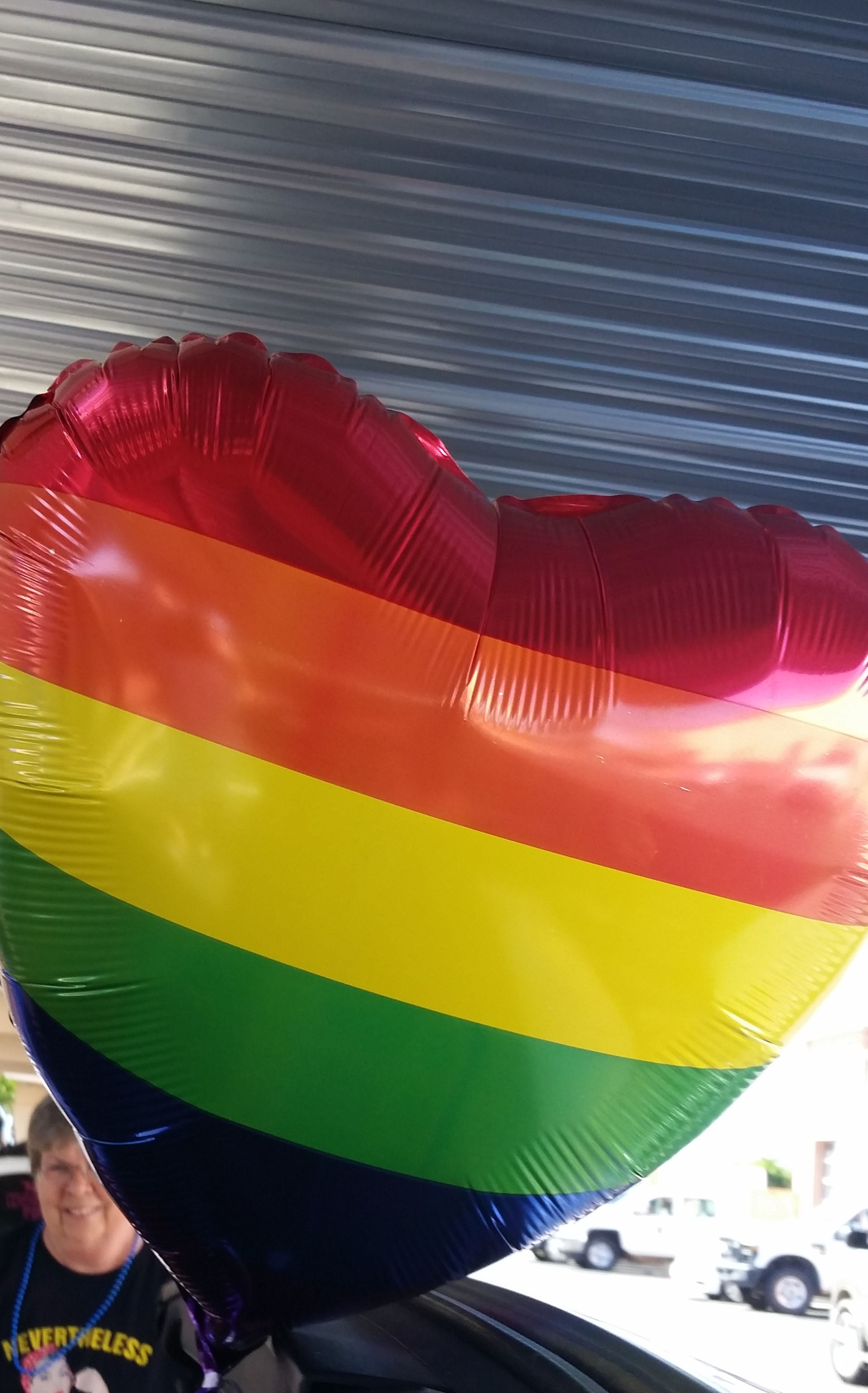 Tucson's Pride celebration started in 1976 and is one of the oldest in the nation.

Laura Markowitz
She and her husband didn't know what to think. Having a transgender child was so unexpected. Jose Trujillo says, "What I was afraid of is what if we caused this? I needed really to be educated. Because one thing is to not be against it, which I wasn't, and another thing is to understand it and explore it."
It took them nine months to find the parent community at SAGA. They were relieved to talk to other parents. Four mothers started the group, hoping to find resources for their transgender kids and support for themselves. Lizette Trujillo says in a decade it's grown to a community of 189 parents.
The parent community offers very practical support. "We have stock letters to go to the school," she says. "We have doctors that support and affirm our children. We have therapists that are trans-competent, and they'll tell you what sport programs are safe, what schools are safe, what schools aren't. Finding those resources and finding those safe pockets is vital."
Among the parents there's also frequent discussion about coming out – when is it safe, when is it not safe. The Trujillos came out to family members over the course of nine months, and as Lizette recalls "it wasn't necessarily positive. My mom is here now" – she means at Pride – "four years later. But we did have some losses."
The couple was afraid to tell people about their transgender son because they didn't know what laws protected them.
"I didn't know if people were going to try to take away our child because we were loving and affirming," says Lizette Trujillo. "That happens in some states."
Some parent communities advise parents to create "safe folders," which include things like doctors' notes, pictures of the child, drawings the child makes – "things that prove you're having this gender experience," she says. She adds that in the state of Arizona parents do have some protections.
On top of the worry about possible repercussions from coming out to family, schools, and professionals about their trans children, parents' main concern is safety. Trans kids are bullied, and assaulted at high rates. Studies have found as many as 85 percent of trans youth have had those experiences.
Lizette Trujillo says there is a lot of discussion in the support group about how to keep their children safe in public spaces.
"You don't have to disclose to everyone that you're trans," she says. "You disclose as you feel it's safe to."
But before she learned this strategy she says she "was like this walking wound that was like 'I have this transgender child – don't harm me!' And outing him everywhere. And realizing that's really not safe and actually no one can tell."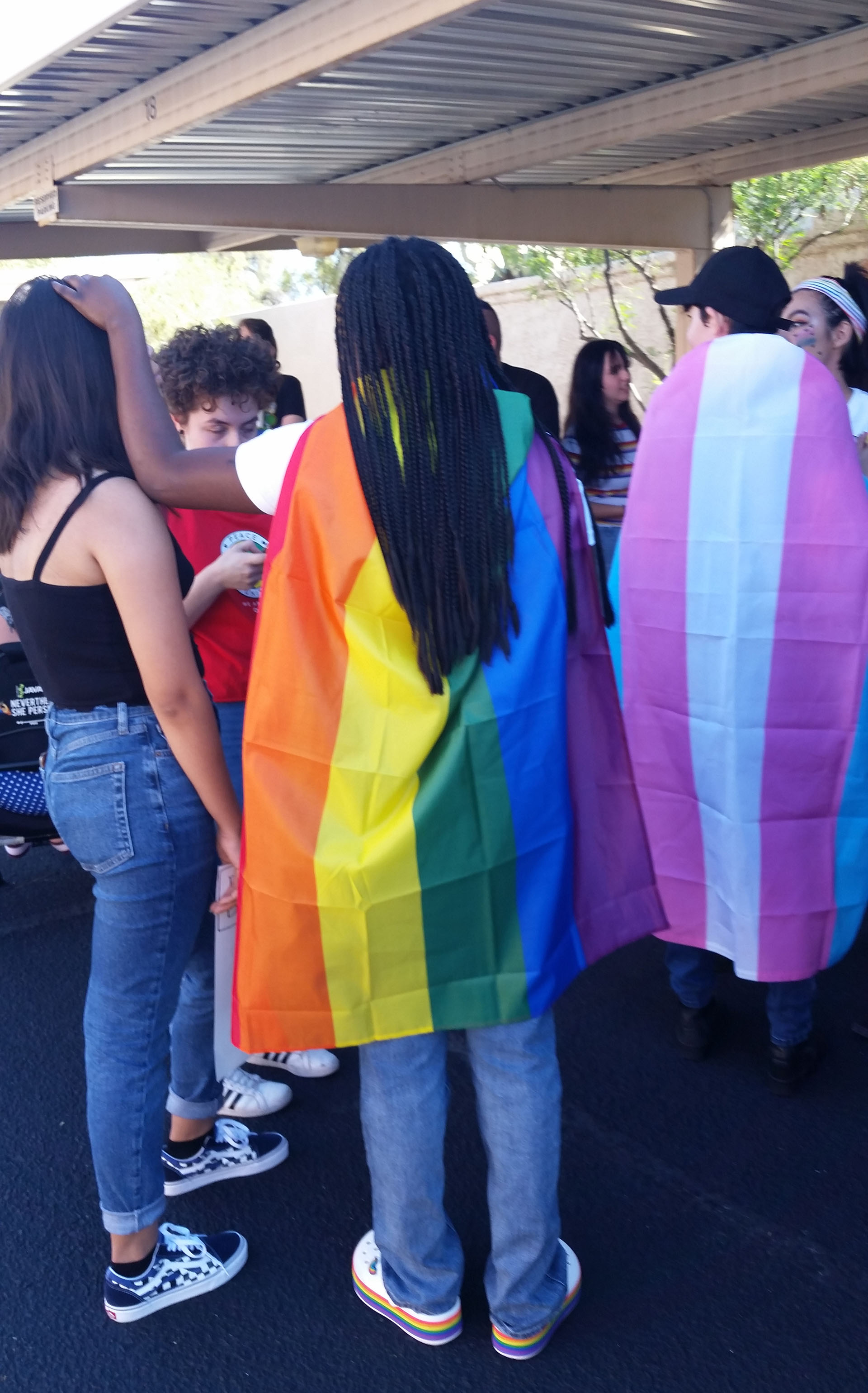 "Before teens come out to a parent they've been researching it on their own for two to three years." – Lizette Trujillo

Laura Markowitz
A few minutes before the Pride march begins, a couple comes over to meet Lizette Trujillo. They heard about the parent support group from a friend and want more information. Their 15- year-old is a transgender boy. Trujillo asks them how long they've known.
"They came out at the end of last year," says the mother. "And as a parent, I totally knew something was going on. Just that inner gut feeling that something's not right. And I was giving him the space at the time to figure it out. And lots of affirmation. 'No matter what, you're going to be loved and supported in this family. Whatever you tell me, it's not going to change anything.'"
Trujillo asks her how she's been feeling this past year.
"I think there was initial relief to know. And then there was that sinking feeling in my gut."
Trujillo is nodding. "The fear," she says.
"Yeah!" says the mom. "Like, 'Oh my god, this is what it is,' and knowing the kind of world we live in, how at-risk that puts him, and as a parent what I can do to keep him safe."
Trujillo says all the parents she speaks to have this initial fear reaction. She says she had it, too. "It wasn't that I was afraid my kid was trans. I was deeply afraid the world was unsafe for my trans child. And there's a deep feeling of aloneness because parent communities are hidden. But there's thousands of us. And so I just want you to know that we're going to help you and your family. I don't want you to feel alone."
For many parents, when a youth comes out the focus is on getting them what they need to move forward on their journey. Trujillo says before teens come out to a parent they've been researching it on their own for two to three years. "So by the time they come out they're actually asking for help."
She says parents need to get their own help so they can be there for their kids. "Parents of transgender kids go through their own transition because you don't really understand the experience," says Trujillo, "so a lot of what happens between the child and the parent is reaction. What parents communities do is we offer the information needed so that you can better empathize with your child and do all the grieving or any of those things that you may feel in parent community, where it's safe."
The journey for parents of transgender kids may seem like uncharted territory, but Lizette and Jose Trujillo say it's really not that different from what every parent goes through. All parents have some expectations for their children, whether conscious or unconscious. And at some point children become their own people and choose their own paths.
"Like if there's a line of doctors in the family and all of the sudden the kid wants to be an artist," says Jose. The parents will say, " 'You're going to be poor! How are you going to feed yourself?', instead of embracing it and saying "Lets figure this thing out." His wife is nodding. "Let's give you a paintbrush and oil and help you thrive."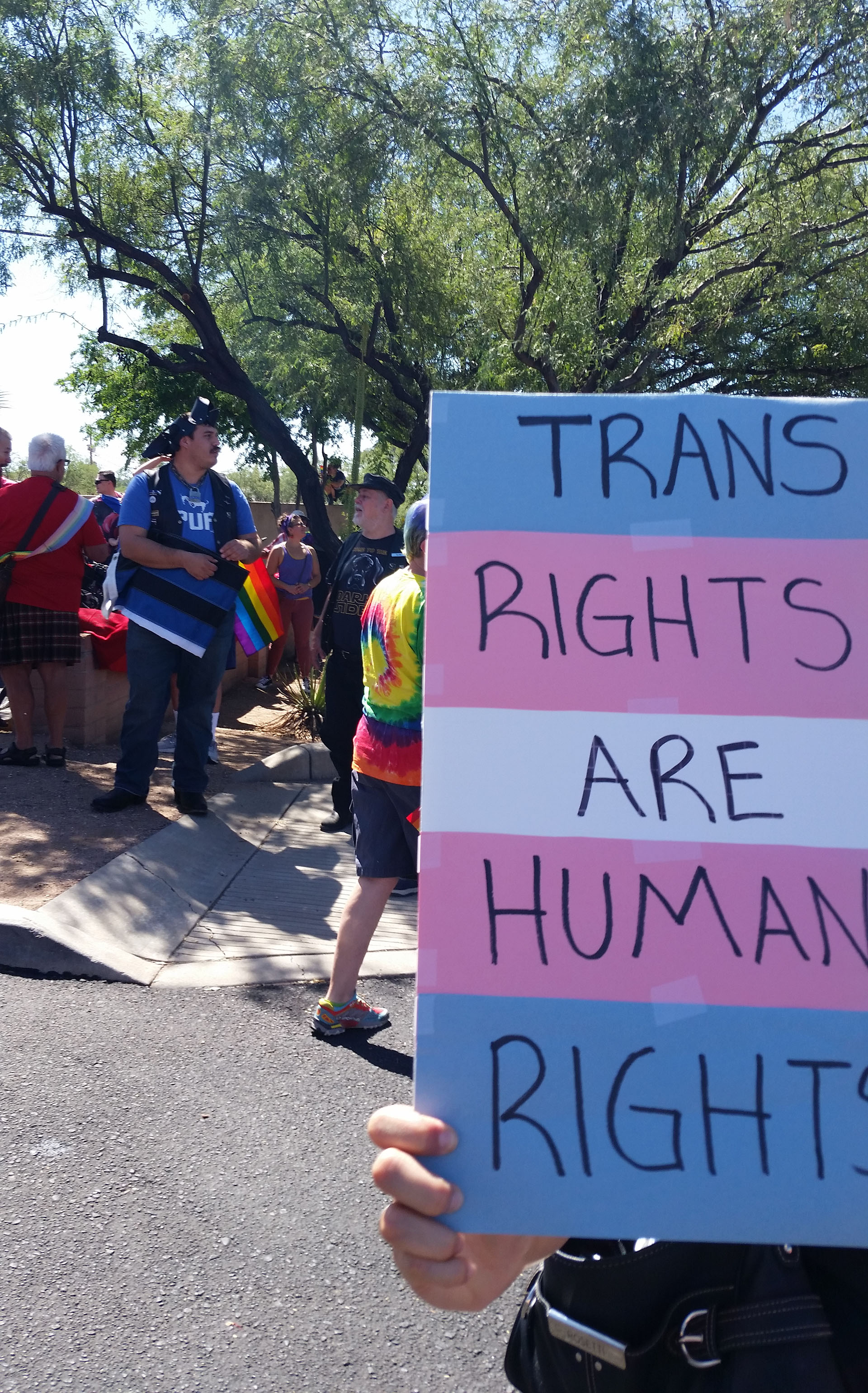 Transgender teens are at a disproportionately high risk for bullying and harassment.

Laura Markowitz
This story is part of Youth Crossing Gender Borders, a series produced by AZPM Contributing Producer Laura Markowitz for Arizona Spotlight. For information on support groups for transgender and gender non-binary youth and their families, visit the Southern Arizona Gender Alliance.
Listen to Episode 2: "Changing Expectations"