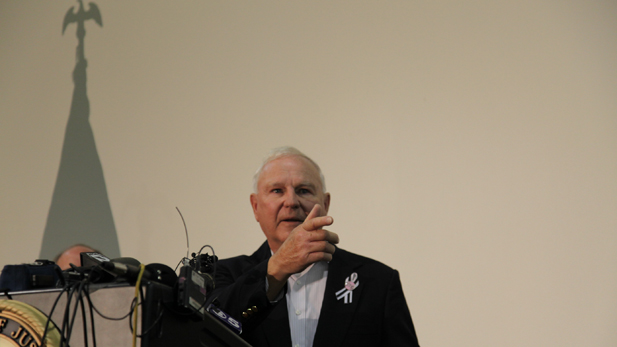 Following the sentencing of Jared Loughner in the January 8, 2011 shooting, victim Bill Badger talks about the shooting. (PHOTO: Christopher Conover, AZPM)
The man who pleaded guilty in the Arizona shooting rampage will serve seven life sentences--one for each life lost during the mass killing plus another for attempted assassination--and 140 years, a federal judge determined today.
Jared Lee Loughner appeared in federal court Thursday and was sentenced for the Jan. 8, 2011 shooting that left six people dead and wounded former U.S. Rep. Gabrielle Giffords and 12 others.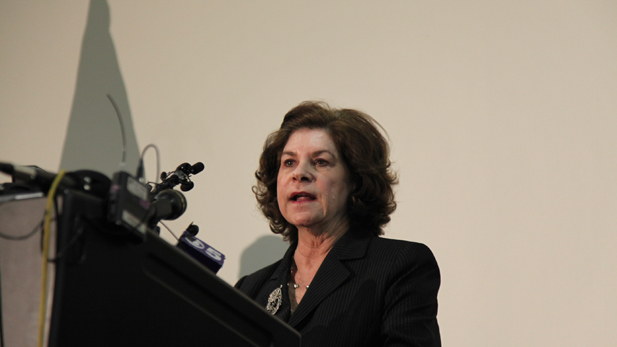 Pima County Attorney Barbara LaWall announces the state will not prosecute Jared Loughner. (PHOTO: Christopher Conover, AZPM)
Also today, Pima County Attorney Barbara LaWall announced she will not seek prosecution of Loughner for state murder and attempted murder charges, at the request of the victims.
The federal sentencing hearing marked the first time victims confronted Loughner in court about shooting, which occurred during a Giffords' Congress On Your Corner event in Tucson. Many victims spoke directly to him, and he looked at them while they spoke.
Some were visibly upset, even crying, as they spoke to Loughner or U.S. District Court Judge Larry A. Burns.
One of the victims who spoke was Suzi Hileman who was shot during Giffords' event. She took 9-year-old Christina-Taylor Green to the Congress On Your Corner, and Green died after she was shot.
"This is an awful situation for all of us and it all revolves around you," she said to Loughner. "Your parents, your schools, your community, they all failed you ... You pointed a gun and shot me three times. You turned a civics lesson into a nightmare."
Mavy Stoddard's husband Dorwin was also killed in the shooting. She told Loughner he chose to shoot people.
"But you forgot to shot yourself, that's what your aim was, according to your diary," Stoddard said.
Then, she implored Loughner to try to find Jesus.
"He loves you and can forgive you in a way that I can't."
Giffords, the target of the attempted assassination, and her husband Mark Kelly were among the victims who appeared in court to make statements about the shooting's impact on their lives. Kelly read a statement with Giffords standing at his side, staring intently at Loughner.
"You tried to create for all of us a world as dark and evil as your own. But remember this: you failed," Kelly said to Loughner. "You may have put a bullet in her head. But not a dent in her spirit."
Kelly also said Giffords would have given her life to bring back any of the six people who died that day.
As each of the shooting's victims addressed the courtroom, Loughner sat and watched but showed little reaction.
Judge Larry Burns, who has presided over Loughner's case since its start, called the sentence "symbolic" and just, because it ensured Loughner "will never have the opportunity to pick up a gun to do this again."
The seven life sentences are equal to one for each person who was killed, plus one for the assassination attempt on Giffords' life. He also received 20 years for each of two attempted murders of federal employees, and 10 years for each of the other 10 people who were wounded.
Loughner pleaded guilty three months ago to 19 federal charges under an agreement that guarantees he will spend his life in prison without the possibility of parole. Burns requested Loughner return to the federal prison hospital facility in Springfield, Mo., where he has been under the care of a prison psychologist.
He is not eligible for parole, and cannot appeal his sentence.
Burns also said during the sentencing hearing he hopes the nation renews its debate about high-capacity gun magazines that have been used in many mass shootings. He said he understands the military has certain ammunition and firepower needs, but they are not the same for civilians.
"I don't understand the social utility of allowing citizens to have magazines with 30 bullets in them," Burns said in court.
After the sentencing hearing, several of the shooting victims made statments to the press, and almost unanimously called for a strengthened mental health system.
"If we consider ourselves our brothers' keeper, it's imperative that we look out and we don't look the other way when we see somebody struggle and we try to help," said Randy Gardner, one of the shooting witnesses.
"If the shooter had gotten help at the right time, this never would have happened," said Bill Badger, who was injured and helped subdue Loughner at the shooting scene.
Badger and others called for more federal background checks for gun purchases , or restrictions on the number of bullets that a gun magazine can hold.
"We would still like to do something to prevent this from happening again," Badger said.