Gov. Jan Brewer will release her draft legislation to expand Medicaid to cover an additional 240,000 low-income Arizonans, her office announced Monday.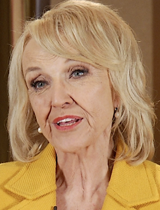 Gov. Jan Brewer. (PHOTO: AZPM)
Brewer is scheduled to release a "Medicaid Restoration Plan" in a 1 p.m. news conference on the lawn at the state House of Representatives.
The Republican governor transcended her own and her party's long opposition to the U.S. Affordable Care Act by calling in her January State of the State speech for expansion of health care for the poor as allowed in the law.
Brewer's rationale was that the federal government will cover nearly all the costs and the money will go a long way toward shoring up health care for the poor while at the same time providing an economic boost.
Reaction from other Republicans has been mixed, ranging from outright opposition to wait-and-see. Democrats and the health-care industry have been largely supportive of Brewer's proposal.
Under it, the state would agree to accept federal Medicaid funding to cover uninsured residents whose incomes are as much as 133 percent of the federal poverty level. For 2013, that would be $20,628 for a family of two and $31,322 for a family of four, according to the U.S. Department of Health Services.
Brewer and others have said that taking the expansion would bring the state up to $2 billion in additional federal funding, while costing the state less than what a lower level of federal Medicaid would.
She has proposed covering the state's share with a fee on the health-care industry, whose officials have said they are agreeable to it. They would not be allowed to pass along the costs of the fee to patients, under Brewer's proposal.