(VIDEO: AZPM)
Gov. Jan Brewer's counterintuitive push for Medicaid expansion under the Affordable Care Act is motivated by pragmatism and what her legacy will be, says a New York Times journalist.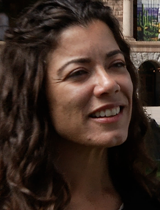 Fernanda Santos, Phoenix Bureau, *The New York Times*. (PHOTO: AZPM)
Fernanda Santos, the Times' Phoenix bureau chief, said in an interview for Friday's Arizona Week that the Republican governor has surrounded herself with advisers who have her legacy in mind and are pragmatic.
Brewer is pushing for Medicaid expansion, despite her opposition to the federal health plan. She says the expansion will bring billions of federal dollars to the state and help its most vulnerable residents get needed health care while helping the economy.
"The interesting thing about Gov. Brewer is that she's not a black-or-white politician," Santos said, citing the governor's successful 2010 push for a temporary sales tax to support education at a time when state finances were in critical condition.
"That was a very unpopular measure with Republicans," she said. "She nonetheless kept going, took the issue to the voters, the voters approved the sales tax increase ... She's doing it again right now. She is pushing a measure, the expansion of Medicaid, which is very popular with Democrats, highly unpopular with Republicans."
Santos, who wrote about the issue for the Times this week, said one motivation on Brewer's part might be to draw attention away from her and Arizona's national image as anti-immigration.
"People who have been following her very closely know that one of her interests is to take the attention away from immigration," Santos said. " ... That's what she's known for, remembered for, maybe not so much in Arizona, but certainly in other parts of the country.
"So there is a motivation to kind of be known for something other than that, which is not a very positive legacy if one is to look at nationally how people perceive her."
Santos said at the same time, Brewer is pragmatic and "is surrounded by very pragmatic people, and a lot of her decisions are made not on her own but in conjunction with advisers who have taken a very pragmatic approach to ... the issue. It makes sense to the state financially."
Brewer first mentioned her wish to expand Medicaid in her State of the State speech in January, saying it worked for the state mathematically and would have safeguards to protect the state if the federal government cuts off funding and to keep it from costing taxpayers any money.
The state's share would be paid for through an assessment that could total $250 million annually on hospitals, something the health care industry has endorsed.
Republican legislative leaders have spoken out against the expansion, although some Republicans have expressed support. Democrats have wholeheartedly supported it.
Read Brewer's Medicaid bill here
View at Google Docs | Download File