The U.S. Senate Judiciary Committee opened hearings Friday on comprehensive immigration reform, just days after the Senate's "Gang of Eight" introduced an 844-page bill.
The hearing was supposed to begin with testimony from Homeland Security Secretary Janet Napolitano, a former governor of Arizona, but she canceled because of the manhunt under way in the Boston area for a suspect in the bombing this week.
Committee members used the appearance of two economists as opening witnesses to make their cases for or against the reform proposal and the complex aspects of it.
"I believe this is the most balanced piece of immigration legislation ever produced," Sen. Charles Schumer, D-N.Y., said in his opening statement at the hearing. Schumer is one of the bill's sponsors.
Sen. Jeff Sessions, R-Ala., said he had no confidence that the Obama administration would enforce any aspect of the proposal, let alone existing immigration law.
"There are people out there hurting today - young men, others hurting - because they cannot find work," Sessions said, speaking of U.S. citizens who would be further disadvantaged by allowing millions of low-skilled immigrant workers to gain legal status. "This is indisputable."
On Thursday, Arizona Sens. John McCain and Jeff Flake, two sponsors, detailed the proposed overhaul. They said it was written deliberately, because a piecemeal approach was not appropriate, and it highlights many factors people have taken issue with in the policies as they work now.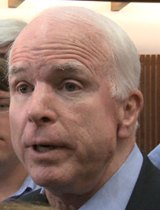 U.S. Sen. John McCain, R-Ariz. (PHOTO: AZPM)
The bill was written by Republicans Flake and McCain, two other Republicans and four Democrats.
It's predicated on border security, but one frequent question is, what does that look like?
McCain said the bill requires surveillance on 100 percent of the U.S.-Mexican border. It also requires 90 percent of the border to be under what officials call "effective operational control."
If that doesn't happen, McCain said, the bill would set up a border commission.
"That would be two individuals appointed by the president and officials from each side of the states along the border, and they would have to submit a report that contains specific recommendations on what's necessary to achieve a 90 percent effectiveness," McCain said. That would come at a cost of about $2 billion.
Listen:
"We think that it's important to assure the people of Arizona that we will not have a third wave. In other words, we gave amnesty to 3 million Americans back in 1986 with the promise that we would secure the border. Now we have 11 million," McCain said.
About 40 percent of the people in the country illegally didn't cross a border with that legal status, McCain said. Talking about illegal immigration ignores the people who came legally, with permits, but overstayed the length of those visitor, work or education permits, he said.
Because of that, he is pushing for broader use of employee verification systems.
Some of the components of the bill apply to Arizonans, Flake said.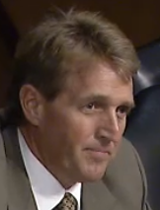 U.S. Sen. Jeff Flake, R-Ariz.
One is a change to the qualification requirements for those coming to the U.S. because they have family members in the country. Flake said the proposal allows only those in what he called a person's "nuclear family" to immigrate legally, as opposed to a larger extended family.
"We're getting rid of some of the chain migration that has troubled a lot of people, and we've allocated some of the visas that would have gone there to skill- and education-based visas," he said.
A component that is functional in Arizona, as opposed to non-border states, is what Flake called a "commuter program," for farm workers who travel into the U.S. for work, and back to Mexico at the end of the work day.
The program "extends to 50 miles - we would have liked to go 100 miles - but it's 50 miles from the closest point on the border, not the border entry point. We feel it will take care of the needs for Yuma," he said.
The proposal could remove the need for state immigration laws such as Arizona's SB 1070, McCain said.
"Whatever law we pass, a federal law, obviously, would be the law that would be applied to all states," he said.
The bill was drafted after the 2012 election cycle, in which there was much talk about the political parties' efforts to appeal to Latino voters. Some have asked the senators whether the effort to initiate reform has something to do with drawing the attention of potential voters who care about border and immigration issues.
"If we pass this bill, I don't think it gains a single Hispanic vote immediately. What it does is it puts us on a level playing field to compete for those votes," McCain said. "I don't know what happens if it fails, because I'm not planning on it failing."