The Tucson Unified School District will lay off 168 employees teachers, librarians and counselors.
In a split vote Tuesday night, the district's Governing Board approved the list, which also includes exceptional education teachers, coaches and math specialists. All will get non-renewal notices.

"I am not happy, nobody is happy" with this decision, said board member Kristel Foster.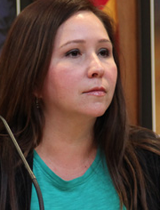 Adelita Grijalva, president of TUSD Governing Board. (PHOTO: AZPM)
All five board members said they wished TUSD did not have to let anyone go. Board President Adelita Grijalva and board members Foster and Mark Stegeman voted to approve the reduction to help TUSD balance a $17 million deficit. Other cost-cutting measures already approved include closing 10 schools and changing staffing formulas.
Board members Cam Juarez and Michael Hicks voted against the staffing cuts.
"It's not lost on me that we voted for these policies to balance our budget but we always said that we wouldn't do it in the backs of our students or our employees," Juarez said.
He asked for more time before taking one vote that would decide the employment future of so many people, but because of previous negotiations with employee groups, the decision could not be postponed.
"Everything here is dictated by decisions we've made in the past and to go back on that philosophically at this point I think will be incoherent," Stegeman said.
Those 168 employees could apply for some of the 158 jobs already posted on the TUSD website. Those positions are not the same, however, and district employees will be competing with outside candidates.
The original layoff number was larger, but about 20 employees on the list have been reassigned to open positions in the district.
Employee groups spoke at the meeting protesting the cuts and the overall process.
"Many will still apply for other jobs in TUSD, because in spite of this we have very loyal employees that love this district that love their students and they will stay and compete, however there is a group and it's a growing group that is dissatisfied," said Frances Banales, president of the Tucson Education Association.
"This instability is not going to be acceptable for people who have options," she said.