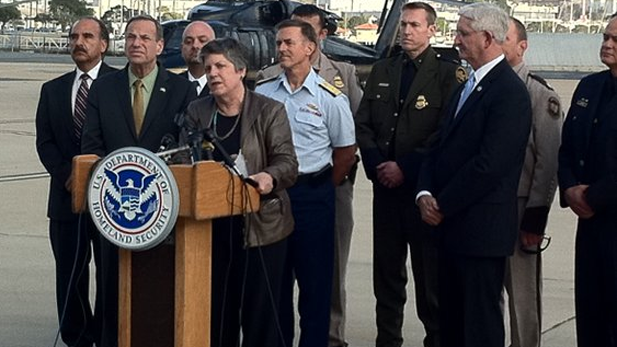 Homeland Security Secretary Janet Napolitano with officials in San Diego after border inspection tour Feb. 4, 2013. (PHOTO: Christopher Maue, Fronteras Desk)
U.S. Homeland Security Secretary Janet Napolitano announced her resignation Friday to become president of the University of California system.
Napolitano, a former Arizona governor, has led the department since the beginning of President Barack Obama's administration, just the third person to hold the position.
"For more than four years, I have had the privilege of serving President Obama and his administration as the secretary of Homeland Security," Napolitano said in a statement.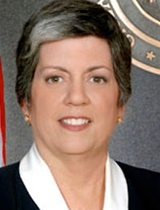 Homeland Security Secretary Janet Napolitano.
"The opportunity to work with the dedicated men and women of the Department of Homeland Security, who serve on the front lines of our nation's efforts to protect our communities and families from harm, has been the highlight of my professional career," her statement said.
In a statement, Obama praised Napolitano.
"Janet's portfolio has included some of the toughest challenges facing our country," Obama's statement said. " ... Since day one, Janet has led my administration's effort to secure our borders, deploying a historic number of resources, while also taking steps to make our immigration system fairer and more consistent with our values."
" ... The American people are safer and more secure thanks to Janet's leadership in protecting our homeland against terrorist attacks," the president said in his statement.
U.S. Sen. John McCain, R-Ariz., issued a statement praising Napolitano and calling her position "one of the toughest and most thankless jobs in Washington."
"The people of Arizona can be very proud of our former governor's service, and I wish her all the best as she assumes leadership of the nation's largest public university system," McCain's statement said.
U.S. Rep. Paul Gosar, R-Ariz., wasn't as kind, saying in a statement that Napolitano's "inaction and incompetence on border security will continue to plague our nation for years to come."
The Los Angeles Times reported that Napolitano will be nominated to head the California university system, which includes 10 campuses across the state. She will be its first female president.
The UC regents are expected to approve her nomination as the system's 20th president on Thursday at a meeting in San Francisco, the Times reported. Napolitano is expected to take the job some time in September.
The newspaper said that UC has an annual budget of $24 billion, 230,000 students, 191,000 faculty and staff, five medical centers and three national laboratories.
Napolitano resigned as Arizona governor in early 2009 to accept Obama's offer of the homeland security job. She was first elected governor in 2002 and was midway through her second term when she left the position. Before that, Napolitano served as Arizona attorney general.
The Democrat's resignation as governor elevated Republican Jan Brewer to the position from Arizona secretary of state. Brewer served the remaining two years of Napolitan's term and won election to a four-year term as governor in 2010.
Before Napolitano was elected attorney general, she was the U.S. attorney for Arizona, a position in which she helped lead the domestic terrorism investigation into the Oklahoma City bombing.
Napolitano, 55, is a graduate of Santa Clara University and earned her law degree at the University of Virginia. After law school she served as a law clerk for Judge Mary M. Schroeder of the U.S. Court of Appeals for the Ninth Circuit, based in San Francisco.

Read Napolitano's resignation statement here
View at Google Docs | Download File