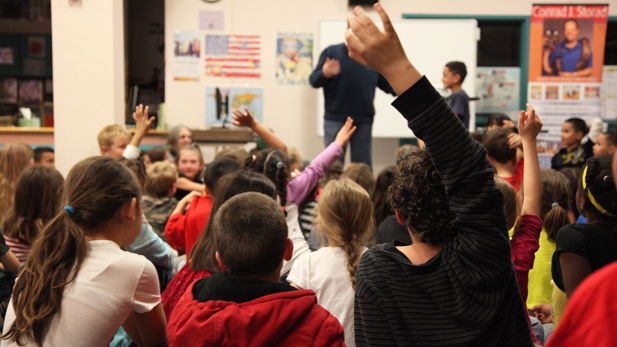 (PHOTO: Fernanda Echavarri)
Listen
Testing Arizona school children under the new Common Core Standards will cost twice the current AIMS test's cost, a state education official said Thursday.
Schools are implementing the more rigorous teaching and learning standards known as Common Core, leaving state officials seeking the best test to assess children.
The Partnership for Assessment of Readiness for College and Careers, often called PARCC, developed the computer-based test that will leave behind the fill-in-the-bubble test with multiple-choice answers Arizona has been using, said Stacey Morgan, with the Arizona Department of Education.
Because Common Core will require students to explain the "why" for their answers and it will be administered online, the new test requires many changes, she said.
"When you do the side-by-side on the test questions, it's very apparent testing how kids think about things," Morgan said. "It's not really just providing the right answer but showing that they know the process and how to get there."
Arizona, like most states in the country, will fully implement Common Core starting this school year but the test will not count until the 2014-2015 academic year.
The AIMS test will be administered for the last time in Arizona this coming school year.
"To actually administer the test, I still have to go to the Legislature to receive funding, the governor's office has to support it, and the state board actually adopts the assessment," Morgan said. "So, it's not solely our decision. If we find something else out there that is as good as PARCC and costs less we could go with that, but so far this is the best for our students."
John Huppenthal, Arizona's superintendent of public instruction, serves on the board for PARCC.