(VIDEO: AZPM)
Listen
President Barack Obama told a cheering crowd in Phoenix Tuesday that owning a home remains the American dream, but reforms are needed to make it more realistic for the middle class.
Obama spoke at Desert Vista High School in Phoenix's Ahwatukee area to more than 1,000 people in the gymnasium.
He recited the steps his administration has taken to shore up the nation's housing market, saying it "is beginning to heal," and he added a five-point plan intended to "put forward ideas that will help millions of responsible, middle-class home buyers."
The plan included shutdown of Fannie Mae and Freddie Mac, the quasi-public agencies that buy and fund mortgages. Obama said the two agencies made big profits in good times, but when the housing market turned bad, they lost big money, and most of it had to be covered by taxpayers.
"For too long, these companies were allowed to make huge profits buying mortgages, knowing that if their bets went bad, taxpayers would be left holding the bag," he said. "It was heads we win, tails you lose. And it was wrong."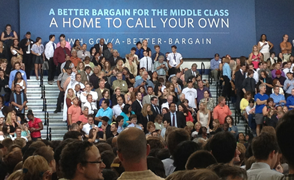 Part of the crowd estimated at 1,000 at President Barack Obama's Phoenix speech Aug. 6, 2013. (PHOTO: Andrea Kelly, AZPM)
The president also said current homeowners need help with refinancing, and he urged legislative action.
"Congress should pass a good, bipartisan idea by allowing every home owner to refinance at reasonable rates," he said. "We've been talking about it for two years, three years. Let's do it."
Rules and regulations governing mortgage lending should be made easier for qualified home buyers, especially first-time buyers, he said.
For those who cannot afford to buy, renting needs to be made easier, too, through easing of rules and regulations there, the president said.
"All these steps will give more middle class families the chance to either buy their own home now or eventually buy their own home," Obama said. "It's going to give more relief to responsible homeowners, it gives more options to families who aren't yet ready to buy."
In addition, the Consumer Finance Protection Bureau is working to simplify mortgage documents, he said, "designing a new simple mortgage form that will be in plain English, so you can actually read it, without a lawyer, although you may still want a lawyer, obviously."
He cited an improving housing market, in Phoenix and elsewhere, but said it is not enough.
"We've got to build on this progress," Obama said. "We're not where we need to be yet. We have to help first-time home buyers. ... We've got to turn the page on this boom-bust housing cycle that got us into this mess in the first place."
Housing is only one aspect of economics that need improvement and attention, the president said.
"If we take the strategy that I'm laying out for the entire economy, for jobs and housing and education, health care, retirement, creating ladders of opportunity, then we will secure that better bargain for all Americans," he said.
Outside the school, a crowd estimated at about 200 stood in a light rain, many with signs and banners and most in protest of Obama's appearance and the positions he and his administration have taken.
The president spent a little less than three hours in Phonix, arriving at Phoenix Sky Harbor International Airport shortly before noon to a greeting party led by Gov. Jan Brewer. He toured a housing-industry construction business before going to the school for his speech.
Brewer did not attend Obama's speech, but she later criticized him for his remarks, saying he should not have taken credit for Arizona's improved housing market. She said the recovery should be credited to hard-working Arizonans and her Republican administration, which she said has set an economic growth path with policies on taxes, regulations and spending.
Obama's Tuesday speech was the latest in a series of appearances he is making this summer to discuss the economy and urge congressional action to bolster it.
He chose Phoenix because, as he said, it was "ground zero" in the housing bubble's burst in 2008 and 2009. The Phoenix housing market has since rebounded, with demand and prices skyrocketing.