Listen
Culturally relevant classes from minority perspectives will be taught beginning this week in the Tucson Unified School District, the Governing Board decided Tuesday evening.
On a 3-2 vote, the board approved the curriculum to begin being taught in classes at several high schools. It followed a 3-2 vote five weeks ago to allow culturally relevant literature classes from Mexican-American and African-American perspectives to be taught in TUSD high schools.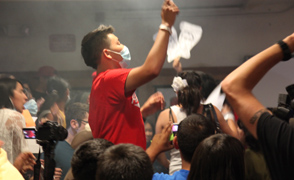 Student protestors set off a smoke-bomb after TUSD Governing Board voted to fire Mexican American Studies director, April 10, 2012. (PHOTO: Fernanda Echavarri, AZPM)
The motion and vote came with no discussion by board members on what has been a highly controversial topic in the district for more than a year, including heated exchanges, student protests and heightened security and police presence at board meetings.
About 50 people were in attendance Tuesday evening. In the call to the audience, four people addressed the curriculum - two in favor and two opposed.
The move could put the district at odds with state officials who forced closure of TUSD's Mexican American Studies program last year under legislation banning it in public schools.
At the same time, the district has been working to meet a federal judge's order that it offer curriculum that is both culturally relevant and in line with state law, as part of a way to comply with a 4-decade-old desegregation case.
The district had submitted curriculum proposals to state officials for review and approval and got the OK on some parts of it. Officials said the new curriculum has been reviewed by numerous educators across the nation, including those at all three state universities in Arizona.
The Mexican American Studies program led state officials to threaten to withhold 10 percent of TUSD's state funding last year, which would have cost around $15 million.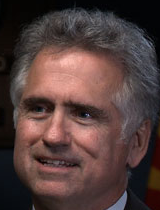 John Huppenthal, Arizona superintendent of public instruction. (PHOTO: AZPM)
That came after state Superintendent of Public Instruction John Huppenthal ruled that the district was in violation of the law banning such classes. Huppenthal's decision came despite an audit conducted under auspices of his office that found the district was in compliance with the law.
Huppenthal called the audit flawed.
The law was drafted by state Attorney General Tom Horne and passed two years ago by the Republican-controlled Legislature. Horne was superintendent of public instruction, an elected position, before Huppenthal.
Horne's chief complaint about the curriculum was that the classes included literature that he said advocated overthrow of the U.S. government and what he called hatred of white people. Under the legislation he wrote, such advocacy in public schools is banned.
In February, U.S. District Judge David Bury ordered the district to teach "culturally relevant courses" as part of its desegregation efforts.
The judge wrote that the state's objection on development of multicultural curriculum was not substantive, adding that the district could "integrate racially and ethnically diverse perspectives into standard core courses taught to all students such as social studies."
The state argued that allowing Mexican American Studies classes to be taught in TUSD would be using a "federal court-sanctioned avenue to resurrect this illegal course of instruction."
The objection from state officials called the now-defunct classes "illegal, biased, political and emotionally charged," adding that they "promoted social and political activism against 'white people' and fomented racial resentment."
Voting in favor of the culturally relevant curriculum were board President Adelita Grijalva and members Cam Juárez and Kristel Ann Foster. Voting against were members Mark Stegeman and Michael Hicks.