(VIDEO: AZPM)
Thirteen people became U.S. citizens this week in a joyful celebration at Tumacacori National Historical Park.
The 13, all natives of Mexico and most living in Rio Rico or environs, raised their right hands and promised allegiance to the United States in a ceremony attended by happy family, friends and federal officials.
They are among an estimated 25,000 people becoming U.S. citizens this week in 200 ceremonies across the country, marking Constitution Day and Citizenship Day, which were Tuesday.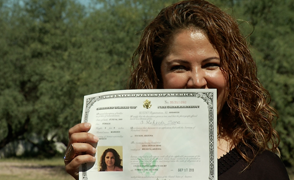 Leticia Sene, of Rio Rico, shows off her U.S. citizenship certificate. (PHOTO: AZPM)
"I said, OK, I'll be a U.S. citizen now because it's the right time," said Rosa Abud, a resident of Rio Rico and a teacher at Nogales High School. "But I didn't think it was going to be so important, and I was going to feel so good after I did it."
Abud, who was born in Magdalena, Sonora, and came to the U.S. as a child in the 1960s, took the citizenship oath on her birthday, making the day "very special for me. I've just been honored, and I've been blessed. I am humbled to have done this on this day."
Another new citizen, Angus Torres, also of Rio Rico, said he undertook "a long journey. I never knew how important it was, until a couple of years ago."
"It's been a great journey," said Torres, who was born in Tepic, Nayarit, and works as a technician for Oasis Air Conditioning & Heating of Green Valley. "I'm very excited today, very proud." Torres said he was looking forward to his new rights as a citizen, especially voting.
Leticia Sene, also of Rio Rico, took the oath with her daughter, Ana Marquez, 10. Both were born in Chihuahua, Chihuaha.
"I feel very proud, because I did it," she said, happily showing her citizenship certificate. " ... I want to be a U.S. citizen because it's very important for my daughter, for my husband and because I live here in the U.S.A., and I love this country."