(VIDEO: AZPM)
Sadiya Buta was born in a Kenyan refugee camp, where her parents had fled from war in Somalia, nearly two decades ago.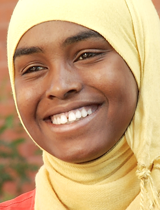 Sadiya Buta. (PHOTO: AZPM)
Today, the young woman is a sophomore at the University of Arizona in pre-pharmacy. And she is a U.S. citizen, having taken her oath of allegiance in July, only six years after immigrating with her parents from Kenya.
"The day that I took my oath as a U.S. citizen, I kind of felt proud, because I belong to this country now. I surrendered myself, so I'm from here now," she said with a big smile.
Buta is among tens of thousands of new U.S. citizens this year, including 25,000 just this week across the nation, in recognition of Citizenship Week. In Arizona, hundreds took the oath, including Chhatra Tiwari, a former refugee from Bhutan.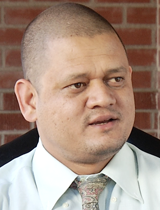 Chhatra Tiwari. (PHOTO: AZPM)
Tiwari, a 34-year-old Tucson social worker, fled his Bhutanese homeland to Nepal in 1990 when the government began repressing ethnic minorities, he said. He and his family came to the United States under a special U.S. government program in 2008.
"Before that, we had never heard about the word 'refugee'," Tiwari said. "But we became refugees, and we had to come all the way through India to Nepal. We got asylum there, and we spent 19 years over there."
Tiwari was among a group who took the citizenship oath Friday at the U.S. Courthouse in downtown Tucson.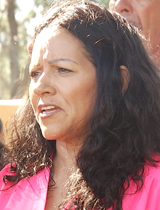 Rosa Abud. (PHOTO: AZPM)
Earlier in the week, 13 natives of Mexico became U.S. citizens in a ceremony at Tumacacori National Historical Park south of Tucson.
Among them were Rosa Abud, a Nogales High School teacher and resident of Rio Rico, and Angus Torres, an air conditioning technician who also lives in Rio Rico.
"I said, OK, I'll be a U.S. citizen now because it's the right time," Abud said. "But I didn't think it was going to be so important, and I was going to feel so good after I did it."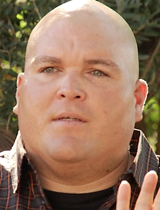 Angus Torres. (PHOTO: AZPM)
Abud, who was born in Magdalena, Sonora, and came to the U.S. as a child in the 1960s, took the citizenship oath on her birthday, making the day "very special for me. I've just been honored, and I've been blessed. I am humbled to have done this on this day."
Torres said his citizenship is the result of having undertaken "a long journey. I never knew how important it was, until a couple of years ago."
"It's been a great journey," said Torres, who was born in Tepic, Nayarit. "I'm very excited today, very proud."
Torres said he was looking forward to his new rights as a citizen, especially voting.
To become a U.S. citizen, an immigrant must maintain legal residence in the country for a minimum of five years, after which an application is submitted, background checks and interviews are conducted and a 10-question civics test is administered.

Read the Citizenship Allegiance Oath here
View at Google Docs | Download File