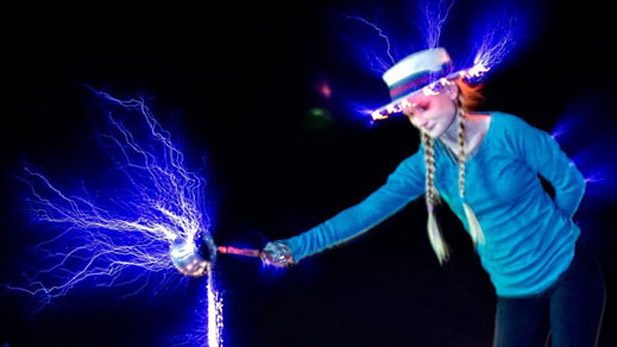 Circus Amperean performer Wendy Craft pours some juice

Ruben Palma
This article was written by Gillian Drummond, editor of the online publication 3Story Magazine.
The idea came to Carl Noggle in high school in Prescott, Arizona back in 1958. He and some science-loving friends had constructed their own Tesla coils based on instructions in an old book. Some "cool" experiments and a few 4-feet-long sparks later, they had another thought: what if they could somehow work a human body into it, and have the high-voltage, low-current electrical circuit make sparks jump off people's fingertips?
The idea stayed with him for decades as he went on to become an electronic engineer, designing equipment for lightning research, setting up his own consultancy, The Lightning Works, and putting on educational shows at schools and museums.
And then technology finally caught up with Carl's brilliant notion, and suddenly it seemed possible that he might jump a person with up to half a million volts.
While other performers - including the magician David Blaine - can pass electricity through themselves by wearing a heavy chain mail suit, Carl calls the suits "cumbersome". The technology Carl's performers use is proprietary and he believes nobody else in the country is using it for artistic purposes. All he'll say is that it's like having a set of electrical conductors under your costume, and it's hidden enough that his performers can wear whatever outfits they like.
Wendy Craft, one of Carl's performers, says the experience doesn't hurt; after all, it's not like the electricity is passing through her, it's passing through her conductive 'suit'. "Sometimes you feel the energy. It's like an itch or a tickle. And when I get down [from the coil] I'll be tired."
Circus Amperean, the group Carl has formed, has been one of the finale acts at the All Souls Procession in Tucson for the last three years, and performs regularly on Friday nights at Sky Bar. This month, for the first time, the group will join almost a hundred other artists at the tenth annual GLOW, a two-day light-up art festival at the Triangle L Ranch in Oracle, an hour north of Tucson.
About Gillian Drummond: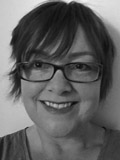 Gillian Drummond came to Tucson in 1998 with the aim of having a two-year adventure then moving on. Like many transplants to the Wild West, she never managed to leave, and now she doesn't want to. Originally from Scotland, she moved here from London, where she had written for a slew of business and consumer magazines, and newspapers. She continued her freelance work in Tucson, carving out a niche in homes and interiors writing. In 2010 she started a blog, homeisafourletterword, to document the renovation of her 1950s house. She is also a public relations and communications consultant. When not being a workaholic and mother of two, she enjoys the cinema, walking her dog, cycling around Reid Park, trying to stay upright at Skate Country, and Friday night cocktails with her pals.