*Listen:
Arizona's Superintendent of Public Instruction, John Huppenthal, is offering to personally mediate for the split governing board of the Sunnyside Unified School District.
Huppenthal grew up across the street from what are now the district offices, so he said the contentious recall campaigns against four Sunnyside School Board members are personally concerning to him.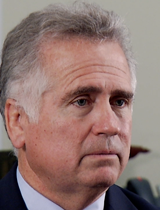 John Huppenthal, Arizona superintendent of public instruction. (PHOTO: AZPM)
The four members being targeted for recall are being challenged by two distinct campaigns against two board members each. Only board member Eva Carillo Dong is not facing a recall effort.
The district should realign its focus back to education, Huppenthal said at Tuesday night's Sunnyside Unified School District Governing Board meeting.
"These splits on school boards are what prevent school districts from moving ahead, from building their culture, and we see it not just in Sunnyside, but in school districts throughout the state," he said.
Huppenthal went to Salpointe Catholic High School in midtown Tucson, but because the school didn't have a wrestling team, he joined the Sunnyside High School team. His mother took walks in the district, and his father still lives across the street from the school district administrative offices, he said.
That's why he said he cares about the future of the district.
"When these splits develop, it badly damages the education culture of a school district," Huppenthal said.
Huppenthal spoke during the section of the meeting designated for members of the public to address the board. That section of many public meetings does not allow a school district to take action or respond to the public comments, so the board did not vote on accepting Huppenthal's mediation offer.