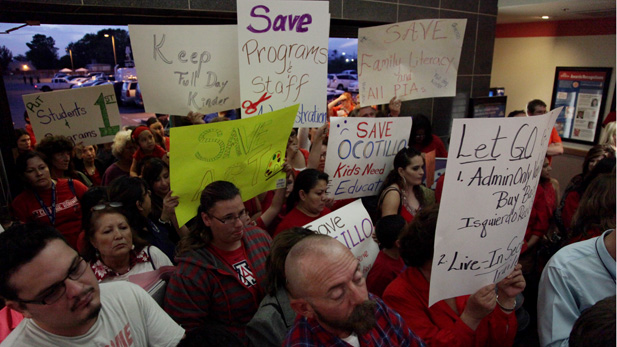 Dozens gather to hear proposed list of cuts at Sunnyside School District's headquarters (PHOTO: Andrew Brown, AZPM)
Listen:
Dozens of teachers and district staff asked the Sunnyside Unified School District governing board to start cutting from the top in order to cut more than $5 million from next year's budget.
In a packed room Tuesday night, teachers heard for the first time that two schools could be closing and dozens of jobs could be cut. Many, such as Julie Fouts, who is an elementary school teacher, got emotional after hearing students in her district will have fewer teachers.
"It's not fair that this will affect the kids," she said. "These kids need everything we can give them."
Voters in the Sunnyside district rejected a proposal to increase funding. Many at the board meeting said controversy surrounding superintendent Manuel Isquierdo's finances, as well as the possible recall of four out of the five board members, played a role in the failure of the override.
"None of the allegations were ever substantiated but we were votes short," said Louie Gonzales, Sunnyside's board president. "There was so much negativity from outside of the community against this override."
The list of proposed cuts includes the closure of Los Ranchitos Elementary School and Chaparral Middle School, as well as reorganization of the Ocotillo Early Childhood Center.
About 12 librarians could be cut, and teachers in art, music and physical education are at risk of losing their jobs, according to Isquierdo's recommendations.

Isquierdo is also proposing $500,000 in cuts to administrators and program coordinators in the district.
State Rep. Linda Lopez cautioned board members about the repercussions of budget cuts.
"Remember that a budget is a reflection of you priorities, and remember this community is watching," Lopez said.
For Foutz, until the board makes a decision on whether she keeps her job or has to compete with other art teachers to stay, she said her students will continue to learn and enjoy art class.
"I think some people would approach their jobs differently with the impending cuts, but anybody who is a good teacher, they're not going to do that to the kids, they're going to go out on a positive note, if they have to go out," she said.