(VIDEO: AZPM)
After Sunnyside Unified School District's budget override was rejected by voters in November, the school district faced having to cut more than $5 million from this year's expenses.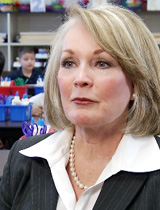 Jan Vesley, assistant superintendent of Sunnyside Unified School District. (PHOTO: AZPM Staff)
Shortly after the override failed, among proposals to save money were cutting dozes of teaching positions, administrative and program coordinator jobs, as well as possibly closing schools - the district's governing board voted in January to close Los Ranchitos Elementary School and Chaparral Middle School.
But while facing these cuts, Jan Vesley, assistant superintendent of Sunnyside Unified School District, said they're trying to affect their students as little as possible.
"We are trying very desperately to minimize the impacts in the classroom," said Vesley during Friday's broadcast of Arizona Week. "So, much of the $5 million cuts are coming from central office administrative reductions."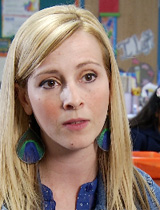 Julie Fouts, K-5 art teacher at Sunnyside Unified School District's Gallego Basic Elementary School. (PHOTO: AZPM Staff)
But in the midst of trying to make ends meet, classroom modifications were inevitable, and the consequences were mostly felt in the district's art and music programs.
In the past, Vesley said, they were lucky to be able to maintain full-time music and art educators, as well as an orchestra and band staff. In trying to cut back millions, however, those positions were reduced, and the school district has now implemented a rotation system, where one person would teach arts at a few schools rather than one.
"Most of (the changes) are going to be taken care of with moving around (teachers) in the districts," said Julie Fouts, K-5 art teacher at Gallego Basic Elementary School. "We are still going to give the highest quality of education...classes will still be the same...but the art and music will rotate between two schools."
As challenging as it would be to go from one set of students to two or more, Fouts said she hopes to be one of the rotating teachers.
This redesign to their curriculum has allowed the district to still provide its students with art and music courses rather than gutting them entirely, Vesley said. And they've also come up with a way to fuse art and music into other courses, such as math and language arts, in conjunction with the Arizona Career and College Ready Standards' - or Common Core Standards' - establishment next school year.
"We have developed 9-week units of study that are related to those standards, so rather than having art and music taught in isolation...we also began to look at the intersection units of study where art and music bring the relevance...the depth...the joy to students' learning, and to be able to begin to apply concepts they are learning in mathematics, science, English language arts through the context of arts and music," Vesley explained.
While Fouts said she doesn't understand why music and arts are the first to go in times of financial trouble, she's happy the district is fighting to keep the joy these courses bring to the students' learning experience.
"Arts help foster not only creativity but it helps with every aspect...from kindergarten level all the way up to college and beyond," she said. "It helps students think outside the box with critical test taking skills and 21st century skills. Art and music are not just art and music...they integrate math, science, social studies. It is all encompassing in what we do."