Listen:
A Tucson bakery owner says her religious beliefs don't belong in her business.
When defending the Religious Freedom Restoration Act, which according to supporters would protect business owners from having to provide services to those who violate their "sincerely held" religious beliefs, State Sen. Al Melvin, R-Tucson, has used the example of a bakery owner who would be "forced to be involved in a gay and lesbian" wedding by not being legally protected if he or she refuses to bake the cake.
Sonya Books owns Sonya's Bunz in the Oven bakery in northwest Tucson, and said she has strong religious beliefs but they do not belong in her business.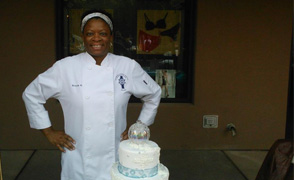 Sonya Books, owner of Sonya's Bunz in the Oven in northwest Tucson. (PHOTO: Sonya's Bunz in the Oven Facebook)
"As a black business owner," she said, it would be particularly disrespectful to refuse service to someone at her bakery because of their sexual orientation or religion, because of the history of discrimination against African Americans.
"I treat all costumers the same way, if I was to do anything other than that, it would be unconstitutional," Books said. "The American Constitution was set out to be open to everyone of every diversity, otherwise we are going to be faced with a whole lot more repercussions for that type of mentality."
Books is against SB 1062 because it "limits freedom" instead of expanding it, she said.
Arizona Public Media contacted more than 15 bakeries in Tucson, and all but one small business owner were against the controversial legislation.
"If somebody believes in something, who has the right to change that?" said the owner of a bakery who asked to remain anonymous because he feared retaliation for his beliefs.
"I respect everybody, whatever they believe in, but I want my thoughts to be respected as well," he said. "So if my ideas are not respected, I can't do nothing about it, and somebody else is going to sue me, that's not right either."
The bill allows business owners, pastors or any individual to assert religious beliefs when refusing service to gay, lesbian and transgender people, among others.
To assert an exercise of religion defense the individual, business or church must demonstrate "that the act is motivated by a religious belief, that the religious belief is sincerely held and that the state action substantially burdens the exercise of religious belief," according to the legislation.
Gov. Jan Brewer held meetings with supporters and opponents of the legislation Wednesday, and has until Saturday to sign the bill, veto it or do nothing and allow it to become law.
Business leaders, Democratic and Republican politicians and civil rights advocates joined a growing chorus of Arizonans calling for a veto. The Center for Arizona Policy, which helped draft the legislation, continued calling on the governor to sign it.
Arizona's Republican U.S. Sens. John McCain and Jeff Flake asked Brewer to veto the bill along with all but one Republican gubernatorial candidate, who is Melvin.
All 17 state Senate Republicans voted for the bill last week, while all 13 Democrats in the Senate opposed it.
On Monday, Republican Sens. Steve Pierce, Bob Worsley and Adam Driggs said they wanted to reverse their positions and urged Brewer to veto the bill.