Listen: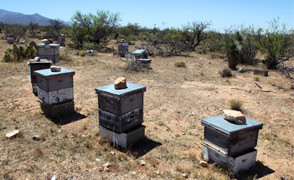 Beekeeper Fred Terry's hives in Oracle, Ariz., located north of Tucson. (PHOTO: Amanda LeClaire)
As the desert's flowering season is well underway, pollinators, such as bees, are out in force, gathering food for an established hive or searching for a home for a newly birthed queen.
Although the Sonoran Desert is home to as many as a thousand species of bees, the most contentious is the Africanized honeybee.
Researchers say if you encounter the species, the best thing to do is simply stay calm.