Ciara Peterson competing in the 14th annual national Braille Challenge. (PHOTO: The Braille Challenge)
Listen:
A Tucson second-grader was among the winners in this year's national Braille Challenge.
Ciara Peterson won first place in the Apprentice Category at the 14th annual competition held by the Braille Institute of America.
"I thought I didn't get anything because I wasn't announced for third or second," Ciara said. "It felt surprising. It feels pretty good."
The competition hosted the top 60 blind and visually impaired students from across the United States and Canada, all between first and 12th grades.
This year was the first time any Arizona students competed nationally.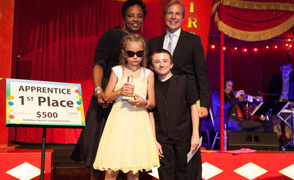 From top left to right, Anita Wright, executive director of the Los Angeles Braille Institute, NBC anchor Robert Kovacik, Ciara, The Middle actor Atticus Shaffer. (PHOTO: The Braille Challenge)
Joey Parra, who was in the freshman category for third and fourth-graders, also represented Tucson and won second in his category.
"The Braille Challenge is an opportunity to shed light on the importance of Braille literacy for the empowerment and success of people who are blind and visually impaired," said Nancy Niebrugge, associate vice president of national programs at Braille Institute of America and director of The Braille Challenge, in a news release. "Every students who participated in this year's challenge demonstrated stellar braille skills, and will serve as role models for their peers."
The winners were announced over the weekend, and Ciara's mother, Kiana Peterson, was at her daughter's side.
"I screamed," she said. "They announced her name and she said, 'What? What? I won!' Her Braille has come such a long way in just the last year. The first year that she had entered the local challenge...here in Arizona, she didn't place in any of the categories for her age group. And then the following year, she won first place...got invited to the nationals and won."
The daylong competition consisted of several tests evaluating Braille skills in areas including reading comprehension, spelling, proofreading, and speed and accuracy.
Earlier this year, more than 1,000 students in the U.S. and Canada competed in preliminary challenges to determine who would advance to the nationals.
Ciara said she's excited about her prizes, and that she would return to the competition even if she doesn't win again.
"It was just exciting to go," she said. "I liked doing all the tests and all the fun stuff after."