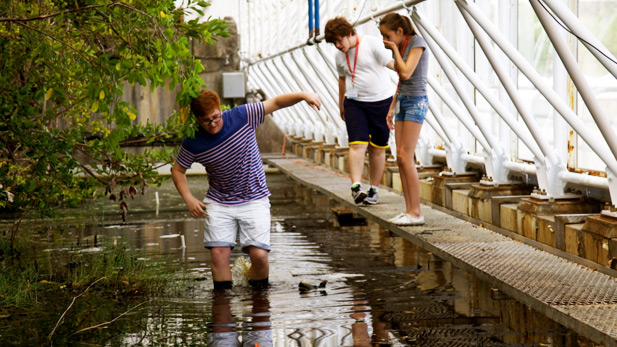 Vanessa Barchfield, AZPM
Third in a four-part series running through July

Listen:
It's a Tuesday afternoon and a group of high school kids are trudging in rubber boots through, what - it's safe to say - is the only mangrove forest in Southern Arizona.
The kids, who are from ten different states in the U.S., as well as from Mexico and Canada, are here for a week as part of the Biosphere 2's Science Academy for summer.
"It gets their hands on science," said Kevin Bonine, director of education and outreach at Biosphere 2. "They're asking questions and they're actually developing procedures to answer those questions, and hopefully really lighting a fire and getting them interested in going into science down the road."
Bonine likes to say all 38 science academy campers will spend some time in the ocean this week, which not many people can claim during a stay in Arizona.
The miniature ocean biome, or ecosystem, is connected to the marshes where ten kids, including 17-year-old Cody Walsh, are now sweeping fishing nets through brown murky water and climbing from serpentine mangrove roots on to the glass-lined walls of the Biosphere 2.
"No one really knows for sure what is in this artificial mangrove biome," Walsh said. "Because there was some lack of maintenance on both the ocean and the mangrove. So basically our mission is to be miniature pioneers and rediscover what is still alive in here….and so far we've found at least two different fish species. And we've found a bunch of dead clams, which is really sad and a bunch of dead oysters."
It's only their second day collecting samples in the mangrove but Walsh and his research teammates already have a theory for what happened to the clams and oysters.
"In nature, a mangrove, the levels of the water rise and flow with the tides," he said. "And that allows plankton to come in. And these shellfish are filter feeders, and so they get food when there's a plankton. But there's no flow here so I think they starved to death."
Meanwhile Bobbi Bavaqua and her research team are climbing through vines and up trees branches in a sweltering rainforest.They're measuring transpiration rates of plants.
"My group's question was do newer leaves transpire at a more than older leaves," Bavaqua said. "It's kind of like leaves are sweating....Maybe if we know the transpiration rates on plants then in the future we could develop something to capture the water from plants and then maybe have drinking water if we run out of it"
The campers are conducting research in a tiny microcosm of the earth, but, clearly, their questions are big.
Meghan Iacuelli is an outreach scholar, which is the summer academy's equivalent of a camp counselor.
She said she hopes her campers take two things with them when they return to their homes from the Biosphere 2: "I want them to think that science is awesome. And they're a scientist. And yes this is what I can do. But on the other hand I want them to know more about themselves and to communicate with others more effectively. And understand better what working in a team is like," she said.
Part I: Summer Camp Fosters Inclusion, Understanding
Part II: Kids, Animals Bond at Humane Society's Dog Days in Desert Camp
Part IV: On Court at Christine Clark Girls' Basketball Camp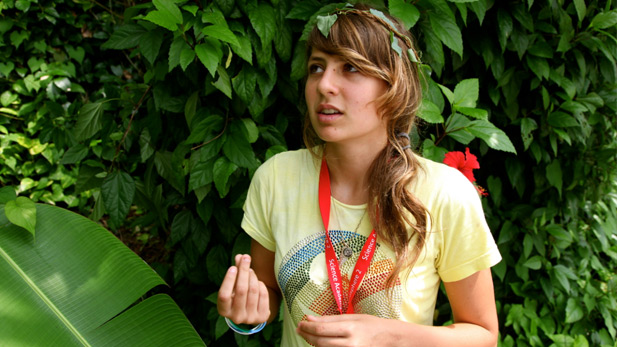 Vanessa Barchfield, AZPM