Listen:
The Department of Homeland Security is targeting the smuggling organizations getting the tens of thousands of Central American unaccompanied minors and women with children into the country and overwhelming the immigration system.
Immigration and Customs Enforcement has "embarked on an ambitious strategy to disrupt and dismantle organized human smuggling networks," according to a press release from U.S. Customs and Border Protection.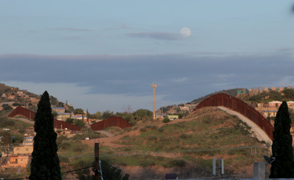 Border fence at Nogales, Ariz. (PHOTO: Fernanda Echavarri, AZPM)
The Border Patrol's Tucson sector was the busiest in the country, with the highest number of apprehensions and drug seizures until last fiscal year, when Texas' Rio Grande Valley saw a spike in trafficking across the border.
Arizona mirrors national trends with an increase of migrants from Central America and a decrease of migrants from Mexico, said Scott Brown, special agent for investigations with DHS in Phoenix.
"We've been focusing on identifying the money first and letting the money give us a bigger picture of that organization so we can attack more effectively," Brown said.

The decline in the number of stash houses in the Phoenix metro area illustrates the decrease of illegal immigration in Arizona, he said.
Smugglers use stash houses to hold migrants hostage until family members in the U.S. wire money.
In 2009, DHS found 174 stash houses in Phoenix, and 140 the following year.
In 2013, the number fell to 30, and from last October to July, agents have found nine in Arizona, DHS figures show.
U.S. Customs and Border Protection is going after the smugglers' money to weaken their structures, Brown said.
Federal officials are trying to raise awareness of the legal consequences of making the trek north and also highlight the human rights violations migrants face at the hands of the smugglers, he said.
"We've been marketing the dangers that come with making the 2,000 mile journey to the U.S. through harsh conditions," he said.
Smuggling fees range from a few hundred dollars to $5,000 or $10,000 per person, according to CBP.
Smugglers often rape, torture and rob migrants. Many coyotes, or guides, leave migrants to die in the desert when they can't keep up with the group.
"Human smuggling is an exploitive, horrific form of crime. The person being smuggled is not shown the basics of human decency. It's a purely profit-driven operation," Brown said.