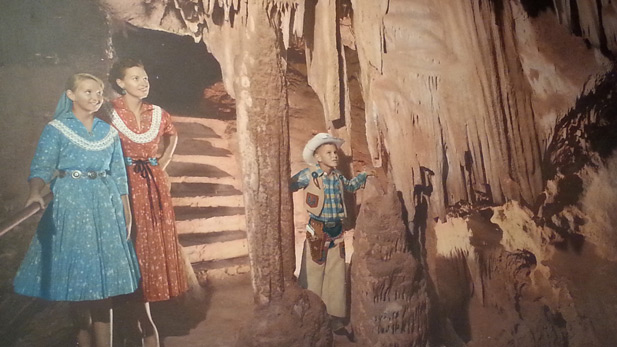 A photograph of visitors in Colossal Cave in the mid-20th century hangs in the Colossal Cave gift shop.

Courtesy of Laura Markowitz
Listen:
In "Legends of the Lost Loot," Colossal Cave tour guide Bill Savary leads a group of visitors into the cave and recounts the colorful history of this natural treasure – and the treasure that legend says it hides...
In the foothills of the Rincon Mountains, Colossal Cave is rumored to be the hiding place of a loot that was never recovered from a train robbery back in 1887. In "Legend of the Lost Loot," silver coins appear mysteriously to certain lucky cave explorers, tempting them with dreams of treasure.
Tales of Tucson is a series of original radio dramas inspired by the legends, mysteries and magic of the Sonoran Southwest.
Since the first public tours of Colossal Cave began in 1923, thousands of visitors have trekked to the end of Old Spanish Trail to explore one of the most extensive cave systems in the West. Guides recount the story of Josiah Smith, alias Kid Smith, a train robber who led a gang that held up the Southern Pacific railroad four times in the year 1887.
As with any good legend, various accounts do not agree on all the details of Kid Smith's last heist, but the way they tell it at Colossal Cave, the Smith gang hid out in the then-unnamed cave while a posse surrounded the entrance. But Kid Smith and his gang escaped out a back door about a quarter of a mile away. They were caught later in Wilcox, and Smith and another gang member were killed in a shootout.

As for the loot of silver Mexican pesos, legend has it that it was never recovered. For generations, Tucsonans and other visitors have looked for it in the back passageways of Colossal Cave.
In this episode of Tales of Tucson, series co-producers John Vornholt and Laura Markowitz offer their own fictionalized account of these events and the enduring interest in Kid Smith's buried treasure.
Laura Markowitz is a novelist and National Magazine Award-winning feature writer, in addition to being a contributing producer to Arizona Spotlight. John Vornholt is a New York Times best-selling author of more than 65 novels, as well as plays, radio dramas and screenplays. He is a theatrical producer and director, and president of the Old Pueblo Playwrights.
"Tales of Tucson: Legends of the Lost Loot" features the voices of Patrick Baum, Bree Boyd, Ella Bracale, Robin Carson, Tony Eckstat, Meagan Jones, To-Ree-Nee Wolf Keiser, Roger Owen, John Vornholt, and Colossal Cave tour guides Bill Savary and Lauren Hohl.