Congressional District 1 voters will decide between a Democrat who says she represents the moderate values of the district, and a Republican who says he brings a new perspective to Washington because of his experience as a top state lawmaker.
Democratic incumbent U.S. Rep. Ann Kirkpatrick is seeking her third term in office in the district that spans from Oro Valley to the Utah state line, and from New Mexico to the Grand Canyon.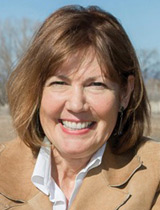 U.S. Rep. Ann Kirkpatrick.
Arizona Speaker of the House Andy Tobin.
Her supporters have targeted Andy Tobin with criticism of cuts to the state budget, including education, while he was speaker of the Arizona House of Representatives, a position he still holds.
"There's a right and wrong way to do that, education is very important," Kirkpatrick said. "We have to improve our education system, that's not a place where we should cut."
"He was speaker when they cut the budget and cut the CPS (child protective services) budget," she said. "The problem is there's a way to do budgeting where you set your priorities, but don't do it on the backs of vulnerable children."
Tobin is hoping to unseat Kirkpatrick in the sprawling district, because she is too tied to her party and Washington and not in line with Arizona, he said.
He supported state budget cuts because there was no other choice, he said.
"Here in Arizona, we can't print money, I know that Washington doesn't understand that," Tobin said.
That means, he said, that the budget has to be cut when revenue declines, because Arizona can't go into debt.
Tobin said he was "beat up" for supporting the sale of state buildings, in order to prevent deeper cuts to the public education budget.
Ads that show Kirkpatrick agrees with Democratic party leaders including President Barack Obama and Minority House Leader Nancy Pelosi are true, he said.
"I think it's clear that Congresswoman Kirkpatrick stands with President Obama," Tobin said.
An example he cited is her support for closing the U.S. detention center in Guantanamo Bay, he said. That would release terrorists who could target this country, Tobin said, adding it is not in line with the values of CD1.
Kirkpatrick countered that she bucked her party when fighting some EPA regulations for coal-powered plans in the district, and said she wouldn't have been successful in office had she voted always with Democratic leadership.
"Congressional District 1 is extremely diverse, and anyone who tows that line can't represent that district well," she said.
The two candidates also disagree about immigration policy proposals.
Tobin said he would not vote for the bill Arizona Sens. John McCain and Jeff Flake wrote, and the U.S. Senate passed, for comprehensive immigration reform that required border security before immigration policy changes.
"It is a pathway to citizenship that I've totally disagreed with," he said. "You can't sit across the table from this president, shake his hand and believe he's going to tell you the truth when he says he's going to secure the border."
Border security is defined by a governor's panel of people who write a definition, he said.
Kirkpatrick said she supported the Senate bill and she said she defines security as when the border residents and ranchers say they feel secure.
"There's an economic piece. We have a lot of farmers in this congressional district who rely on guest workers to come and help them in their fields and they support comprehensive immigration reform," she said.
The general election is Nov. 4, and early voting ballots will be mailed Oct. 9.