A national political commentator and author says some young voters are disappointed with politics, are afraid to express their ideals and lack motivation to get out there and vote.
Kate Obenshain, author of Divider in Chief and a regular on many Fox News shows, is in Tucson with the conservative group, Young America's Foundation, trying to reach out to University of Arizona students about the importance to be involved in politics.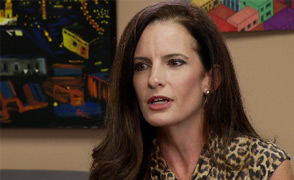 Kate Obenshain, political commentator.

AZPM Staff
During Friday's broadcast of Arizona Week, Obenshain said she gives President Barrack Obama props for really pushing toward young people becoming more engaged with politics and the election process.
But, "Unfortunately, I think we are seeing a lot of people disillusioned, they really were excited about this president, about what he would do to fundamentally transform America in a positive way, bring the races together, unite our country, transcend political parties," she said. "Frankly, I think we've seen the opposite happen."
She said, specially now, when there are so many issues threatening the well-being of people around the globe and in the U.S., younger voters need to be reenergized, because they have a lot of decisions about the future on their shoulders.
"We have ISIS (Islamic State), we have the beheadings, we have the (influx) of immigrants...children, now we have Ebola...I think frankly, we are seeing national security as a huge issue..." she said about this mid-term elections.
"That is why I'm here, to say to this generation, 'Don't give up! You are going to be the force of change.' Our way of life could be at stake and we need courageous young people," she added.
Obenshain said she wants students and other youth to always state their opinion, even if it's not politically popular.
"The organization I'm here with, Young America's Foundation...we reach young people in high school and college, and we train them to be active, to be engaged in promoting their philosophy and ideology...they don't know how to do that sometimes..." she said. "It is a matter of engaging individuals in activism so they can see a result."