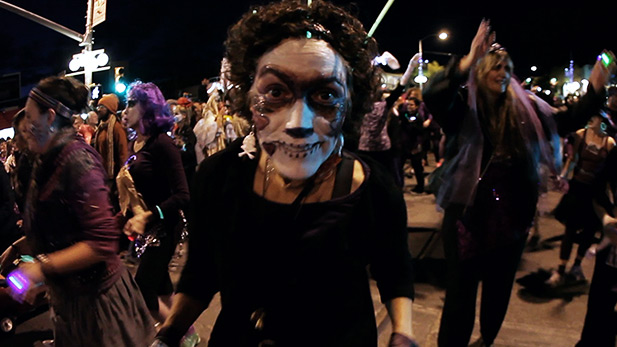 Smallwheel Films
Tucson's All Souls Procession attracted 100,000 participants last year, and organizers say this year's procession may draw as many as 120,000. As the event grows, so do the expenses of producing it. So, who pays for the All Souls Procession?
Tucson's All Souls Procession started in 1989, when local artist Susan Johnson and 30 of her friends created a performance-art grieving ritual. Today, the All Souls Procession is cited in guidebooks as one of Tucson's most unique events. People travel from all over the world to participate.
Listen:
"The All Souls Procession is North America's largest grassroots, community-owned arts expression to honor the dead and the living," said Nadia Hagen, artistic director of the All Souls Procession.
Hagen and her partner, Paul Weir, took over organizing the procession in the mid-1990s. They, like everyone else who works on the procession, are volunteers, although Hagen said it's "more like a calling."

All Souls grows bigger every year, with more and more people creating hand-made floats and shrines to honor their dead loved ones.
"There's this push of energy from the community that says, 'We need this, we want this, this matters to us,'" Hagen said. "That was always the thing we felt like would keep us going."
But over time, the All Souls Procession became a terrible financial burden on Hagen and Weir. They were the de facto financiers of All Souls, and they couldn't afford it.
Weir remembered when that reality hit home:
"In 2004, when it was 10,000 people. I was scared for what's happening now. I said, 'We are in so much trouble. Imagine this in 10 years,'" he said.
Every participant represented another dollar the organizers needed to come up with to pay for police, firefighters, barricades, fencing, permits and portable toilets - all required by the city.

"We would finish the procession and when it was over, we would have anywhere from $10,000 to $50,000 of debt," Hagen said. "People are really, really generous with their time, and their energy, but for some reason, people weren't generous with money, or they almost felt like money was going to mess it up."
Hagen and Weir have a performance company called Flam Chen. They would work extra events to pay the bills for All Souls. It'd take them until August to pay off all the bills from the previous year's procession, and then a few weeks later they were back in debt again for the next procession. There were years when Weir and Hagen didn't even get to attend All Souls because they couldn't afford to turn down a good-paying gig, even if it fell on the night of the procession.
After a decade of trying to make it financially sustainable, the two were burning out.
"It's that feeling that people aren't with you," Hagen explained. "It's that feeling that we're all walking on the street together this one night and then everyone's just dropped you."
Then, Weir, Hagen and a core group of other dedicated volunteers set up a nonprofit organization for the procession called Many Mouths One Stomach. Now, there are a lot more people focused on fundraising, but All Souls still runs at a deficit every year.

"In 2013, we were only $8,000 in the red, which is $22,000 less than the average debt from the last 6 or 7 years," said Weir, who added that they paid it off by the middle of January.
Their goal for this year is to raise everything they need by the end of the night on Nov. 9 - that's $109,850.
"It only takes a dollar, $2, or even $3 from everyone who participates in the procession each year to pay for the entire event," said Jhon Sanders, the volunteer who will be directing the street-busker crews at this year's procession.
Thirty costumed performers will circulate through the crowds with buckets, asking spectators and participants to chip in. They'll be reminding people that this is not a city-sponsored event.
"There's been a lot of misunderstanding about what brings the All Souls Procession, that it's a civic event, that the city is producing it," said Sanders, who believes the community hasn't stepped up with more financial support for the procession, because they assume their tax dollars are already paying for it.

According to Weir, the city of Tucson hasn't ever given All Souls financial support. But this year, for the first time, the city will be a financial sponsor. They've awarded Many Mouths One Stomach a $10,000 grant for this year, and another for next year.
"That $10,000 goes right back to the city because we pay for police, barricading – all that stuff," Weir said. "But no, it's beautiful. It's $10,000 that I don't have to go find."
Many Mouths One Stomach is still evolving their fundraising strategy.
They don't have any full-time staff, there's no professional grant writer, but they do have committed volunteers and the will of the community to keep All Souls going.

No matter how challenging it's been to raise the money for All Souls, they hold to their policy not to accept corporate sponsorships.
"Everyone involved in it knows it's a funeral," Weir said "And we're not going to put up banners or like a Michelob tent or any of these things that are so typical at big events. In fact, we're not an event, it's a public ceremony."
There was some confusion about that last year during the finale at the Mercado San Augustin, where beer tents and other vendors were set up along the western edge. But organizers say that was the Mercado's event, not theirs.
Many Mouths One Stomach does accept donations from local companies.
This year, they've raised $25,000 from Tucson businesses. Weir believes they're motivated to give because the All Souls Procession is a moneymaker for the city.

"We did an economic impact study and showed that the All Souls Procession, on one Sunday night a year, raises about $17.5 million for the city of Tucson," he said.
With only days to go until the 25th All Souls Procession, Many Mouths One Stomach has not yet reached the half-way mark of their fundraising goal, but they're optimistic that they'll be able to close the gap on Nov. 9.

If that happens, they'll focus their energy in the coming year on raising an additional half-million dollars to secure land rights to Origins Park, near Interstate 10 and Broadway Boulevard. They want to make sure the procession will have a permanent base and that it will survive long after they have passed on.