Story by Kate Sheehy
Fronteras Desk
Listen: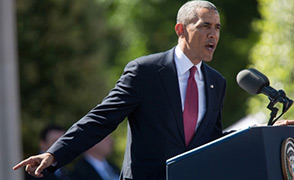 whitehouse.gov
A new poll shows Latinos across the U.S. overwhelmingly support President Barack Obama's executive actions on immigration.
More than 400 registered Latino voters participated in phone interviews over the course of three days, starting on the eve of the president's announcement.
Responses showed 9 in 10 Latino voters support executive action, while more than half voiced strong support.
"This was support that was really found across all different demographic subgroups," said Matt Barreto, co-founder of Latino Decisions, a political opinion research firm, which conducted the poll.
Barreto said Immigration reform is a non-partisan issue for Latino voters. Eighty percent of Latinos in the poll say they would oppose Republican efforts to block executive action.