Listen:
U.S. Rep. Raúl Grijalva, D-Tucson, is optimistic as he prepares to begin his seventh term in Congress next month.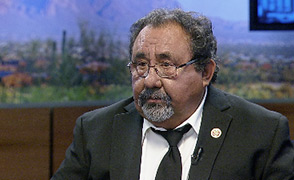 U.S. Rep. Raul Grijalva.

AZPM Staff
He serves in a safe Democratic seat, and has gained leadership roles on a House committee and is co-chairman of the Progressive Caucus.
That allows him to speak more openly than some of his peers in either party. For example, after an election cycle in which Democrats tried to distance themselves from President Barack Obama, Grijalva completely supports Obama's executive action on immigration, which defers deportations for up to 5 million people, including parents of U.S. citizens or permanent legal residents.
Congress needs to make more changes to ease the immigration process for temporary workers and others, Grijalva said.
But immigration is not the only issue he's concerned about.
He will be the ranking Democrat on the Natural Resources Committee when the next session begins. The committee works on issues Grijalva said he has always found important, including energy policy, clean water and preserving public lands.
The parties differ on those issues, and on how much regulation is appropriate. Protecting Environmental Protection Agency regulations is important to Grijalva in an age when Republicans want to reduce them.
"We're going to be the first line of defense for that legislation that has been so good to the American people," he said.
He also wants to use his position in the Progressive Caucus to make some changes in the federal budget.
"One of the primary functions I work on is promoting an alternative budget to the budget that the Republicans come up (with) and sometimes the budget the Democrats come up (with)," he said. "All along, we felt during the last election that there wasn't a serious economic agenda that the Democrats were putting forward."
Some of the economic issues he's working to pass are raising the minimum wage to $15 an hour, and equal pay for men and women.
"We didn't address that very important issue of what's the economic agenda that America has to have and I want to work on that as an alternative to what we've been talking about," he said.
Democrats in Congress agree on most issues, Grijalva said, but added the party needs to come up with a specific agenda, one that is distinct from Republican proposals.
"It also means convincing the American people that what you're presenting forward is common sense, rational, and begin to look at our opposition not merely as knee-jerk...but as opposition with some intelligence and some quality behind it," he said.
Even with those challenges, he said he still looks forward to going to work.
"I don't feel exhausted by the job, I still feel painfully optimistic about things," he said.