Listen:
U.S. Rep. Raúl Grijalva wants the next steps in immigration reform to give temporary workers, day laborers and farm workers a chance to avoid deportation.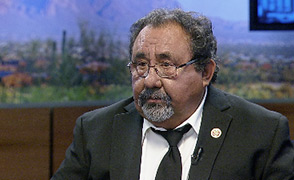 U.S. Rep. Raul Grijalva.

AZPM Staff
President Barack Obama's executive action last week to allow parents of U.S. citizens, or permanent legal residents, a chance at delayed deportation was the first step, Grijalva said. Now, it's up to Congress to keep up the momentum and continue to work to fix problems in the country's immigration system, he added.
"I would suggest that this is a prod. Once the American people see what it really is and get away from the scare tactics and rhetoric associated with Obama, they'll see that it is a very narrow, legally defensible, constitutionally defensible executive order," Grijalva said.
Some people wanted Obama to go further in his action, and apply the order to a broader group of immigrants, but Grijalva said that would not be defensible in court. Therefore, he said it is up to Congress.
He would support comprehensive or piecemeal efforts to give legal status to those who improve the country's economy, he said.
"I think people would be open to tackling those one at a time," Grijalva said. "But there has to be more than just discussion about it, there has to be some valid, verifiable piece of legislation that people can rally around or get in a position to talk and compromise on. We don't have that yet."
Grijalva is co-chairman of the progressive caucus, the liberal constituency of the Democratic Party.
He said Democrats must work together in order to work with Republicans on this issue in 2015.