Listen: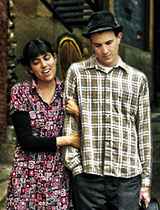 (PHOTO: Jimi Giannatti)
Bisbee musicians Derrick and Amy Ross were also known by their stage names "Nowhere Man and a Whiskey Girl."
Their songs touched the lives of many fans and friends - as did the news of their tragic deaths in October 2013.
Three of their close friends, Jimi Gianatti, Keli Carpenter, and Bryan Sanders, have spent a year remembering Amy and Derrick's lives - and, of course, listening to their music.
This weekend, they'll host a benefit for Nowhere Man and Whiskey Girl.
Proceeds will go to the Lupus Foundation of Southern Arizona.
The benefit is this Saturday, Dec. 6, and will take place at two venues:
Cafe Passe, 415 N. 4th Ave., 6 p.m. - 9 p.m.
The Flycatcher, 340 E. 6th Ave., 8:30 p.m. - 1 a.m.