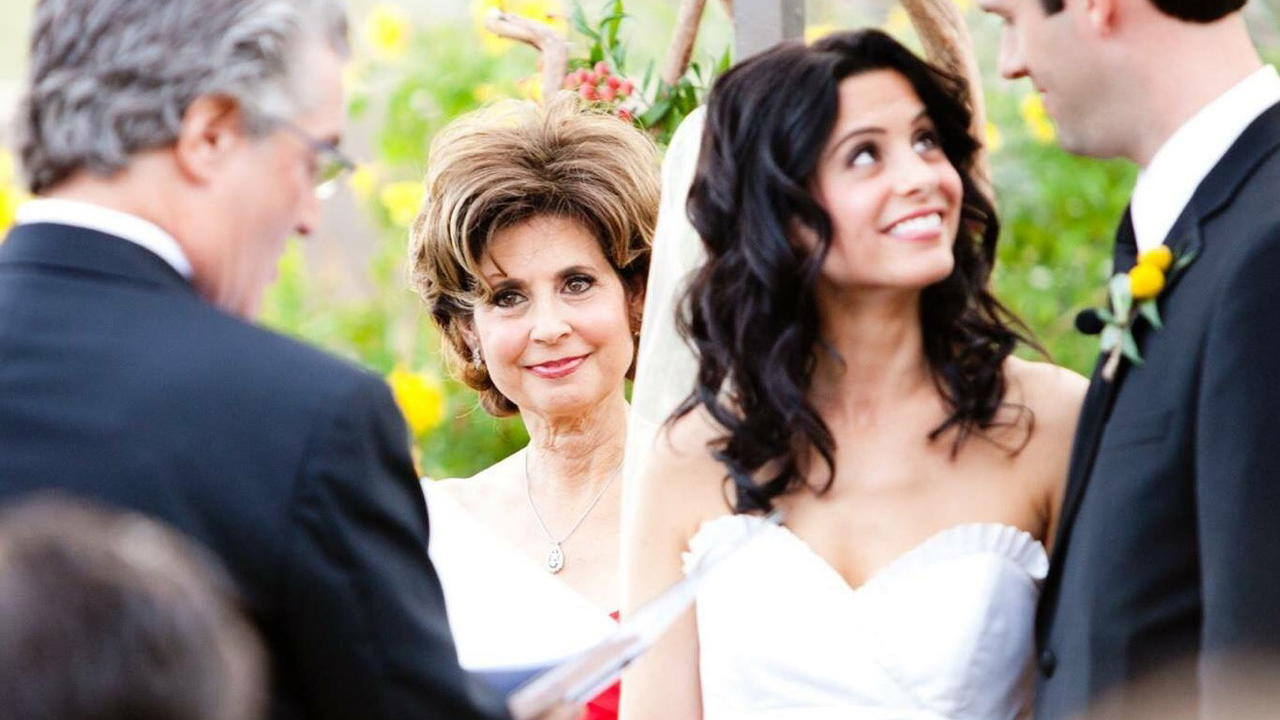 Terry Goldberg watches as her husband Lance officiates their younger daughter Lauren's 2010 wedding.

Photo courtesy of the Goldberg family, credit: Kimberly Jarman Photography
California joined a handful of states this month to allow terminally ill patients to get prescription medicines to hasten death. That option is not available to Arizonans, where medical aid in dying remains illegal.
The Goldberg family of Scottsdale learned that the hard way.
Originally from Kansas City, Lance and Terry Goldberg started spending time in Arizona as snowbirds about the time they turned 60. That was also when they noticed early signs that something was wrong. Lance doesn't like to talk about the problems Terry started having.
"We'll maintain her dignity, but it was not pleasant," he said.
There were tests, surgeries and treatments. Eventually Terry was diagnosed with Parkinson's Disease.
"My dad and I had a feeling that the Parkinson's diagnosis wasn't correct pretty much from the get go," said Lauren Cain, the couple's younger daughter.
Terry's health was declining so rapidly, eventually she was diagnosed with Multiple System Atrophy (MSA), a very rare neurodegenerative disease.
Terry Goldberg was not going to get better.
"When she realized what this was and started to want to become educated about what the months were going to be like ahead and how she would die," said Lauren. "She wanted to know everything. So we were really well versed in everything that was going to happen."
Lauren said there is one constant in the disease: "That everything is going to be worse than the day before."
"Most MSA patients die in their sleep," said Lance. "That's a very comforting thought and it was until we learned that the reason they die in their sleep is that the autonomic nervous system is affected. One of the first things that goes is the swallowing instinct...Choking and those types of things struck terror in her as she experienced them."
Lance and Lauren said Terry didn't want to suffocate in her sleep. So as a family, the Goldbergs started to research options for a more peaceful end.
They didn't live in Oregon, or Montana, or any in any of the few other states where doctors can assist patients in dying. They considered flying to Switzerland where it's legal.
"But as it got closer and the complexities of putting Terry on an airplane and making that trip and spending two weeks there and leaving this home..." said Lance.
Switzerland was not going to happen. They had to work with the two options available in Arizona, which are palliative sedation, when patients are put into a coma, or Voluntary Stopping of Eating and Drinking (VSED).
They watched and read articles and watched videos about both options. Lance says on youtube, VSED did not look like a peaceful process. Terry decided she would go for palliative sedation.
They said she was able to decide for herself.
"The good news/bad news of this disease is it does not affect one's mind or ability to think or use logic," said Lance. "She was quite sharp through all of this."
During her illness Terry became an advocate for people in her position, calling for legislation that would make it easier for people to get medical aid in dying.
"A few months ago, I had good days," she wrote in a statement about her experience, a few months before she died. "Now there are just good moments. I'm terrified of what inevitably will come."
That inevitability was close. Terry's pain was getting out of control, the morphine less and less effective. Lance said one day the hospice nurse came to their home and Terry made it clear she was ready for the palliative sedation. The nurse responded though that the conditions hadn't yet been met. Terry would have to go on.
"She didn't say anything to any of us," he said. "She seemed to just accept what the RN said and from that day forward she might have had a few sips of water and might have put something in her mouth, but I believe she made the decision right then."
Without saying anything, Terry had started the VSED process. She had one more thing to do though. A few days before she died, she and her family appeared in this video:
"We always felt that was Terry's decision to make. She knew that we didn't want this to end, but she also knew that we didn't want her to suffer," said Lance. "And really by the time she made that decision, my thought was, 'how in the world did she endure this for so long?"
Terry Goldberg died in her home on February 19th, 2015.
Lance Goldberg and Lauren Cain will be speaking Saturday on a panel discussion organized by Compassion and Choices Arizona. The forum begins at 2pm in the Ward 6 Office.