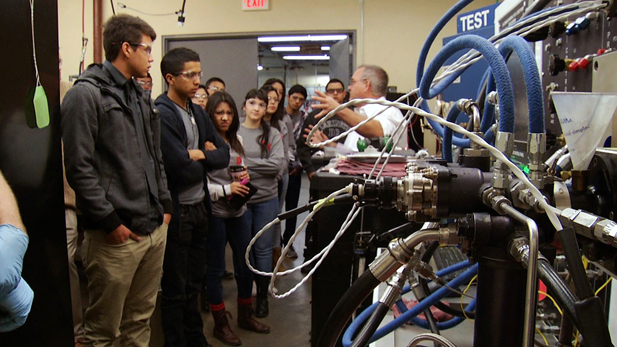 High school students tour Tucson's American Turbo Systems, where tech jobs are in demand.

AZPM Staff
Listen:
Tucson job growth for 2015 is forecast at 1.8 percent, at a rate below the state's average since the recession ended, the Arizona Office of Employment and Population Statistics says.
That compares with a 2.6 percent growth rate forecast for Phoenix area jobs.
A recent career fair at Tucson College offers a clue to the slow job growth. At the fair, employers outnumbered job seekers, and some complained that they can't find enough qualified workers.
Among them was Steve Torres, who was recruiting nurses and other medical staff for MGA Home Healthcare of Tucson.
"The thing with Arizona is the number of nurses to facilities here," Torres said. "From that aspect, it makes it difficult."
Torres said his company could take on more clients, but it first needs more staff.
MGA's highest needs are for registered nurses, licensed practical nurses and certified nurses assistants, jobs that require schooling, training and often licensing. MGA also needs physical therapists and occupational therapists.
Those fields are growing, as shown in state statistics. Through the first 11 months of 2014, the state added nearly 13,000 health care jobs. Tucson's share was 1,400, just more than 11 percent, with a forecast for slightly more, 1,500, this year.
That number represents one-fourth of all anticipated local job growth, a sign of continued sluggishness.
Among other recruiters at the career fair was Tucson manufacturer PolyPrint, maker of packaging for processed foods.
PolyPrint recruiter Katherine Edwards-Decker said jobs in the factory are entry-level, needing no outside training, certifications or post-secondary education required.
"In the factory, we don't require that they have any kind of degree," PolyPrint recruiter Terri Davis-Worth said. "Maybe in the office they need to have a degree. They do need a high school diploma and be over 18."
Manufacturing jobs such as those at PolyPrint were less common at the job fair than were those in health care, which is right in line with economic forecasts for this year and next.
The state prediction is that Tucson's education and health services sectors will add nearly 3,000 jobs in the next two years.
The increase in health care jobs represents an ongoing shift from the region's traditional growth areas – manufacturing and construction. Manufacturing is forecast to add about 300 jobs, while construction is finally showing some rebound.
An estimated 700 new construction jobs are expected this year, a growth rate of 4.6 percent.