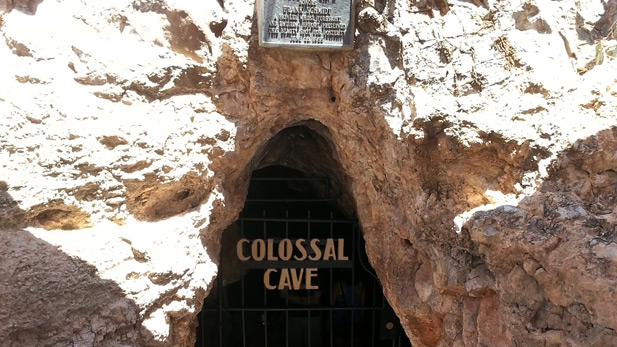 There are $3 million in improvements for Colossal Cave Mountain Park in the recommended 2015 bond package.

PHOTO: Laura Markowitz
Listen
Pima County is soliciting bids for a new company to manage Colossal Cave Mountain Park. That means the historic park could soon see some large-scale renovations.
For more than 50 years, Martie Maierhauser, along with her now-deceased husband Joe Maierhauser, were in charge of Colossal Cave and the surrounding park, located southeast of Tucson.
Park Director Martie Maierhauser told Arizona Public Media last summer that attendance at Colossal Cave had consistently gone down since the recession.
"We've been having an extremely difficult time since the great recession began and actually even a little bit before that," Maierhauser said.
Pima County's decision to accept bids for a new management company has been in the works for a few years. In 2013, County Supervisor Ray Carroll called for a performance audit of the park, citing low attendance and health code violations. In 2010, there were 50,000 visitors. By 2012, attendance had fallen to fewer than 38,000.
Carroll says an even bigger problem is the extent of code violations at the park.
"Bringing all the deferred maintenance up to standards, both for health and code standards is probably the number one objective," Carroll said.
He said prospective bidders should be ready to make a large capital investment toward renovating portions of Colossal Cave Mountain Park.
Bidding will end on May 8th.