Listen to a radio version of this story:
UPDATE: The Pima County Board of Supervisors voted 4-1 April 21 to hold an $815 million bond election on Nov. 3, 2015.
The Pima County Board of Supervisors is poised to decide whether to ask voters for a loan of hundreds of millions of dollars.
The cost? Higher property taxes.
The board will consider two proposals. One is from the Bond Advisory Committee, which recommends the supervisors send to the November ballot a bond package for $653 million to pay for 96 projects.
The second proposal is for $815 million. Pima County Administrator Chuck Huckelberry wrote that proposal, which is similar to the advisory committees proposal, except that the additional money would almost entirely go to pay for road projects, which were not included in the bond committee's proposal.
The average Pima County home valuation is $150,000. The taxes on the average home would go up about $70 per year to pay for the $815 million proposal for 12 years.
Bonds are the government's way to borrow money. If the supervisors call an election, and voters approve the bond program, the county would take out a loan for the approved amount. County residents would pay back the loan with higher property taxes.
Pima County's Bond Advisory Committee has been whittling down a list of $3 billion worth of projects for nine years, said Larry Hecker, the committee chairman.
"We were well on our way to putting together a package to recommend and the recession hit," he said."Bonds are repaid with secondary property tax revenues and property values went down in Pima County so it didn't make sense to talk about issuing bonds until the economy started to recover."
The economy is slowly recovering, which is why Pima County Supervisor Sharon Bronson said she has some hesitation about recommending the proposal to voters, despite the fact that voters have approved all previous county-wide bond packages since 1997.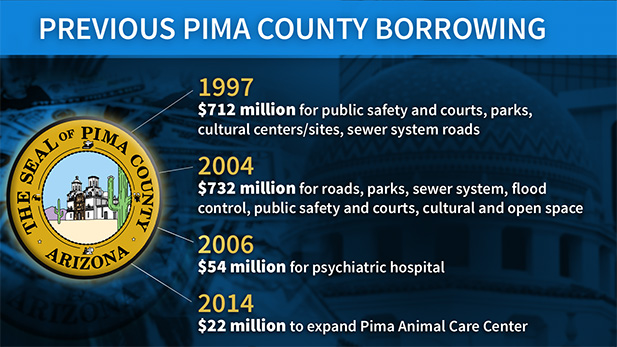 "They have said yes to all of them, but that was pre-2008 and the great recession," Bronson said. "We have not come back strong from that recession, we are still in recovery mode. We have many, many infrastructure issues we have to address, so I am not sure we are going to see a repeat scenario should the voters get the bond packet."
If the supervisors decide Tuesday to put the bond on the November ballot, it will be a piecemeal vote, split into questions based on project type. Voters could approve borrowing money for road repair for example, and turn down money to expand job training facilities.
"There'll be seven questions and I think that's why it might be plausible to put it before the voters because they'll have the opportunity to accept or reject the seven, each individually," Bronson said. "If it were all or nothing I definitely wouldn't support it."
Thousands of people showed up to the meetings the Bond Advisory Committee held as it tried to decide which projects, and how much funding, to recommend to the supervisors, Hecker said.
"We've met 19 times in the last two years, on average we've probably had 300 plus people there," Hecker said. "There's a lot of support for what we will be recommending to the Board of Supervisors, I think Tuesday's meeting will be packed."
He said he wants the supervisors to send the suggestions to voters so the public can have the final say.
"We need to do something about roads, we need to do something about the other community needs that are out there," he said. "This seems to be the fairest and most equitable way to deal with it."
The committee did not vote to put road improvement in its proposal because during the nine-year process, it wasn't a featured discussion, Hecker said. The committee focused on other things, in part because roads are not typically funded with bonds paid for by property taxes, he said.
"It was a very, very difficult process because these projects are so important to the community," Hecker said.
Read the bond proposal

View at Google Docs
|

Download File