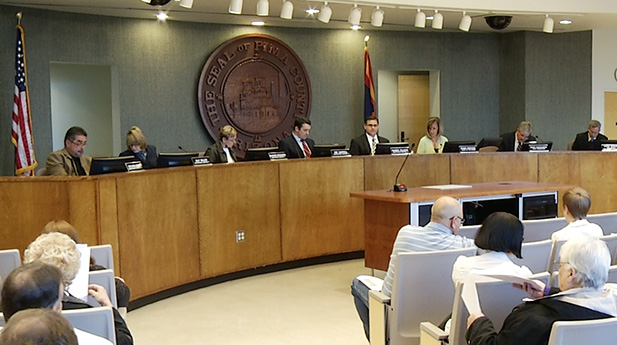 Pima County Board of Supervisors at a meeting in early April 2015.
Listen:
Pima County voters will decide in November whether to authorize the county to go into debt to finance several community projects, including road repair, open space and parks projects, and economic development.
The Pima County Board of Supervisors voted 4-1 Tuesday to send seven questions to the ballot, totaling $815 million if all are approved. Supervisor Ally Miller cast the dissenting vote.
The ballot questions will be split into categories and voters will be able to approve or reject each question:
Road Improvements - $200 million
Economic Development, Libraries and Workforce Training - $91.4 million
Tourism Promotion - $98.6 million
Parks and Recreation - $191,5 million
Public Health, Welfare, Safety, Neighborhoods and Housing - $105.3 million
Natural Area Conservation and Historic Preservation - $112 million
Flood Control and Drainage - $16.9 million 
Total - $815.8 million
Bonds are the government equivalent of a loan. The county would get a series of loans for the projects approved, and they are paid back through increased property taxes. That's why bonds require voters to approve them at the ballot.
If voters approve all seven bond packages, the average Pima County homeowner would pay about $70 more per year in property taxes for 12 years to finance the $815 million proposal. That estimate is based on the average home valuation in the county, about $150,000.
About 100 people signed up to address the board at a public meeting about the proposal, the majority of whom spoke in favor of letting voters decide whether to raise property taxes to pay back the borrowing.
Supporters in the audience at the supervisors' meeting said the potential public benefit from the projects is paramount to sustain economic recovery.
"There's just a plethora of reasons that we need to pass this: economic development, charity, quality of life for all the people in this community that don't have a job," said Richard Underwood, owner of AAA Landscaping. "It's an opportunity to create more jobs, and high quality jobs create more jobs, it's a multiplier effect."
Opponents said the county should not take on more debt, and suggested the county manage its money better to avoid borrowing.
There are 96 bond projects in the proposal, but those are not individually a problem, said Brad Johns, a consultant who is on the Pima County Planning and Zoning Commission.
"The fact of the matter is we can't afford them all, and it's really not the time to take on this kind of debt," he said.
Miller did not explicitly explain her vote, but said during the meeting she was worried about the the projections for county growth that would help pay off the bonds by expanding the number of taxpayers helping pay off the debt.
"We need to be responsible in our recommendations. We are still in the process of coming out of a severe economic downturn, our projections for growth are flat," Miller said.
She also cited worry about continued state cost shifts to the county, which this year will mean budget cuts for Pima County.
"I believe we'll probably see more transfers in the future, that's my biggest concern is that there is no guarantee," Miller said.
Supervisors Ramón Valadez and Ray Carroll said the residents they hear from cite road improvements as their No. 1 priority, followed, Valadez said, by economic development. The bond election proposal
Supervisor Sharon Bronson said she does not prefer to take on more debt, but said she felt it is the best way to accomplish the projects in the bond proposal.
"It is the only tool in our toolbox at this point, and we can't rely on Washington or Phoenix to help us," Bronson said. "If we're going to change this community, if we're going to grow this community, if we're going to get ourselves out of this economic recession, it's us that has to do it."
Read the bond proposal

View at Google Docs
|

Download File