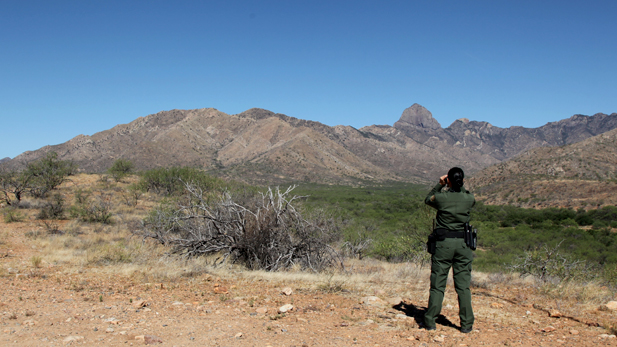 A Border Patrol agent in the Arizona desert looking through binoculars.

Fernanda Echavarri, AZPM
Listen:
U.S. Department of Homeland Security Secretary Jeh Johnson announced a 28 percent reduction in the number of illegal border crossers caught along the U.S.-Mexico border during the first six months of fiscal year 2015.
The federal government's fiscal year begins in October and ends in September.
"The number, this year, of apprehensions at the six-month point is also lower than it was in 2013," Johnson said. He said the number is lower than the same time frame in 2012.
Johnson said apprehensions are down in all subcategories including unaccompanied children, families, and single adults.
Despite the drop in apprehensions, Johnson is not celebrating, "We are not declaring mission accomplished."
DHS officials point to a number of factors when they try to explain the drop in illegal border crossers. Johnson said a major contributor was improved communications with the governments of Central American countries where many of the migrants in last summer's surge began their trips.
"A large part of the reason for the decrease in what we are seeing on our southern border, "said Johnson, "is because of the efforts of the government in Honduras, Guatemala, and El Salvador."
An increase in the number of Central Americans trying to cross the border illegally is underway. Officials with Homeland Security said it does not compare to last year's surge.
Listen: