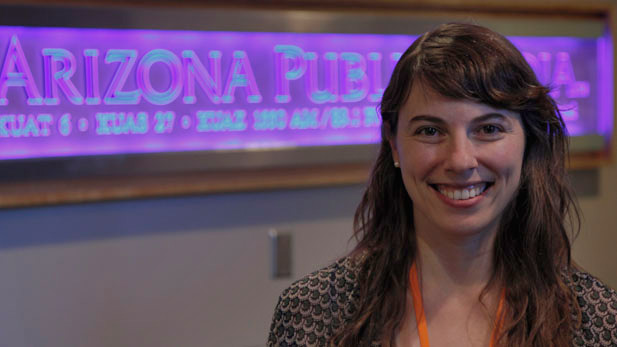 Andrea Meller

Andrew Brown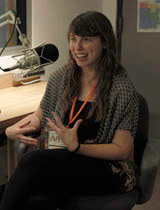 Andrea Meller in the AZPM newsroom (PHOTO: Andrew Brown)
Documentary filmmaker Andrea Meller says her latest film "pulls back the curtain on one of Hollywood's lesser-known communities" - the world of the often-heard but rarely-seen actors who provide alternate voice tracks for TV shows and movies.
"Now en Español" tells the stories of five women who became the Spanish voices of the main characters on the ABC TV series Desperate Housewives. The film also includes their reflections on the ways type-casting and ageism have influenced their careers.
The film screened in Tucson at the 2015 Arizona International Film Festival, and director Andrea Meller joined Mark McLemore in the AZPM newsroom to talk about how it got started...
Listen:
"Now en Español" debuts on The World channel Sunday, May 3rd, at 7 PM.
Additional interview not heard on radio:
McLemore: How many films and documentaries have you been a part of producing and directing?
Meller: This is my third documentary. I started right after college, I felt I was ready to make a documentary.
I was very fortunate, because I graduated during the dot-com boom so there were resources, and I was able to make a film in New York about an artist/activist community center that was founded by squatters, and its development as the neighborhood around it changed and gentrified. It was very much a story about community and what it takes to make a community.
I co-directed my second film called Hardwood Home, that also played on PBS, about a transition program for men and women coming out of prison. It was a program that was founded and staffed by all formerly incarcerated people.
McLemore: What's something that you think audiences are going to be surprised about when they see "Now en Español"?
Meller: There (are) two things that I think are surprising about the movie. One is how funny the women are, and it's part of what appealed to me about them. They're so funny, and there are so many bad things that happen to them over the course of the movie, but they all keep a sense of humor and are playful.
McLemore: You mean (bad things) in their personal lives?
Meller: Yes, in their personal lives. I think for us creating the movie and the story, there was so much set up that we had to do. We had to explain Desperate Housewives for people who had never watched the show. We had to explain dubbing and what that means. We had to explain the world of being a Latina actress in Hollywood and the hurdles that these women face.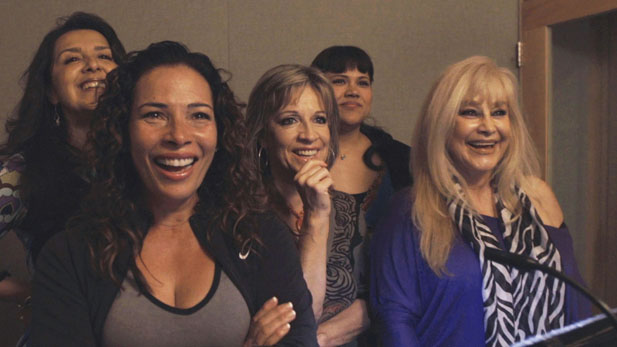 The stars of the documentary "Now en Español" take a break from voice tracking "Desperate Housewives".
But somewhere in the middle, the movie switches. We have all that back story and context behind us, and then it starts to get very personal, and I think it's a little bit of a surprise for audience members. By that point, I hope that people feel like that they know the women, so you are just along for the ride.
I think it is a little bit of a surprise that things start to go pretty badly for the women, and their lives become kind of like their onscreen counterparts' lives. There's a lot drama, and there's a lot of things that they have to deal with.
It becomes much more of a personal narrative and for me, that was important not just having this 'hit you over the head' social justice film that explains the inequities in media representation, but a film that humanizes these women and tells their personal stories so that anyone can relate to them and care about them and be rooting for them by the end.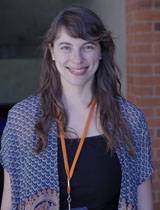 Documentary filmmaker Andrea Meller (PHOTO: Andrew Brown)
So that you walk out of the movie rooting for a character. Everybody has a different favorite character. I always love hearing who people's favorite characters are, because it's different every single time. You can walk out of the movie saying 'I really liked Natasha,' or, 'I really connected with Yvette and I really felt for her when she was talking about her kids and I feel the same way about my kids.'
To have that personal connection, I think is what movies are for. If you can identify and relate to the characters that you are seeing on screen then maybe some of those other issues that I am interested in, about increasing media representation for Latina people, for women, thinking about identity and what means to be to be American, maybe those will kind of sink in, kind of in the background.
What I was most surprised about while working on the film was how much my life was similar to the actresses' lives. All of the instabilities that they face are the same instabilities that I face as a documentary filmmaker and in the same way that they are following their dream, I'm following my dream. I wasn't expecting to relate to them on that level but I found that there were a lot of parallels to what they were doing as actresses and what I'm doing as a documentarian.
Audio transcription by Caitlin Dean