Written by Chris Dashiell
The problems associated with immigration on the Mexican-American border are of course a hot topic, and now we see more movies covering the subject than ever before. It may surprise you to know that this is a fairly recent trend. Through most of American film history, the border was just a place outlaws would run for in westerns. Immigration, illegal or otherwise, seems to have been taken for granted, primarily as a condition of farm labor in California and the Southwest.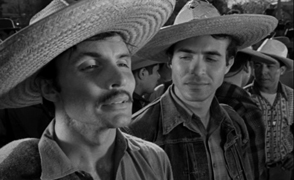 A scene from the 1949 film Border Incident
One interesting exception was a 1949 film called Border Incident, directed by Anthony Mann, who would go on to fame as a director of westerns. Border Incident is about a Mexican federal agent who goes undercover as a farm worker in the U.S. to expose a human smuggling operation. And surprise—instead of having an Anglo play the Mexican, as was common in those days, the film stars Ricardo Montalban in his first lead role. George Murphy plays an FBI agent helping him out, and Howard Da Silva is the evil agricultural tycoon who callously exploits and even murders his Mexican workers.
It's a violent film noir shot on location in Mexico and the Imperial Valley, and although the plot is a bit far-fetched (like a lot of other postwar crime pictures), the pro-immigrant message is remarkable for its time. Illegal immigration is presented as a humanitarian problem, and ruthless practices by employers are to blame, not the immigrants. The stark black-and-white photography by John Alton evokes a strong feeling of menace, and the movie really manages to get under your skin. This is one of those forgotten pictures that should be better known.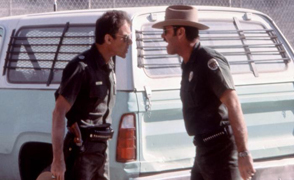 Harvey Keitel and Jack Nicholson in an scene from 1982's The Border
Other than Border Incident, there are practically no films dealing with the subject until the 1980s, when the political turmoil in Central America and the increasing violence of the drug war started to have an impact. In my mind, there are two films that typify that era, made from two different angles.
The first is called The Border, a 1982 film by English director Tony Richardson. It stars Jack Nicholson as a rookie Border Patrol agent in El Paso who discovers that his best friend in the unit, played by Harvey Keitel, is taking payoffs for allowing undocumented workers into the States. Saddled with a self-centered spendthrift wife played by Valerie Perrine, Nicholson's character participates in the corruption as well, but when he encounters a young immigrant woman whose baby has been stolen from her, he decides to do something right for a change.
The film has a bitterly satiric view of trashy Anglo culture in the border town, typified by the materialistic wives and the smug unit chief played by the marvelous character actor Warren Oates, who steals every scene he's in. The contrast with the purity and innocence of the young immigrant mother is simplistic and melodramatic, but Nicholson, playing a decent man just trying to muddle through life, makes it worth watching. The futility of the situation is quite clear—with the government trying to keep the Mexicans out, and respectable American businesses, as the Keitel character says at one point, trying to get them in. As usual in Hollywood, the social message is wrapped in a crime suspense format to help it go down.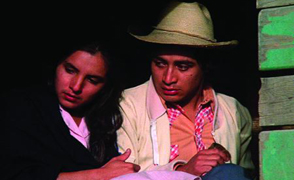 Brother and sister Enrique and Rosa in the 1983 film El Norte
A year later, in 1983, came El Norte, a film by Chicano director Gregory Nava. This independent film tells a story of undocumented immigrants, Mayan peasants from Guatemala, a brother and sister escaping persecution. And the tale is not filtered through an Anglo character, but solely from their own point of view. We follow them through being attacked by the army for daring to help organize workers, to their long trek northward, their traumatic journey across the border and their attempts to make a life in the United States.
There's a certain naivete in the film's style—this is, after all, a milestone, a first attempt to portray the subject in a new way, so Nava tries to cover all the bases. What it lacks in sophistication it makes up in authenticity and emotional power. The bond between brother and sister is made beautifully and painfully real by the young leads, and you won't soon forget the sequence in which they crawl through miles of rat-infested sewer pipes to get to the U.S. The picture came out of nowhere to become a huge success on the art film circuit, paving the way for other movies, not only about immigration, but about Latino life and culture.
Since the 1980s, films dealing with this issue have become almost a genre. To name just a few, there was John Sayles' Lone Star from 1996, with its ironic multi-character portrait of a borderlands more ethnically mixed than its residents would care to admit, Ken Loach's Bread and Roses from 2000, which dramatizes attempts by L.A. cleaning staff to unionize, and 2009's Sin Nombre, by Cary Fukunaga, weaving several stories of Latin American immigrants struggling to make it to the U.S. The subject will remain a fertile one for films as long as oppression and inequality force people to uproot themselves and seek a better life.

Who is Chris Dashiell?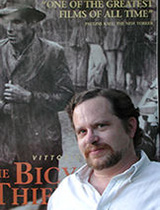 Film reviewer Chris Dashiell
Chris Dashiell has been writing about movies for seventeen years, serving as the editor of the online film lovers' guide Cinescene for ten of them. He currently reviews films for Flicks, a weekly program on Tucson's community radio station KXCI, and he confesses to shamelessly idolizing Carl Dreyer, Jean Renoir, and Luchino Visconti.