Frank Kalbaugh's 1957 Ford Country Squire woody station wagon.

Zac Baker
Listen:
On one of the last nice Saturdays in May before the sweltering summer months, hundreds of people gathered for Rodders Days on the University of Arizona Mall.
Put on by the Tucson Street Rod Association, Rodders Days is a celebration of vintage automobiles.
A variety of cars were on display, and in various states of original or restored condition. "Street rod" seemed like a loose term because there were so many different makes and models at the show.
John Sipe, a member of the association that helped plan the event, said it's hard to nail down a definition of a street rod.
"Everybody's got a different theory on that," he said. "But it's older cars that have been resurrected. Some have stock engines, but a lot of them have high performance engines. A lot of work goes into straightening the bodies out, painting, upholstery, and all the different things that go into that."
One basic requirement was the car had to be from 1972 or older. Cars ranged from unusual and outrageous, to subtle and classic.
More often than not, an owner's personality was reflected in the kind of vehicle they owned and were showing that day.
For instance, Frank Kalbaugh brought his 1957 Country Squire woody station wagon. He was eager to share his enthusiasm about cars and his love of the uncommon.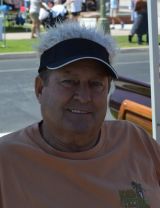 Frank Kalbaugh (PHOTO: Zac Baker)
His car donned a surfboard strapped to the roof, hand-painted paneling down the side, metallic brown paint and a host of stickers on the rear windows, one of which proclaimed that "Old Guys Rule."
"It's one of 62 known to exist," Kalbaugh said. "So it's not just an old station wagon. It's fairly rare. My wife paid a lot of money for it! I enjoy it."
Kalbaugh said car culture often incorporates family. This particular woody is primarily for his wife, and is an hobby they can share together.
He also said pulled his grandchildren through car shows in a wagon when they were little, and instilled in them an interest in automobiles.
Ron Rice's 1939 Ford Convertible Coupe is built for a family, but in a less traditional way. The "Sahara Tan" convertible has two normal seats in the front, but has a rumble seat, or a "mother-in-law seat," in the back.
"Instead of a trunk lid, right behind the convertible top is a lid that swings the opposite direction," Rice said. "Underneath that lid is a seat for an extra two passengers."
He said that getting into the seat can be tricky without traditional doors—passengers have to start on the rear bumper and use two small foot holds on the rear fender of the car to get into the rumble seat. But that doesn't stop anyone from enjoying the uncommon seating accommodations.
"My mother-in-law has ridden in the back of the car" he said. "My wife and a lot of friends have ridden in the back, and I've been back there too. It's actually a lot of fun."
At the end of the day, all the car owners and onlookers would probably say the same thing about Rodders Days: it's actually a lot of fun.