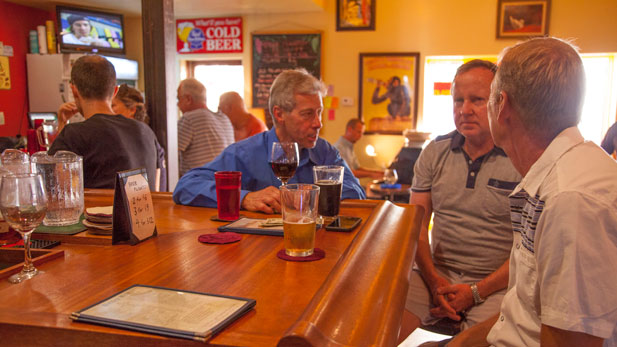 Friends socialize at the piano bar while Elliot Jones, PhD, provides the music in the background.

Tony Paniagua, AZPM
Listen:
Tucson's music scene is moving into a growing number of outlets and one of them is relying on a historic tradition as an instrument for success.
Elliot Jones earned his doctoral degree at the University of Arizona and moved away for a job at Culver-Stockton College in Missouri but he returns to the Old Pueblo twice a year to visit his husband.
This summer, Jones thought he'd like to lead a piano bar and the owner of The Dusty Monk Pub in downtown Tucson agreed to give it a whirl.
Jones is at the piano on Tuesday and Thursday evenings now, playing for volunteer singers while friends have drinks and socialize. It's a traditional form of entertainment that's gaining traction at a new venue in Tucson.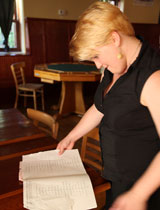 Erika Burkhart browses at some musical options for one of her performances at the piano bar. (PHOTO: Tony Paniagua, AZPM)
Erika Burkhart is one of the audience members who sometimes performs one of the many musical options - Jones is comfortable with different styles such as jazz and musical theater.

Burkhart knows Elliot Jones from when they both attended UA.
She sings professionally but also enjoys the piano bar's more casual setting.
"The first night I came I had absolutely no idea what I was going to do, I wasn't going to sing at all. But it's all these songs that you know and love singing along with in the car anyway so I got up and gave it a shot and then I wound up up singing most of the night," she said.
Andrew Campbell, who moved to Arizona in 2014, is also a spectator and singer. He used to live in Florida and would visit piano bars so he's glad there's a new option in Tucson.

"It's just a really fun concept and I really like it. You have really great talent here in Tucson and they're out there singing," he said.

For Jones, the summer experience allows him to stay close to the piano while providing entertainment for the community.
"I'm having a great time, a great time. I can wear my jeans, my short-sleeve shirt and just do my thing, it's great," Jones said.
And it has also been positive for the pub, which like many other businesses in Tucson's hot summer months, wants to attract more customers to its facility.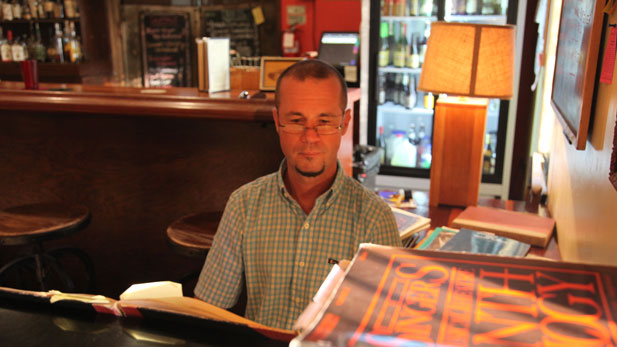 Elliot Jones, PhD, holds a piano bar at The Dusty Monk Pub in downtown Tucson where he enjoys playing for singers.

Tony Paniagua, AZPM