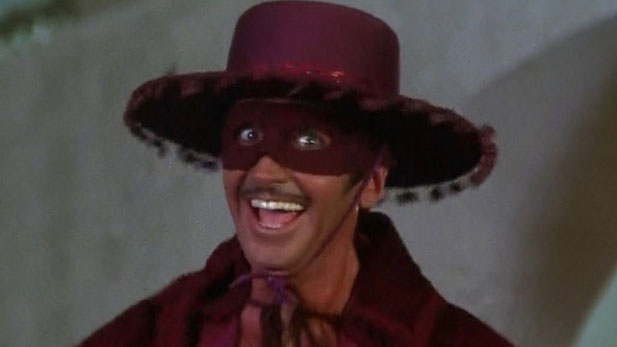 George Hamilton played an unconventional version of Zorro (and his twin brother) in "Zorro, The Gay Blade" (1981)
The 1981 comedy Zorro The Gay Blade was not the most authentic version of the character ever brought to the screen, but it helps demonstrate the longevity that has made Zorro an important influence on heroic fiction.
Although there hasn't been a Zorro film since Antonio Banderas wore the mask for the second time in 2005, more adventures for the man in black are probably not far away. Here is Chris Dashiell...
Listen:
My first awareness of Zorro was from a TV show I watched as a kid. A masked man in a cape, an expert swordsman fighting injustice—what's not to love?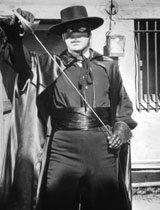 Guy Williams
Over the years I naively assumed that Zorro was originally a figure from the folklore of early Spanish California. Actually he was created in 1919 by a New York pulp fiction writer named Johnston McCulley.
It so happened that Douglas Fairbanks, one of Hollywood's biggest stars at the time, read McCulley's first Zorro story in a magazine. Up until then, Fairbanks had specialized in madcap romantic comedies that showcased his charm and athleticism. He decided to try something new with this character, and the result was The Mark of Zorro, directed by Fred Niblo, released in 1920, and a huge hit that created a whole new film genre: the swashbuckler.
Don Diego Vega, the son of a prominent landowner, has returned to his father's California ranch after getting an education in Spain. He acts the part of an apathetic, spineless young nobleman, but secretly he rides out as the heroic masked avenger Zorro, championing the cause of the peasants against the evil and corrupt governor of the province.
The love interest, played by Marguerite De La Motte, is being wooed for marriage by Don Diego, whom she finds ridiculous. At the same time, she is fascinated by, and falls in love with, the dashing mystery man Zorro.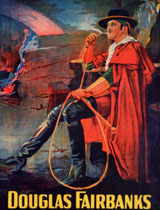 The film is silly and seems childlike in its simplicity, and in addition, I must say, Fairbanks's appearance is unimpressive by later movie hero standards. He did a sequel five years later called Don Q, Son of Zorro. By that time, he had advanced much further in the art of swashbuckling, and Don Q is generally better and more entertaining than the first film.
Zorro's true ancestor was of course Robin Hood, the father of all outlaw heroes. A new element, however, in the success of the Zorro story is the secret identity. This was a relatively new idea—in fact, McCulley was inspired by The Scarlet Pimpernel, a play and a novel by an English author, Emma Orczy, about a hero who rescues aristocrats from the Terror during the French Revolution.
In his real life, the Pimpernel pretends to be a weak and foolish twit, someone that no one would suspect. With him, and then with Zorro, one of the most enduring comic book themes was born—the superhero hiding in plain sight as an ordinary person.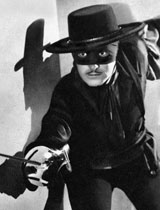 Douglas Fairbanks
Another element is the mask, which I believe is McCulley's own innovation. At least, I'm not aware of another masked do-gooder prior to Zorro. Later there was the Lone Ranger, another Western hero invented by eastern writers, this time for radio. Countless masked characters have followed.
Zorro appeared in serials and B-movies for awhile until Fox remade The Mark of Zorro in 1940, directed by Rouben Mamoulian, with Tyrone Power in the title role.
The story is handled tongue-in-cheek, for the most part, which is appropriate, and the production values had advanced considerably since Fairbanks' time. The movie features Basil Rathbone as a villain, always a plus, and his sword fight with Power is top notch. This is a very slick Hollywood entertainment, a film of visual elegance and panache, the one Zorro movie you should see if you had to pick one.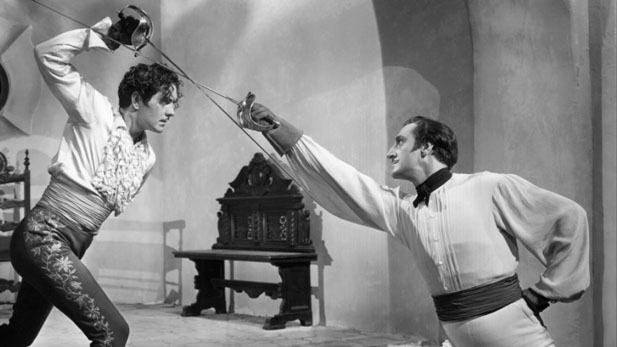 Tyrone Power and Basil Rathbone star in the second version of "The Mark of Zorro" (1940)
Then there was the TV show, produced by Walt Disney in the late 50s, with Guy Williams as Zorro. The broad strokes became even broader, and the audience aimed at was considerably younger. The series was quite a success. And it had a catchy theme song.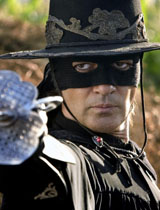 Antonio Banderas
More recently, Antonio Banderas starred in a couple of popular reboots, and now there are rumors of new Zorro projects on the horizon.
When all is said and done, this character, with his mask, his bullwhip, and his habit of using his sword to mark the letter Z on things, is an over-the-top creation—one that you really can't take seriously. His main significance, I think, lies in his influence on later characters. Bob Kane, the creator of Batman, cited Zorro as his inspiration.

Zorro was a Latino action hero invented by Anglos who had very little understanding of Latino history. Was California in the Mexican era really a place where the masses were oppressed by cruel governors and landowners? California had its share of political conflict and even a few revolts, but the romantic picture we get from the Zorro movies is pure invention.
Now, I understand that it wasn't meant to be historically accurate. I even understand why, before Banderas, all the actors portraying Zorro in the American versions were Anglos. That is, unfortunately, American history.
But I can't help but wonder if this story about a light-skinned nobleman fighting to free the poor simple peasants of California reflects a kind of paternalistic mindset towards Mexican people.
Americans thought they were bringing the benefits of civilization to the places they conquered—they called it manifest destiny. In fact, Chicanos were pushed aside in what used to be their country, relegated for the most part to the bottom of the economic ladder. And no masked crusader in sight.

For Arizona Spotlight, this is Chris Dashiell.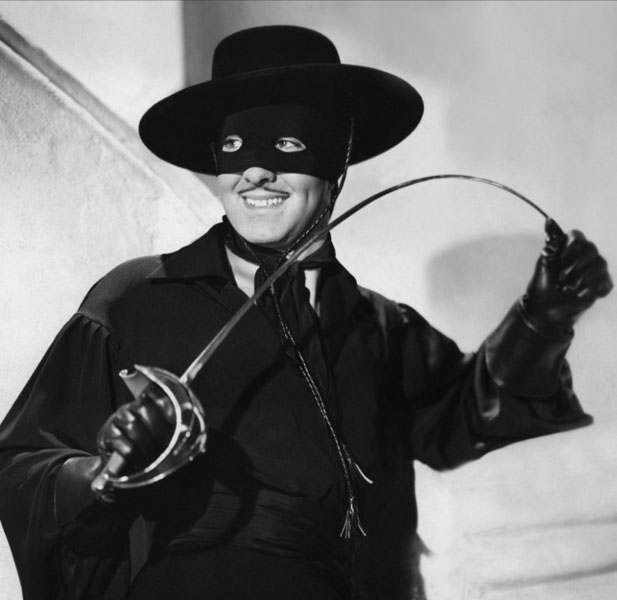 Tyrone Power as Zorro in 1940.
Who is Chris Dashiell?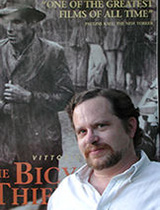 Film reviewer Chris Dashiell
Chris Dashiell has been writing about movies for seventeen years, serving as the editor of the online film lovers' guide Cinescene for ten of them. He currently reviews films for Flicks, a weekly program on Tucson's community radio station KXCI, and he confesses to shamelessly idolizing Carl Dreyer, Jean Renoir, and Luchino Visconti.