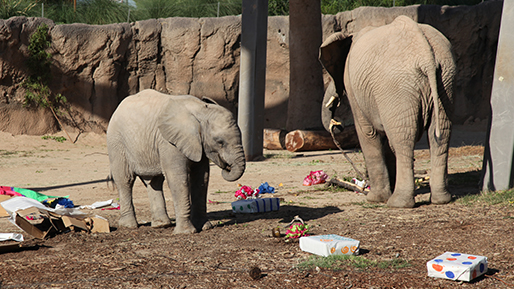 Reid Park Zoo's Nandi explores her gifts - treat-filled boxes - for her birthday, Aug. 20, 2015.

Andrea Kelly, AZPM
Listen to the story: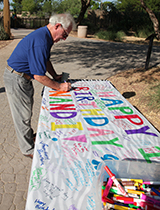 Jerry Felmley signs Nandi's birthday card.

Andrea Kelly, AZPM
The Reid Park Zoo celebrated baby elephant Nandi's first birthday Thursday, with a sold-out birthday breakfast and presents for the young animal to stomp on, find treats in, and rip apart.
Nandi has been a highly popular attraction since her birth, drawing sold-out crowds to all of the events zoo staffers have hosted to introduce her to the public, said Vivian VanPeenan, the zoo's education curator.
Nandi has achieved several milestones, including standing up in the first 20 minutes of her life, learning several actions with her trainer, walking backwards and swimming with her two brothers.
On Thursday, in front of dozens of onlookers, Nandi explored the birthday gift boxes after watching her brothers do it first.
In the crowd was Lisa LaBott, who said she likes to watch Nandi and all the elephants.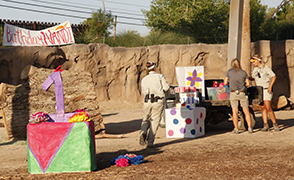 Nandi's trainers prepare for her party.

Andrea Kelly, AZPM
"When you watch for a long time you see behaviors that you wouldn't see if you just browsed through," she said.
She said she attends the special elephant events such as this birthday party, and has always loved elephants.
"If I could I'd run off to Africa to work with them I would," LaBott said.
In her second year, Nandi will likely learn to interact differently with her family, including potentially more challenging play with her two older brothers, elephant manager Sue Tygielski said.
Nandi also needs to learn additional skills with her trainers, such as allowing her feet and toenails to be inspected and other health-related actions, Tygielski said.
Listen to Tygielski describe Nandi's goals for her second year: