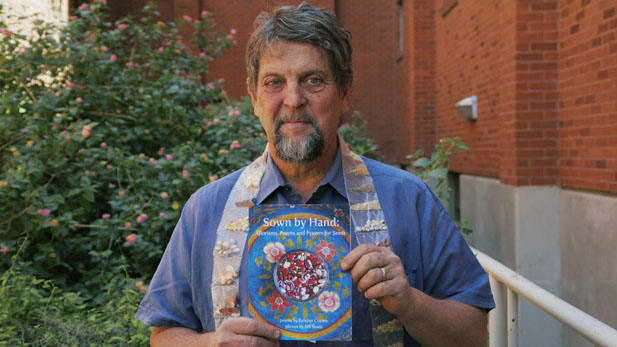 Gary Paul Nabhan, the W.K. Kellogg Endowed Chair in Sustainable Food Systems at the Southwest Center, and Director of the UA Center for Regional Food Studies.

Megan Roxbury
LISTEN:
The United Nations' cultural arm UNESCO last week designated Tucson a World City of Gastronomy, an accolade that is about more than the city's rich food culture and restaurants. It comes with commitments to carry out educational activities and food systems research. To support those efforts, the University of Arizona has established a new Center for Regional Food Studies.
The center, a collaboration between the College of Social and Behavioral Sciences and the Southwest Center, will focus on food security, food justice and the other social dimensions of ensuring all residents of southern Arizona – and northern Sonora – have access to affordable and healthy food, said director Gary Nabhan.
"It's really the first regional center to use our communities as a living learning lab for our students in how to help deal with a grinding poverty and food insecurity that we have in many of our communities," he said.
Food security in this region is affected by a variety of factors, from water scarcity and climate change to poverty and economic access to food, and there's a lot of work that needs to be done in those areas, said Nabhan.
"We have some of the highest levels of child food insecurity, obesity and diabetes in the United States. When we look at the issues across the border, they're even more severe since we people typically make one-tenth in Sonora for what they make doing the same work in Arizona."
Nabhan said the center will tackle these issues head on - through collaborations with the city and with colleges across the UA.
It's no coincidence that the university unveiled the center on the same day that UNESCO named Tucson the first city of gastronomy in the United Sates.
Nabhan worked for the past few years with the mayor's office and number of community organizations and businesses like the magazine Edible Baja Arizona, and Chef Janos Wilder of Downtown Kitchen + Cocktails to apply for the UNESCO designation. He said the UA Center for Regional Food Studies will research how the city's food security evolves in the coming years by tracking the number of community gardens, local-sourcing restaurants and food relief programs.
Nabhan said desert communities have a lot to learn from each other about feeding residents in a way that is sustainable, affordable and healthy. And though Tucson's already been a model in this area, the center and UNESCO designation will advance the work that's been done here for decades, and will help the city exchange best practices with other cities in semi-arid climates.
"Part of our task...is to bring internationally recognized scholars and chefs and activists from other desert cities in the UNESCO network," he said. "[They] can say 'here's some great things you can learn about what we're doing about water conservation or rainwater harvesting', or 'we're using desert adapted seeds to enhance our food security in the face of climate change.'"
The center will be located at the U of A's downtown campus on Stone Avenue. In addition to its research, it will also host a series of public conferences and forums aimed at getting Tucsonans talking and thinking more about what food security is and why it's so important.